current offerings:
ART AND ENTERTAINMENT
AUTHORS
AVIATION AND SPACE
BASEBALL AND FOOTBALL
BUSINESS
CABINET MEMBERS
CIVIL WAR
CONGRESS
indians and INDIAN WARS
INVENTION AND SCIENCE
law
leaders and REFORMERS
PIONEERS
POLITICS
RELIGION
REVOLUTIONARY WAR
signers
spanish-american war
vice presidents
vietnam war
WORLD WAR I
WORLD WAR II
ROYALTY
WORLD LEADERS
WORLD MILITARY
MISCELLANEOUS FIELDS
• a - M
• N - Z
We are proud
to be a member of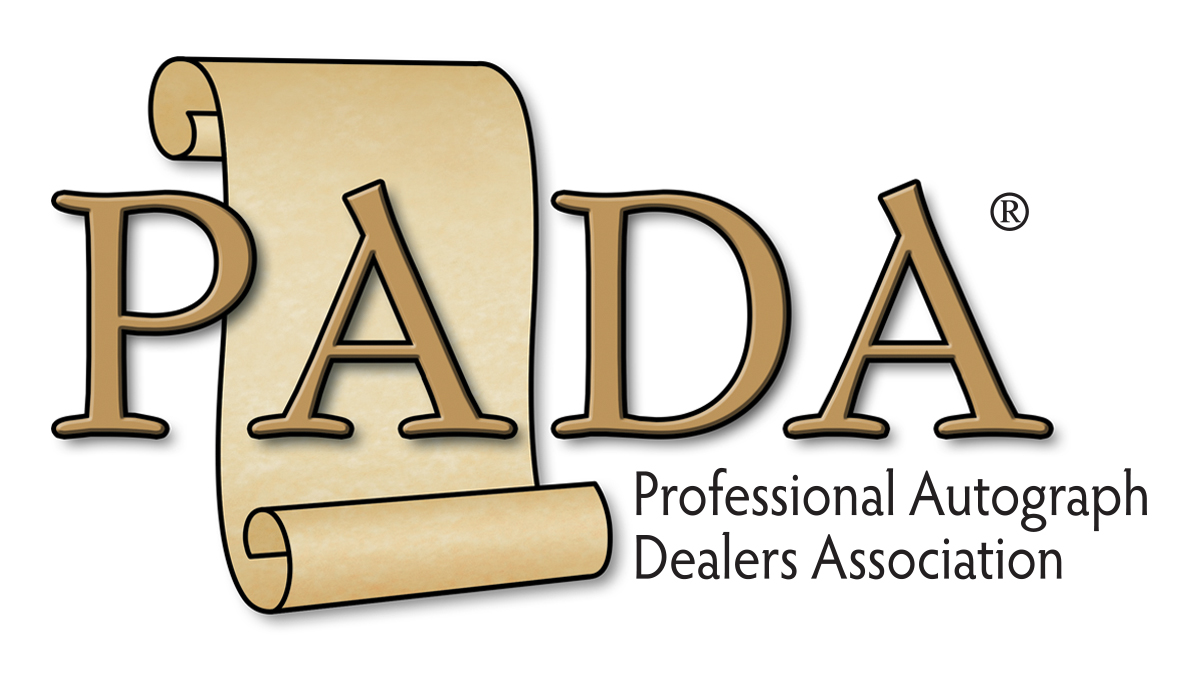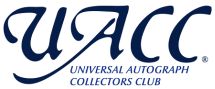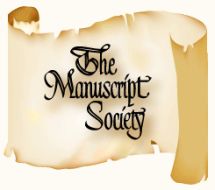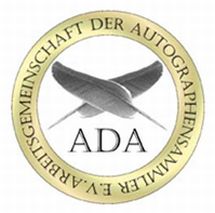 We accept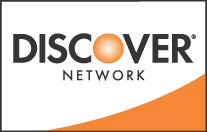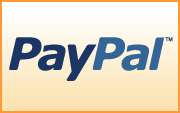 Scrawls, scribbles, and signatures are more than stains on a page. Like snapshots, they capture moments, preserving the pieces of thought that form the grand puzzle of human experience. They reveal the breadth and depth of personality and emotion. They are truly History In Ink.
"Men don't change," President Harry S. Truman observed. "The only thing new in the world is the history you don't know." The letters, photographs, and documents of the famous and influential people of the past are great teachers. The words and the handwriting connect us with yesteryear and bring history to life.
Presidents Franklin D. Roosevelt and John F. Kennedy, among others, collected historical letters and documents. Queen Victoria was an avid autograph collector, and years later her great-grandson, King George VI, requested Truman's signature for his daughter, now Queen Elizabeth II. Today there are thousands of autograph collectors worldwide.
We want to share with you the thrill of owning a genuine piece of history. So please browse through our site.
(continued below)
Featured Items
The ultimate relic of the Cold War: President Kennedy's personalized gift, an engraved October 1962 calendar to commemorate the Cuban Missile Crisis, given to Ambassador Llewellyn "Tommy" Thompson, whose advice to the President enabled the peaceful resolution of the crisis, keeping the United States and the Soviet Union out of a full-scale nuclear war
Rare, likely unique, bill of exchange representing financing for Burr's alleged treasonous scheme to sever American territory for a new country under his own rule, 9-17-1806, unframed
Madame Chiang Kai-shek Archive
We are privileged to offer an archive of personal letters by Madame Chiang Kai-shek spanning the years from 1959 to 1975. The letters range from routine to outstanding political and philosophical content. Madame Chiang remains as relevant and popular as she was when she died at age 105 in 2003. We will be posting the letters online as we can. Click here to see them on our World History page, or Contact Us to inquire.
Hemingway signs a photo to one of his hosts during his 1959 trip to Spain to gather new material on bullfights, which led to his last published work before his death, Life magazine's "The Dangerous Summer," unframed
Previously unoffered archive of drafts of Hand's remarks at the dedication of a bust of Supreme Court Justice Felix Frankfurter at Harvard Law School, expressing Hand's own view of the proper role of a judge, 1960, unframed
Outstanding political typed letter signed, dated the day after President Lyndon B. Johnson signed the Gulf of Tonkin Resolution, discussing the effect of Johnson's show of force in Vietnam on the 1964 presidential campaign, 8-11-1964, unframed
In his only letter with racist terms ever to come on the market, Reagan calls "the black community" the "enemy," 5-8-1978, unframed
Signer of the Declaration of Independence:
William Williams - extremely early autograph document signed as the town clerk of Lebanon, Connecticut, to note the recording of a deed, 2-20-1753, unframed
Laura Ingalls Wilder and Almanzo J. Wilder
Exceptional archive of contracts and deeds for the sale of Rocky Ridge Farm, where Laura wrote all of the Little House books, unframed
———————————
Recent Additions
Joe Biden - early letter by Biden, in his second year as the junior Senator from Delaware, sending his autograph and inviting his correspondent to meet in Washington, 9-3-1974, unframed
Harry A. Blackmun - Justice Blackmun recounts his experiences with scouting, concluding, "We need so much of this kind of thing these days," 3-17-1981, unframed
Werner von Blomberg - rare personal handwritten letter by the German Minister of War and Commander-in-Chief of the armed forces, 7-1-1938, unframed
William J. Brennan, Jr. - extremely nice 8" x 10" embossed panel portrait of Justice Brennan seated at his desk, unframed
George H. W. Bush - typed letter signed by former President Bush to congratulate a recipient of the "Daily Point of Light" award, which he created to recognize volunteerism, noting that he "utilized the power of the Presidency to call Americans to service," 1-13-06, unframed
George W. Bush - nearly pristine inscribed and signed first edition, first printing copy of Bush's memoir, Decision Points
Laura Bush - encouraging typed letter signed as First Lady, mailed the day after the 9/11 attacks, thanking an organization for its work with pediatric cancer patients, 9-6-2001, unframed
Salmon P. Chase - Mathew Brady carte de visite of Chase likely signed as Chief Justice of the United States, unframed
Salmon P. Chase - autograph letter signed in which the Chief Justice sends "real regret that I found myself obliged to remain in Wash[ington]," perhaps because of the impeachment trial of President Andrew Johnson, 6-24-1868, unframed
Bebe Daniels and Ben Lyon - scarce vintage photograph of the 1930s Hollywood power couple signed by both, unframed
John A. Dix - autograph letter signed by the Union Civil War general seeking to help a man find a job, 1-15-1877, unframed
William O. Douglas - 8" x 10" black-and-white photo of Douglas signed, but not inscribed, beneath the image, unframed
Stephen J. Field - exceptional cabinet card portrait of Justice Field, President Abraham Lincoln's longest-serving appointee, unframed
Gerald R. Ford - photograph of President Ford with a large 4¼" inscription and signature, unframed
Ruth Bader Ginsburg - signed photograph of Justice Ginsburg taken early in her tenure on the Supreme Court, unframed
Rudolf Hess - virtually pristine signed photograph of Hess, Adolf Hitler's Deputy Führer, together with cover letter from Hess's adjutant, 5-5-1936, unframed
Herbert Hoover - beautiful warm handwritten letter to his close friend Jeremiah Milbank, February 1948, unframed
Rudolf Höss - extremely rare letter by Höss, the Commandant at Auschwitz, requesting the assignment of more staff officers for the infamous Nazi extermination camp, 7-16-1944, unframed
John McLean - on the cusp of the Civil War, the anti-slavery Supreme Court Justice replies to a Massachusetts lawyer, 5-7-1860, unframed
Vyacheslav Molotov - in his role as Chairman of the Council of People's Commissars, Molotov forwards to Soviet statesman Anastas Mikoyan, an Armenian, a three-page letter of complaint by the prominent Armenian writer Nairi Zarian, circa December 1937, unframed
Richard J. Oglesby - handwritten letter by Senator Oglesby, a former Union Brigadier General, sending copies of his memorial address for a deceased Missouri Senator, 12-19-1878, unframed
Ronald Reagan - Reagan delivers an assessment of the 1968 Republican National Convention, claiming credit for doing "much to keep our nominee from moving to the left," 9-13-1968, unframed
William H. Rehnquist - typed letter signed in which Rehnquist, in his first year as Chief Justice, grants conditional permission to publish an abridged version of his speech at Indiana University School of Law, 5-20-1987, unframed
Alfred E. Smith - large-format signed portrait photograph of Smith, the first Catholic nominated for President by a major party, unframed
Reed Smoot - scarce letter by Smoot, the first Mormon and only church Apostle ever to serve in the United States Senate, 12-22-1919, unframed
Roger Brooke Taney - early partially printed autograph document signed in which Taney, as a young lawyer, files suit to collect a debt owed to his client, circa 1807, unframed
United States Supreme Court, 1954 - complete set of engraved Supreme Court cards signed by the Justices of the Warren Court who unanimously decided Brown v. Board of Education, the landmark school desegregation case, in 1954, unframed
Laura Ingalls Wilder - receipts written and signed by Laura Ingalls Wilder for payments on the sale of the Wilders' Rocky Ridge Farm, unframed
The Duke and Duchess of Windsor - album page boldly signed by the Duke and Duchess in 1956, the year the Duchess published her memoir, The Heart Has Its Reasons, unframed
———————————
Featured Collections
The Justice Tom C. Clark Collection
We are privileged to offer the personal autograph collection of Supreme Court Justice Tom C. Clark. Justice Clark served as Attorney General of the United States from 1945 to 1949, when President Harry S. Truman appointed him as an Associate Justice of the Supreme Court of the United States. Shortly after he arrived at the Court, Justice Clark began assembling a collection of autographs of Supreme Court Justices that included those of his colleagues and extended back into the 19th Century. The collection includes personal letters that Justice Clark received from other Justices, including those congratulating him on his appointment to the Court, and internal Supreme Court memoranda among the Justices—material that is extremely rare on the autograph market. None of this material has ever been offered for sale before.
click here to see the items that we are currently offering from the collection. They include a congratulatory handwritten letter from Justice Stanley F. Reed, two typed letters by Chief Justice Fred M. Vinson (1-4-1950 and 1-27-1950), extremely rare handwritten internal Court memoranda from Justice Harold Burton to Justice Clark and between Justices Clark and Reed regarding cases, internal handwritten notes from Chief Justice Charles Evans Hughes and Justice James C. McReynolds, an official Supreme Court document signed by Justice Willis Van Devanter, and signatures of Justices Joseph R. Lamar, McReynolds, and Mahlon Pitney.
Autographs From the Estate of Llewellyn E. Thompson, Jr.,
The United States Ambassador to the Soviet Union Under Presidents Eisenhower, Kennedy, and Johnson
This outstanding Cold War collection of letters and documents had never before been offered for sale on the autograph market until we offered it. It contained letters from five American Presidents—Harry S. Truman, Dwight D. Eisenhower, John F. Kennedy, Lyndon B. Johnson, and Richard M. Nixon—as well as First Ladies Eleanor Roosevelt, Mamie Eisenhower, and Jacqueline Kennedy and others such as Robert F. Kennedy, Hubert H. Humphrey, Dean Rusk, and even Soviet Premier Alexei Kosygin.
Thompson was one of the greatest and most important American diplomats of the 20th Century. He was the United States Ambassador to the Soviet Union at the height of the Cold War, under Eisenhower, Kennedy, and Johnson. A man with velvet gloves but a backbone of steel, he played a critical role in dangerous times. His advice to Kennedy as a member of the ExComm during the Cuban Missile Crisis was largely responsible for avoiding nuclear war with the Soviet Union. He was also with Johnson at his 1967 summit with Kosygin at Glassboro, New Jersey, and advised Nixon on and represented the United States in the negotiations over the SALT I treaty.
click here to see the remaining items from this special collection.
Here you will find History In Ink—beautifully framed and unframed letters, documents, and signed photographs as well as signed books and other autograph items. You will also find much more: Our listings include biographical information and often explain the historical context of the autograph item itself. We also offer information on caring for historical autographs and links to several interesting and helpful web sites.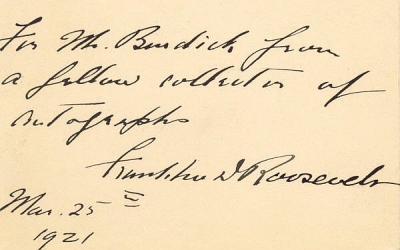 History In Ink® offers a wide variety of historical autograph material, both framed and unframed, for sale in a broad range of prices. We give you personal service to help you find just the right piece to help build your collection or give the perfect gift to a history buff. If we do not have it in stock, we are always glad to help you find it.
We specialize in the autographs of United States presidents and first ladies, Supreme Court justices, European royalty, and World War II military. We also have items from many other notable persons in American and world history. Those include statesmen and world leaders; presidential cabinet officers; members of Congress; military figures from the American Revolutionary War, Civil War, Spanish-American War, World War I, and other conflicts; artists; authors; inventors; scientists; aviators and astronauts; and personalities from law, business, politics, vintage entertainment, and occasionally vintage sports.
We take care to make our framed displays some of the best—wonderful conversation pieces for the home or office. They include one or more photographs or portraits and usually include one or more engraved plates identifying the person and, if appropriate, the event. Most of our unframed items can also be framed.
We also offer several payment options to make it as easy as possible for you to build your collection or give the perfect gift. We can ship both framed and unframed items virtually anywhere in the world.
We always enjoy talking about autographs, so please email us with your questions, comments, and suggestions. Give us your wish list, and sign up for our email list so that we can tell you about new items as we offer them.
Most of all, enjoy our site, breathe in the history, and come back often.