current offerings:
ART AND ENTERTAINMENT
AUTHORS
AVIATION AND SPACE
BASEBALL AND FOOTBALL
BUSINESS
CABINET MEMBERS
CIVIL WAR
CONGRESS
indians and INDIAN WARS
INVENTION AND SCIENCE
law
leaders and REFORMERS
PIONEERS
POLITICS
RELIGION
REVOLUTIONARY WAR
signers
spanish-american war
vice presidents
vietnam war
WORLD WAR I
WORLD WAR II
ROYALTY
WORLD LEADERS
WORLD MILITARY
MISCELLANEOUS FIELDS
• a - M
• N - Z
We are proud
to be a member of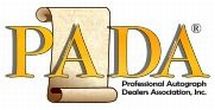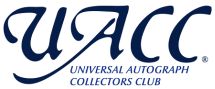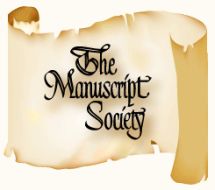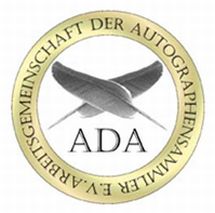 We accept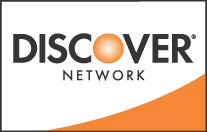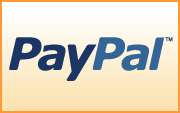 Scrawls, scribbles, and signatures are more than stains on a page. Like snapshots, they capture moments, preserving the pieces of thought that form the grand puzzle of human experience. They reveal the breadth and depth of personality and emotion. They are truly History In Ink.
"Men don't change," President Harry S. Truman observed. "The only thing new in the world is the history you don't know." The letters, photographs, and documents of the famous and influential people of the past are great teachers. The words and the handwriting connect us with yesteryear and bring history to life.
Presidents Franklin D. Roosevelt and John F. Kennedy, among others, collected historical letters and documents. Queen Victoria was an avid autograph collector, and years later her great-grandson, King George VI, requested Truman's signature for his daughter, now Queen Elizabeth II. Today there are thousands of autograph collectors worldwide.
We want to share with you the thrill of owning a genuine piece of history. So please browse through our site.
(continued below)
Latest Items Added April 15, 2019
Featured Collections
Autographs From the Estate of Llewellyn E. Thompson, Jr.,
The United States Ambassador to the Soviet Union Under Presidents Eisenhower, Kennedy, and Johnson
This outstanding Cold War collection of letters and documents has never before been offered for sale on the autograph market. It contains letters from five American Presidents—Harry S. Truman, Dwight D. Eisenhower, John F. Kennedy, Lyndon B. Johnson, and Richard M. Nixon—as well as First Ladies Eleanor Roosevelt, Mamie Eisenhower, and Jacqueline Kennedy and others such as Robert F. Kennedy, Hubert H. Humphrey, Dean Rusk, and even Soviet Premier Alexei Kosygin.
Thompson was one of the greatest and most important American diplomats of the 20th Century. He was the United States Ambassador to the Soviet Union at the height of the Cold War, under Eisenhower, Kennedy, and Johnson. A man with velvet gloves but a backbone of steel, he played a critical role in dangerous times. His advice to Kennedy as a member of the ExComm during the Cuban Missile Crisis was largely responsible for avoiding nuclear war with the Soviet Union. He was also with Johnson at his 1967 summit with Kosygin at Glassboro, New Jersey, and advised Nixon on and represented the United States in the negotiations over the SALT I treaty.
click here to see the remaining items from this special collection.
The Justice Tom C. Clark Collection
We are privileged to offer the personal autograph collection of Supreme Court Justice Tom C. Clark. Justice Clark served as Attorney General of the United States from 1945 to 1949, when President Harry S. Truman appointed him as an Associate Justice of the Supreme Court of the United States. Shortly after he arrived at the Court, Justice Clark began assembling a collection of autographs of Supreme Court Justices that included those of his colleagues and extended back into the 19th Century. The collection includes personal letters that Justice Clark received from other Justices, including those congratulating him on his appointment to the Court, and internal Supreme Court memoranda among the Justices—material that is extremely rare on the autograph market. None of this material has ever been offered for sale before.
click here to see the items that we are currently offering from the collection. They include a congratulatory handwritten letter from Justice Stanley F. Reed, two typed letters by Chief Justice Fred M. Vinson (1-4-1950 and 1-27-1950), extremely rare handwritten internal Court memoranda from Justice Harold Burton to Justice Clark and between Justices Clark and Reed regarding cases, internal handwritten notes from Chief Justice Charles Evans Hughes and Justice James C. McReynolds, an official Supreme Court document signed by Van Devanter, and signatures of Joseph R. Lamar, McReynolds, and Pitney.
———————————
Featured Items
Fantastic signed inscription by Borglum, the creator of the Mount Rushmore sculpture, in The Undefeated, the story of Borglum's work on the Stone Mountain memorial, with accompanying inscription and signature by the Congressman who secured the first appropriation for Mount Rushmore
Castro signs, in person, a copy of the centerpiece of his revolutionary reforms: the Cuban Agrarian Reform Act of 1959, with documents of provenance, unframed
Bold signature of the father of the theory of evolution on a card, unframed
Superb, scarce large-format portrait of Justice Frankfurter by Harris & Ewing, inscribed generically and signed, 5-19-1950, unframed
Rare bold ink signature of the Apache Native American leader, signed in person at the 1904 World's Fair in St. Louis, unframed
Heavily hand-corrected pages from JFK's reading copy of a 1953 Jefferson-Jackson Day speech, early evidence of his effort to make himself known nationwide and position himself to seek the White House, 5-14-1953, unframed
Writing to thank Florida Senator George Smathers for congratulations on his election to the United States Senate from New York, in a handwritten postscript Kennedy asks Smathers, an old family friend, to "stop helping Mass. and begin to help New York," 12-2-1964, unframed
Johnson, as Vice President, writes of the "full and difficult, but challenging" days of the Cuban Missile Crisis, 11-12-1962, unframed
Superb autograph letter signed in which the Confederate general poignantly recalls the death of a Union soldier and the bloody battlefields of the Civil War, 12-2-1897, unframed
Historically superb letter by which Seward, as Secretary of State, sends vital certified copies of documents for use as exhibits in the trial of the Lincoln assassination conspirators, 6-13-1865, unframed
Wernher von Braun and Emil Hellebrand
Von Braun's book The Mars Project inscribed and signed by von Braun to Hellebrand, a member of his rocket development team, with eight pages of handwritten calculations by Hellebrand
Signers of the Declaration of Independence:
Josiah Bartlett - autograph receipt signed by Bartlett as a witness while serving as Chief Justice of New Hampshire, 3-2-1789, unframed
George Clymer - Clymer loans his brother money and signs his brother's promissory note to him twice, 7-30-1802, unframed
Stephen Hopkins - manuscript pay warrant signed by Hopkins as Governor of Rhode Island, 1759, unframed
Samuel Huntington - wonderful double association document signed by Huntington, a Signer of the Declaration of Independence, and William and George Pitkin, owners of a gunpowder mill that supplied the Continental Army, 12-9-1783, unframed
Thomas McKean - beautiful Pennsylvania land grant signed by McKean, a Signer of the Declaration of Independence, as Governor, also signed by Timothy Matlack, who engrossed the Declaration, 8-18-1803, unframed
John Morton - Pennsylvania 2 shilling, 6 pence colonial currency signed by Morton as a member of the colonial Assembly, 4-3-1772, unframed
Roger Sherman - autograph judicial order signed by Sherman, the only person who signed all four major American founding documents, including the Declaration of Independence and the Constitution, 5-9-1786, unframed
William Williams - extremely early autograph document signed as the town clerk of Lebanon, Connecticut, to note the recording of a deed, 2-20-1753, unframed
———————————
Recent Additions
Lauren Bacall - pristine 8" x 10" glossy black-and-white signed photo, unframed
Alexander Graham Bell - poignant letter by Bell seeking assistance for his cousin's grandchildren after their parents' deaths, 4-18-1922, unframed
George H. W. Bush - ever the politician, the father takes the opportunity to promote the presidential candidacy of his son, George W. Bush, 12-6-1999, unframed
Patsy Cline - vintage 8" x 10" black-and-white promotional photograph with two beautiful signatures by Cline, signed in-person at a concert in 1955 and never before offered for sale, unframed
Hillary Rodham Clinton - typed letter signed as First Lady of Arkansas supporting the AFS / Arkansas Visiting Teachers trip to Costa Rica, 10-18-1989, unframed
Charles Curtis - in a rare handwritten letter, the future Vice President sends his holograph and signature to a college student, 1-22-1895, unframed
Fred Haise - scarce autograph letter signed by the Lunar Module pilot on the ill-fated Apollo 13 mission promising to send signed photographs of himself and mission operations items signed by Flight Director Gene Kranz, 5-10-2005, unframed
Ward Hunt - very scarce autograph letter signed in which Justice Hunt, then a New York state appeals commissioner, questions why he received ten copies the state statutes, 12-29-1871, unframed
James R. Leavelle - cacheted first day cover honoring President John F. Kennedy, inscribed and signed by Leavelle, the Dallas detective handcuffed to Kennedy assassin Lee Harvey Oswald when Oswald himself was shot by Jack Ruby, 9-4-91, unframed
Thurgood Marshall - typed letter signed declining to discuss the inner workings of the Supreme Court and to sign a copy his first Supreme Court opinion, 2-6-1986, unframed
James Monroe - exceptional condition land grant, engraved and printed by W. I. Stone, conveying land in Ohio, 4-9-1822, unframed
Jon Provost - very fine condition dual-signed photo of Provost as Timmy, with his co-star, Lassie, unframed
Franklin D. Roosevelt - the President-Elect, anxious to talk with famed social work leader John Adams Kingsbury, complains that "every minute of my time is taken until I leave for the South," 1-7-1933, unframed
Theodore Roosevelt - typed letter signed to famed New York social worker John Adams Kingsbury thanking him for a book, 7-12-1911, unframed
Sonia Sotomayor - beautiful typed letter signed by the first Hispanic and Latina Supreme Court Justice, expressing how she is "moved by the chord my life experiences have struck in so many," 12-11-2014, unframed
Albert Speer - Hitler's chief architect and Nazi Reich Minister of Armaments sends thanks for reviews likely of his first book, Inside the Third Reich, 3-24-1971, unframed
Harry S. Truman - beautiful formal portrait of a relaxed and confident Truman, undoubtedly signed as President, unframed
William C. Westmoreland - outstanding signed 8" x 10" formal color bust portrait of General Westmoreland, in his four-star uniform, unframed
Frances E. Willard - autograph quotation signed by Willard, with cover letter by Anna Adams Gordon, the second and fourth presidents of the Women's Christian Temperance Union, 3-21-1895, unframed
Here you will find History In Ink—beautifully framed and unframed letters, documents, and signed photographs as well as signed books and other autograph items. You will also find much more: Our listings include biographical information and often explain the historical context of the autograph item itself. We also offer information on caring for historical autographs and links to several interesting and helpful web sites.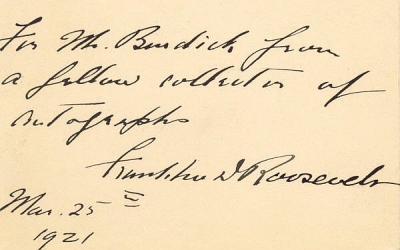 History In Ink® offers a wide variety of historical autograph material, both framed and unframed, for sale in a broad range of prices. We give you personal service to help you find just the right piece to help build your collection or give the perfect gift to a history buff. If we do not have it in stock, we are always glad to help you find it.
We specialize in the autographs of United States presidents and first ladies, Supreme Court justices, European royalty, and World War II military. We also have items from many other notable persons in American and world history. Those include statesmen and world leaders; presidential cabinet officers; members of Congress; military figures from the American Revolutionary War, Civil War, Spanish-American War, World War I, and other conflicts; artists; authors; inventors; scientists; aviators and astronauts; and personalities from law, business, politics, vintage entertainment, and occasionally vintage sports.
We take care to make our framed displays some of the best—wonderful conversation pieces for the home or office. They include one or more photographs or portraits and usually include one or more engraved plates identifying the person and, if appropriate, the event. Most of our unframed items can also be framed.
We also offer several payment options to make it as easy as possible for you to build your collection or give the perfect gift. We can ship both framed and unframed items virtually anywhere in the world.
We always enjoy talking about autographs, so please email us with your questions, comments, and suggestions. Give us your wish list, and sign up for our email list so that we can tell you about new items as we offer them.
Most of all, enjoy our site, breathe in the history, and come back often.