current offerings:
ART AND ENTERTAINMENT
AUTHORS
AVIATION AND SPACE
BASEBALL AND FOOTBALL
BUSINESS
CABINET MEMBERS
CIVIL WAR
CONGRESS
indians and INDIAN WARS
INVENTION AND SCIENCE
law
leaders and REFORMERS
PIONEERS
POLITICS
RELIGION
REVOLUTIONARY WAR
signers
WORLD WAR I
WORLD WAR II
ROYALTY
WORLD LEADERS
WORLD MILITARY
MISCELLANEOUS FIELDS
• a - M
• N - Z
We are proud
to be a member of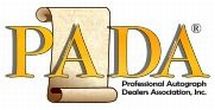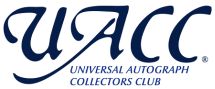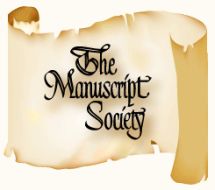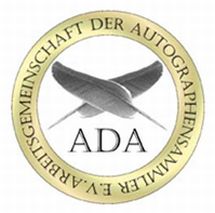 We accept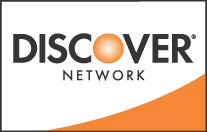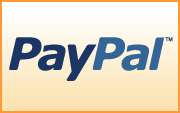 Ambassador Llewellyn E. Thompson, Jr., with
President John F. Kennedy and Secretary of State Dean Rusk
autographs from the estate of
Llewellyn E. Thompson, Jr.
United States Ambassador to the Soviet Union
Under Presidents Eisenhower, Kennedy, and Johnson
---
1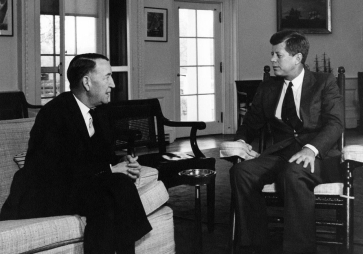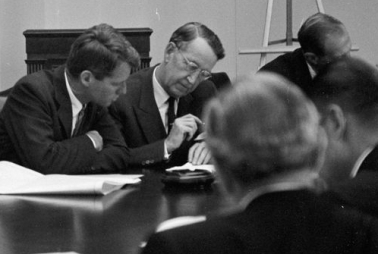 2
3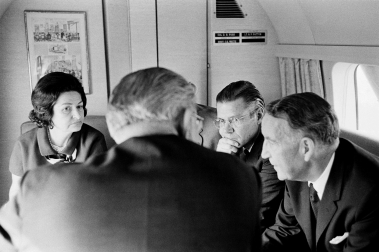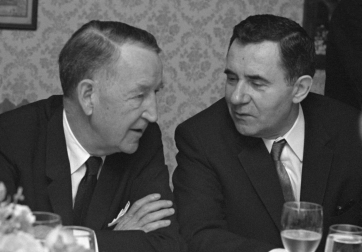 4
5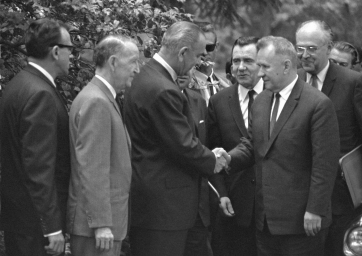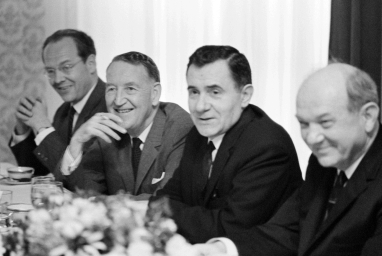 6
From the top: Ambassador Llewellyn E. Thompson, Jr., (1) with President John F. Kennedy in the Oval Office; (2) with Robert F. Kennedy at a meeting of the ExComm during the Cuban Missile Crisis; (3) with President and Mrs. Lyndon B. Johnson and Secretary of Defense Robert McNamara aboard Air Force One; (4) with Soviet Foreign Minister Andrei Gromyko; (5) with Johnson, Gromyko, Soviet Premier Alexei Kosygin, and Soviet Ambassador Anatoly Dobrynin at Glassboro, New Jersey; and (6) with Gromyko and Secretary of State Dean Rusk.
Llewellyn E. Thompson, Jr.
Lewellyn E. Thompson, Jr., was one of the greatest and most important American diplomats of the 20th Century. He was the United States Ambassador to the Soviet Union at the height of the Cold War, during the administrations of Presidents Dwight D. Eisenhower, John F. Kennedy, and Lyndon B. Johnson. A man with velvet gloves but a backbone of steel, he played a critical role in dangerous times—and his advice to Kennedy during the Cuban Missile Crisis was largely responsible for avoiding nuclear war with the Soviet Union.
In the early evening of Friday, October 26, 1962, as war over the Missile Crisis seemed inevitable, Soviet Premier Nikita Khrushchev sent Kennedy a conciliatory letter in which he offered to remove Soviet offensive missiles from Cuba if the United States would promise not to invade Cuba. As Kennedy was considering that letter, Khrushchev sent a much more belligerent one early the next morning, October 27. He offered to withdraw missiles form Cuba only if the United States would withdraw similar American missiles from Turkey.
Thompson argued vociferously against trading away the Turkish missiles because he knew that America's NATO allies would perceive that the United States had abandoned them. He urged Kennedy to respond to Khrushchev's conciliatory letter and to ignore the subsequent belligerent one. He knew that an American promise not to invade Cuba would let Khrushchev off the hook, since Khrushchev could claim strategic success in avoiding an American invasion. Thompson correctly perceived that Khrushchev did not want war but probably wrote the second, bellicose letter under scrutiny from Soviet generals and hard-line members of the Politburo.
Ultimately, Kennedy did both: The ExComm meeting resulted in a letter from the President accepting the terms of Khrushchev's first letter. Then, outside of the ExComm, the President met secretly in the Oval Office with a small group that included Thompson, Secretary of State Dean Rusk, and Attorney General Robert F. Kennedy. He instructed Bobby to have a back-channel meeting with Soviet Ambassador Anatoly Dobrynin in order to convey clandestinely to Khrushchev that, although the President could not publicly agree to remove American missiles from Turkey, the United States would dismantle those missiles in time. Echoing Thompson's concerns, Bobby was told to emphasize that dismantling the missiles was not a trade. The diplomacy worked, and the Missile Crisis was over.
Thompson, known to his friends as "Tommy," was a career diplomat. He joined the Foreign Service in 1928, and during his long and distinguished career he served in the Soviet Union longer than any American diplomat. He served as Consul from 1940 to 1944. He received the Medal of Freedom for staying at the U.S. Embassy in Moscow during the winter of 1941 while other diplomats followed the fleeing Soviet government as Adolf Hitler's German army threatened the capital. Thompson was the United States Ambassador to Austria from 1955 to 1957 before Eisenhower appointed him Ambassador to the Soviet Union in 1957. Kennedy reappointed him in 1961. He resigned in 1962 to become Ambassador At Large and a special advisor to Kennedy on Soviet affairs, but Johnson reappointed him to Moscow in 1967, where he served until 1969.
During his time in Moscow, Thompson became well acquainted with the Soviet hierarchy, including Khrushchev, at whose country dacha he stayed as a house guest, an extraordinary honor for a foreign diplomat; Premier Alexei Kosygin; Foreign Minister Andrei Gromyko; and Anatoly Dobrynin, his counterpart as the Soviet Ambassador to the United States. He thus was able to provide valuable insight into Soviet thought to four American presidents. In addition to being a member of the Executive Committee of the National Security Council, or ExComm, which advised Kennedy during the Cuban Missile Crisis, he was also present with Johnson at his summit with Soviet Premier Alexei Kosygin at Glassboro, New Jersey, in June 1967. He came out of retirement to advise President Richard Nixon on the Strategic Arms Limitation Treaty (SALT) negotiations with the Soviet Union and represented the United States in the SALT talks from 1969 until his death in 1972.
Thompson said that he was "a great believer in quiet diplomacy. I think that in the long run it gives a better chance for finding successful solutions to our problems." His friendliness and willingness to talk, combined with both patience and perseverance, made him made him extraordinarily effective in the often difficult Cold War dealings with the Soviet Union. Secretary of State William P. Rogers called him "one of the outstanding diplomats of his generation."
We are honored to offer this choice collection of letters and documents from Ambassador Thompson's estate. The items include letters from Presidents Harry S. Truman, Eisenhower, Kennedy, Johnson, and Nixon and such notable personalities as First Ladies Eleanor Roosevelt and Jacqueline Kennedy, Vice President Hubert H. Humphrey, Secretary of State Dean Rusk, Attorney General and later Senator Robert F. Kennedy, Premier Kosygin, and Kennedy advisor Arthur M. Schlesinger Jr. None of these items has ever been offered on the autograph market before.