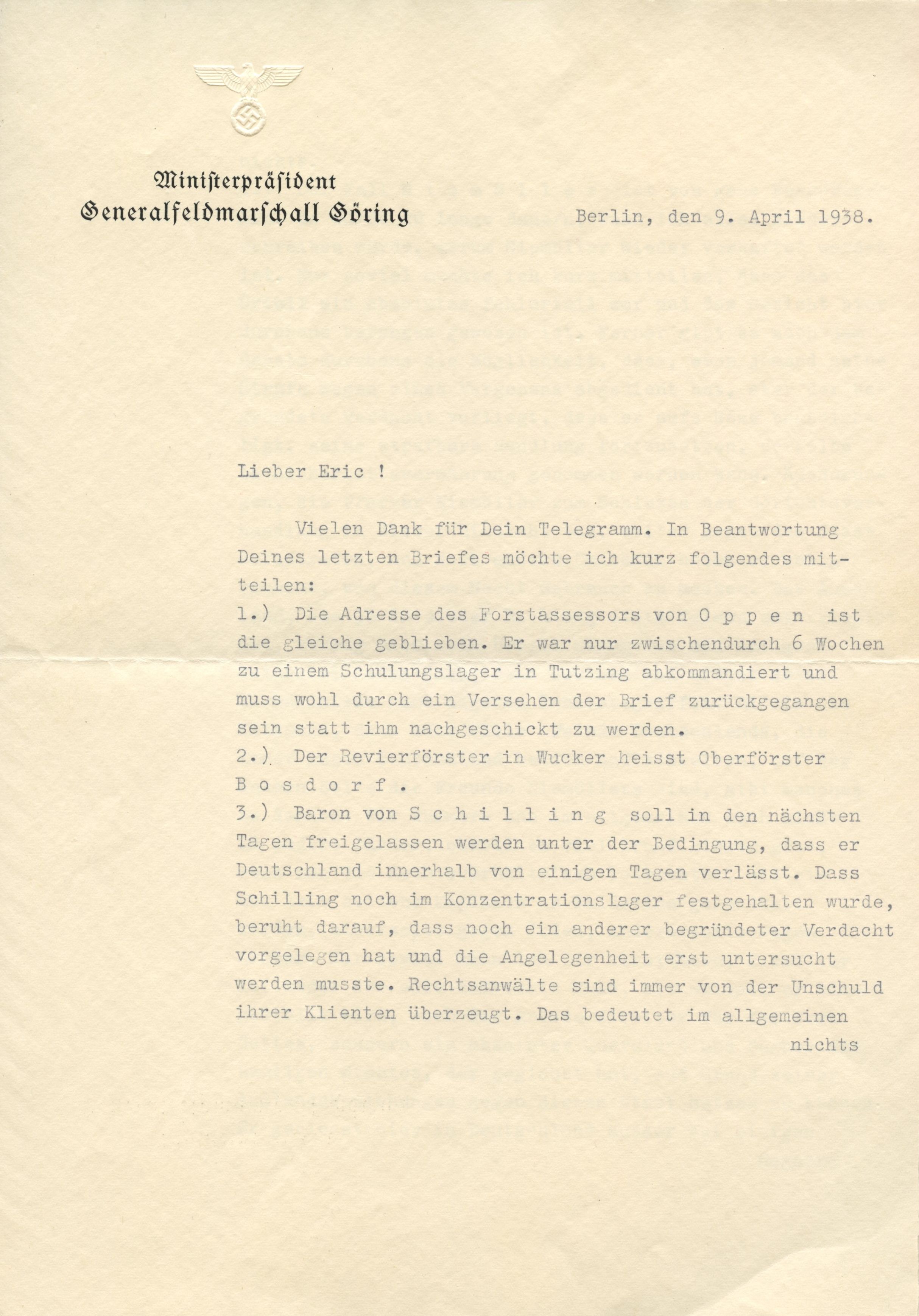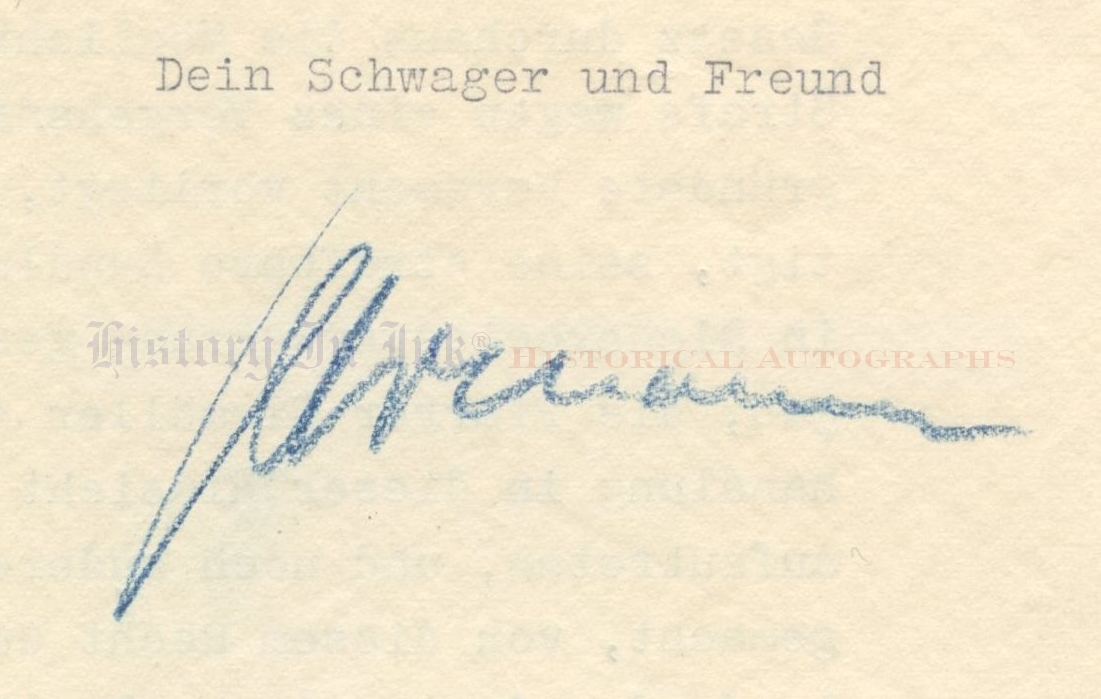 918304
Hermann Göring
Goering castigates dissident Pastor Martin Niemöller:
"Niemöller . . . is a querulous complainer about the state today as well as its opponent. . . .
He enjoys . . . a very bad reputation. . . . [N]o one cares about that little twerp."
Hermann Wilhelm Göring, 1893-1946. Nazi Reichsmarshall; Luftwaffe commander-in-chief. Typed Letter Signed, Hermann, three pages, 8¼" x 11¾", on engraved stationery of the Ministerpräsident / Generalfeldmarschall Göring, blind-embossed with the Nazi eagle, Berlin, [Germany], April 9, 1938. In German, with English translation.
This is an extraordinary letter that Göring writes to his former brother-in-law, Swedish Count Eric von Rosen. He addresses issues related to a judge and two concentration camp inmates, including dissident Pastor Martin Niemöller. He explains, from his own propogandistic view, why Germany re-imprisoned Niemöller, and he decries interference by other countries. He writes, in part:
"Niemöller's case is of a peculiar sort. It would take me too long to tell you about his case in detail, that is, why he was arrested again. But so much I want to tell you briefly: His sentence was a mistake, and the court's judgment was clouded. Furthermore the law provides that if a person is convicted and has served his punishment but again violates the law, he can be taken in protective custody. Utterances that Pastor Niemöller made at the end of his trial made it necessary for this protective-custody law to be applied. Foreign countries which in these matters are generally poorly educated cannot pass judgment and, besides, have no right to do so; Germany sets its own affairs in order in accordance with its own interpretation of its laws. The fact alone that very many enemies of Germany who always rant and write against our country are also friends of Niemöller makes one think. In general we don't give much thought to other countries, although we have good reason to do so, considering the matter of human rights as practiced now in Palestine by the British, on one hand against the Jews and on the other against the Arabs. Of one thing I can assure you: Niemöller is neither the upright man as he is portrayed by some nor a defender of the word of God. He is a querulous complainer about the state today as well as its opponent. He believes, by reason of his foreign connections, to have the right to malign our country. He enjoys here in Germany, aside from a few opponents of our state, a very bad reputation. Aside from all that, we are enjoying such marvelous days and deeds that no one cares about that little twerp."
The letter is typed on the front page of the stationery and on both sides of the integral leaf. It has one normal mailing fold, not affecting the signature, and is in very fine condition. Göring has signed boldly in blue pencil.
Unframed.
_____________
This item has been sold, but
click here to see other
World History items
that we are offering.