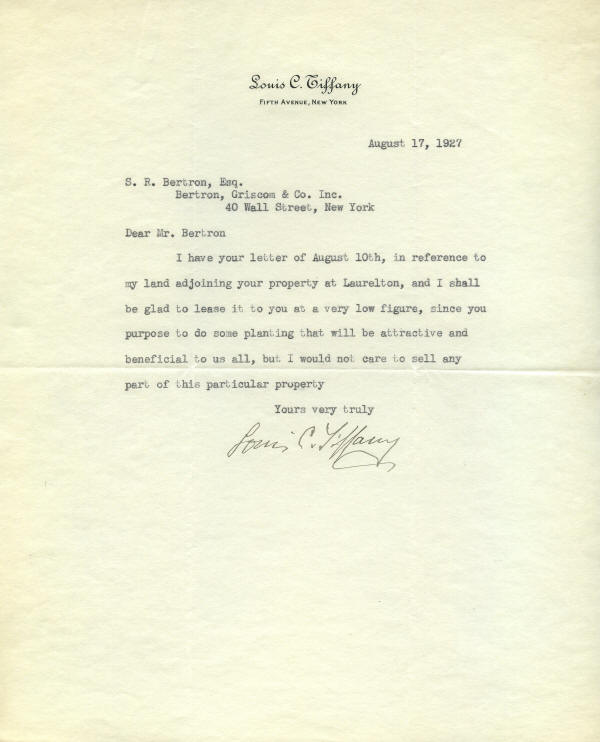 823601
Louis C. Tiffany
"I shall be glad to lease [the land] to you at a very low figure, since you propose
to do some planting that will be attractive and beneficial to us all . . . "
Louis Comfort Tiffany, 1848-1933. American artist, designer, and philanthropist. Scarce Typed Letter Signed, Louis C. Tiffany, one page, 8" x 10", on personal stationery, New York, [New York], August 17, 1927.
Tiffany agrees to lease—but not sell—a piece of land to Wall Street financier S. R. Bertron, who owned the adjoining tract. He writes: "I have your letter . . . in reference to my land adjoining your property at Laurelton, and I shall be glad to lease it to you at a very low figure, since you propose to do some planting that will be attractive and beneficial to us all, but I would not care to sell any part of this particular property."
Tiffany, who worked in the decorative arts, was one of the most talented and versatile artists of the late 19th and early 20th Centuries. He was the leading American artist of the Art Nouveau and Aesthetic movements. Tiffany worked with furniture, mosaics, vases, pottery, enamelwork, and jewelry, but he achieved his greatest fame for his work with stained glass, particularly windows and lamps—making "Tiffany glass" and "Tiffany lamp" the household terms that they remain today.
Perhaps Tiffany's best known work was his interior decoration at the White House in 1882. President Chester A. Arthur commissioned him to refurbish the entrance hall, in which he installed large glass screens, and a number of the state rooms, including the East Room, Blue Room, Red Room, and State Dining Room.
Samuel Reading Bertron (1865-1938), to whom Tiffany wrote this letter, was president of the New York international banking firm Bertron, Griscom & Company. He was also a director of the American-Russian Chamber of Commerce, which promoted economic, commercial, and industrial relations between the United States and the Soviet Union. In the early 1920s, Bertron was one of several financiers who sought to develop commercial airship operations in the United States after the United States seized German patents on rigid airships during World War I.
Tiffany has signed this letter with a 2¼" fountain pen signature. The letter has one horizontal and two vertical folds, none of which touches the signature, and is in very fine condition.
Unframed.
_____________
This item has been sold, but
click here to see other
American History items
that we are offering.