816101
John F. Kennedy
816102
Robert F. Kennedy
816103
Edward M. Kennedy
Click on images for larger size
These three vintage items, all obtained by the same lady, bring together the three brothers whose names still evoke a political dynasty: John, Robert, and Ted Kennedy:
John Fitzgerald Kennedy, 1917-1963. 35th President of the United States, 1961-1963. Highly significant association program from the 1957 Cook County, Illinois, Democratic dinner boldly inscribed and signed To Kathleen / with very best wishes / John Kennedy.
Robert Francis Kennedy, 1925-1968. Attorney General of the United States; United States Senator from New York. Round kennedy for president medallion from JFK's 1960 presidential campaign, boldly inscribed and signed For Kathy / with best wishes / Robert F. Kennedy.
Edward Moore Kennedy, commonly known as Ted Kennedy, 1932-2009. United States Senator from Massachusetts. Vintage stationery from the Los Angeles Statler Hilton Hotel, boldly signed Ted Kennedy.
————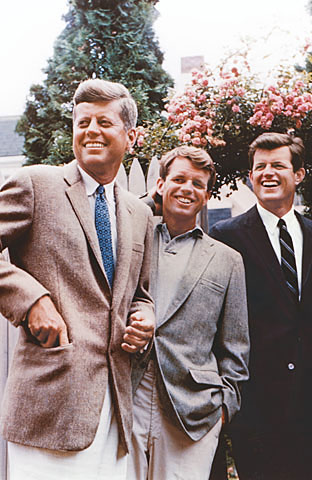 ————
John F. Kennedy's speech to the Cook County Democratic Party on May 23, 1957, where he signed this program, was prescient. JFK told those present that Illinois and Cook County would be keys to a Democratic victory in 1960:
Illinois and Cook County represent one of the most important keys to a Democratic victory in the coming years. When the pollsters said we could not win in 1948, Illinois and Cook County provided the margin of victory. When the pessimists declared that we could not regain control of the Senate in 1954, Illinois and Cook County provided the margin of victory. And thus I have no doubt that you will once again lead the victory march in 1957, 1958 and 1960.
By the time Kennedy spoke at this dinner, he was already looking ahead to 1960. He had sought but lost the 1956 Democratic vice presidential nomination, which he had hoped would give him the foundation for a later presidential bid. But he was no longer interested in the vice presidency. He ran for reelection to the Senate from Massachusetts in 1958, but he spoke all over the country in what was essentially a trial run for a later national campaign. Kennedy's youth and charm made him a celebrity, and he received more than 100 requests per week to speak.
As it turned out, Illinois was integral to Kennedy's victory over Vice President Richard M. Nixon in the 1960 presidential election, and Cook County made the difference. Kennedy won Illinois and its 27 electoral votes by only 9,000 votes. Without Cook County, Nixon would have taken the state. With the influence of Chicago Mayor Richard J. Daley and the powerful Cook County Democratic organization, Kennedy took Cook County by 450,000 votes, more than 12% of Chicago's population. Thus, although Nixon carried 92 of Illinois' 101 counties, the Cook County vote offset the strong downstate Republican vote.
Robert Kennedy managed JFK's 1960 presidential campaign. Ted served as the Western states coordinator for JFK's bid for the Democratic nomination.
At the insistence of his father, Joseph P. Kennedy, President Kennedy appointed Robert Attorney General of the United States. Ted won a special election in 1962 to fill JFK's old Massachusetts seat in the United States Senate. After JFK was assassinated in 1963, Bobby remained Attorney General under President Lyndon B. Johnson, with whom he had a stormy relationship, for nine months. He resigned in September 1964 and was elected to the United States Senate from New York the following November. Four years later, while campaigning in California for the 1968 Democratic presidential nomination, Bobby was himself assassinated. Ted represented Massachusetts in the United States Senate for 47 years until he succumbed to brain cancer.
These pieces are all in very fine condition with only a bit of minor soiling. The stationery that Ted signed has one horizontal fold. All three pieces are boldly signed in blue ballpoint.
Unframed.
These items have been sold.
Click here to see other Kennedy and presidential autographs.