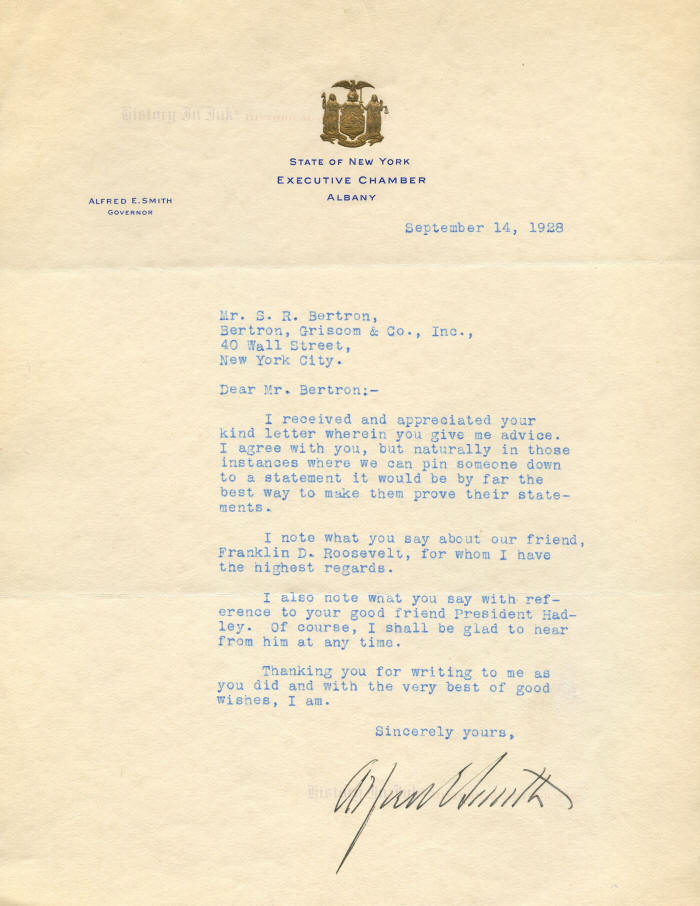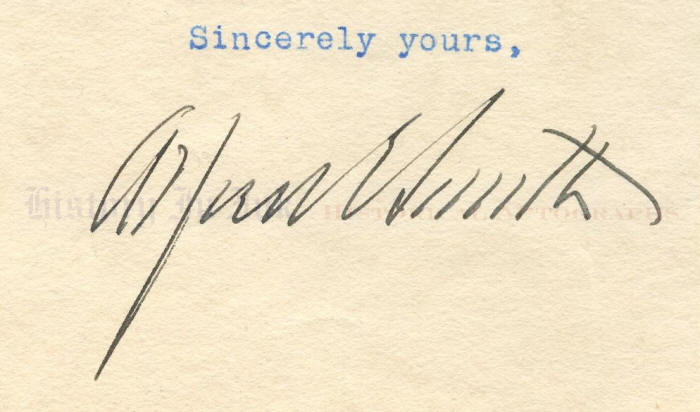 808612
Alfred E. Smith
"I note what you say about our friend, Franklin D. Roosevelt,
for whom I have the highest regards"
Alfred Emanuel Smith, 1873–1944. Governor of New York, 1919–1920, 1923–1928; Democratic presidential nominee, 1928. Typed Letter Signed, Alfred E. Smith, one page, quarto, on stationery of the State of New York, Executive Chamber, Albany, September 14, 1928.
This outstanding letter connects two of the most important New York Democrats of the 1920s and 1930s—two governors and Democratic presidential candidates, and one President, Alfred E. Smith and Franklin D. Roosevelt.
It shows, too, how politics indeed can make for strange bedfellows. Here Smith, then the Democratic Party's nominee for President, extols Roosevelt, its nominee to succeed him as Governor of New York. Over the course of the next 12 years, Smith would turn on Roosevelt, then support him, then turn on him again and twice support his challengers for the presidency.
Smith writes to New York financier S. R. Bertron. In full: "I received and appreciated your kind letter wherein you give me advice. I agree with you, but naturally in those instances where we can pin someone down to a statement it would be by far the best way to make them prove their statements. / I note what you say about our friend, Franklin D. Roosevelt, for whom I have the highest regards. / I also note what you say with reference to your good friend President Hadley. Of course, I shall be glad to hear from him at any time. / Thanking you for writing to me as you did and with the very best of good wishes, I am. / Sincerely yours . . ."
Smith was the first Roman Catholic nominated for President by a major political party. He failed to get the nomination in 1924, when Roosevelt nominated him in a speech that first dubbed him "the ʻHappy Warrior,'" because the convention deadlocked through 103 ballots between Smith and California Senator William Gibbs McAdoo. But Smith won the Democratic nomination in 1928, nominated again by Roosevelt, only to find much of the country prejudiced against him because of his religion. Many feared that Smith would take direction from the Pope. Furthermore, Smith opposed Prohibition, and he had ties to New York's corrupt Tammany Hall political machine. As a result, he lost to the Republican, Secretary of Commerce Herbert Hoover, who carried 40 states, significantly including Smith's home state of New York.
Roosevelt fared better in 1928. After suffering from polio after his unsuccessful run for the vice presidency in 1920, Roosevelt reentered public affairs by nominating Smith in 1924. By 1928, he was again emerging as a political force of his own, and, at Smith's urging, ran for governor. In a close race, he won by about 26,000 votes out of about 4.3 million cast. Two years later, he won again more than 735,000 votes, a resounding victory that increased his prominence nationally and positioned him for the 1932 Democratic presidential nomination.
By 1932, Smith had broken with Roosevelt, bitter because he felt that Roosevelt had largely ignored him in formulating state policy. He so disliked Roosevelt that he collaborated with his old rivals McAdoo and William Randolph Hearst in an effort to deny Roosevelt the Democratic presidential nomination—while maneuvering to get it for himself. Once Roosevelt was nominated, however, Smith ultimately supported him and delivered a major speech for him in Boston late in the campaign.
But Smith reversed himself during Roosevelt's first term as President. He was highly critical of the New Deal, which he thought too unfriendly to business interests, and joined the American Liberty League, a short-lived organization founded by conservative Democrats and some Republicans opposed to the New Deal. As Roosevelt ran for reelection in 1936 and again in 1940, Smith went so far as to support his Republican challengers, Kansas Governor Alf M. Landon in 1936 and lawyer and corporate executive Wendell Willkie in 1940.
Samuel Reading Bertron (1865–1938), to whom Smith wrote this letter, was president of the New York international banking firm Bertron, Griscom & Company. He was also a director of the American-Russian Chamber of Commerce, which promoted economic, commercial, and industrial relations between the United States and the Soviet Union. In the early 1920s, Bertron was one of several financiers who sought to develop commercial airship operations in the United States after the United States seized German patents on rigid airships during World War I. Roosevelt, too, had an association with Bertron from at least early 1921, when Bertron obtained the assistance of Roosevelt, then a former Assistant Secretary of the Navy and former Democratic vice presidential nominee, to introduce his colleagues to potential investors. Roosevelt corresponded with Bertron while he was Governor of New York and later while he was President.
This letter has a beautiful black fountain pen signature by Smith. It has normal mailing folds, which do not affect the signature, and a bit of toning at the edges. It is in fine to very fine condition.
Unframed.
_____________
This item has been sold, but
click here to see other
American History items
that we are offering.