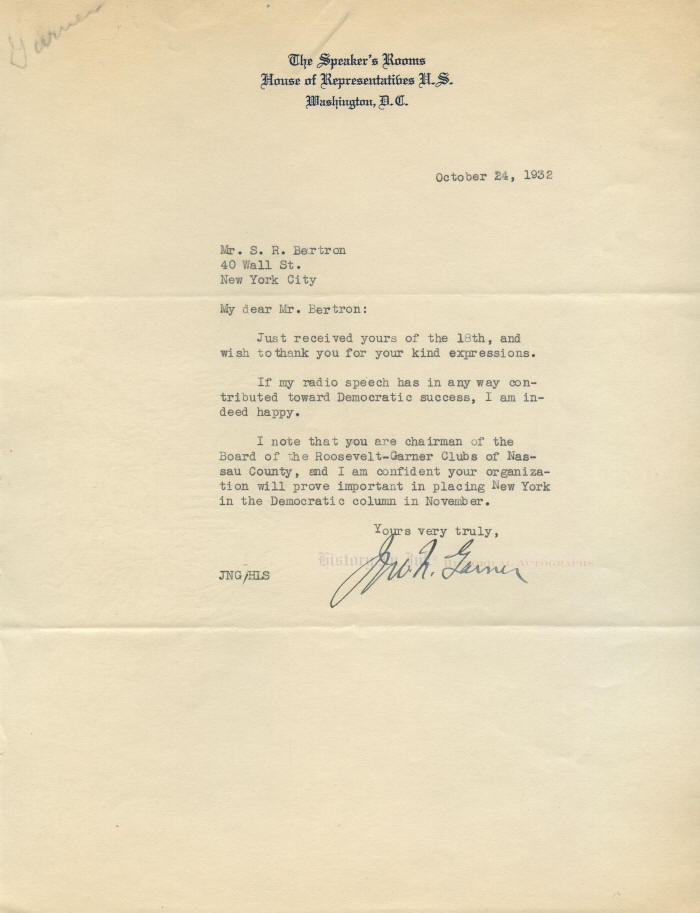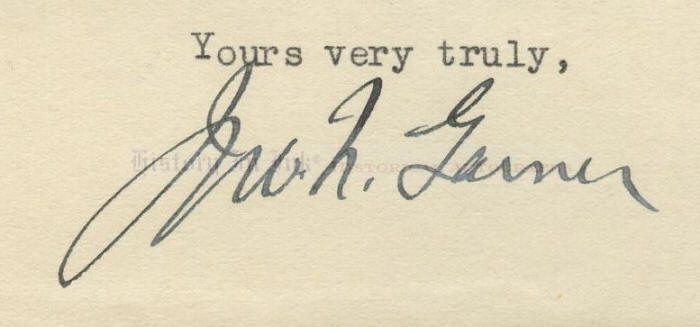 808607
John Nance Garner
"If my radio speech has in any way contributed toward Democratic success, I am indeed happy."
John Nance Garner IV, 1868–1967. Vice President of the United States, 1933–1941; Representative from Texas, 1903–1933; Speaker of the House of Representatives, 1931–1933. Typed Letter Signed, Jno N. Garner, one page, quarto, on stationery of The Speaker's Rooms, House of Representatives, U.S., Washington, D.C., October 24, 1932.
Fifteen days before he would be elected Vice President with Franklin D. Roosevelt, "Cactus Jack" thanks Wall Street financier S. R. Bertron for compliments on Garner's first and only radio address during the 1932 presidential campaign. He writes, in full: "Just received yours of the 18th and wish to thank you for your kind expressions. / If my radio speech has in any way contributed toward Democratic success, I am indeed happy. / I note that you are chairman of the Board of the Roosevelt-Garner Clubs of Nassau County, and I am confident your organization will prove important in placing New York in the Democratic column in November."
On October 14, 1932, Garner took to the nationwide airwaves to reply to Republican attacks. He described himself as &;dquo;a plain business man who has happened to have had a long legislative experience as a representative of a conservative community." He accused the Hoover Administration of concealing the true financial condition of the United States, and he argued that the nation's greatest need was "a budget balanced by careful economy and scientific revenue." During efforts to balance the budget, Garner said, the "record shows that the administration was either hopelessly at sea as to the actual treasury situation for two years, or else deliberately concealing the true state of affairs." He derided "the administration's murky, involved and obscure financial policy that is responsible for much of the continued uncertain condition." Although the Democratic Congress was "determined and willing to go to the limit for a balanced budget," he said, that "purpose has been by the same methods this administration has practiced for three consecutive years." In the struggle for a balanced budget, Garner said, "the Republican administration did not raise a finger to help." As for "the humanitarian part of this program," he said, "the administration has no credit. The provision for hunger loans and self-liquidating construction were exclusively of Democratic origin and literally forced through over the administration's stubborn resistance."
With the nation mired in the depths of the Great Depression, the independent-minded Garner thought victory in hand. Although Roosevelt thought that Garner's homespun appeal would be valuable, Garner refused Roosevelt's request that he campaign extensively because he saw the election as merely a referendum on the performance of incumbent President Herbert Hoover. He was so confident of victory that he told Roosevelt, "All you have got to do is stay alive until election day." But he finally tired of Republican attacks and made this speech.
Samuel Reading Bertron (1865–1938), to whom Garner wrote this letter, was president of the New York international banking firm Bertron, Griscom & Company. He was also a director of the American-Russian Chamber of Commerce, which promoted economic, commercial, and industrial relations between the United States and the Soviet Union. In the early 1920s, Bertron was one of several financiers who sought to develop commercial airship operations in the United States after the United States seized German patents on rigid airships during World War I.
Garner has signed this letter in black fountain pen. The letter has two horizontal mailing folds, a paper clip impression in the top margin, and light overall toning. Garner's name is written in pencil in another hand in the upper left corner. The letter is in fine condition.
Unframed.
_____________
This item has been sold, but
click here to see other
American History items
that we are offering.