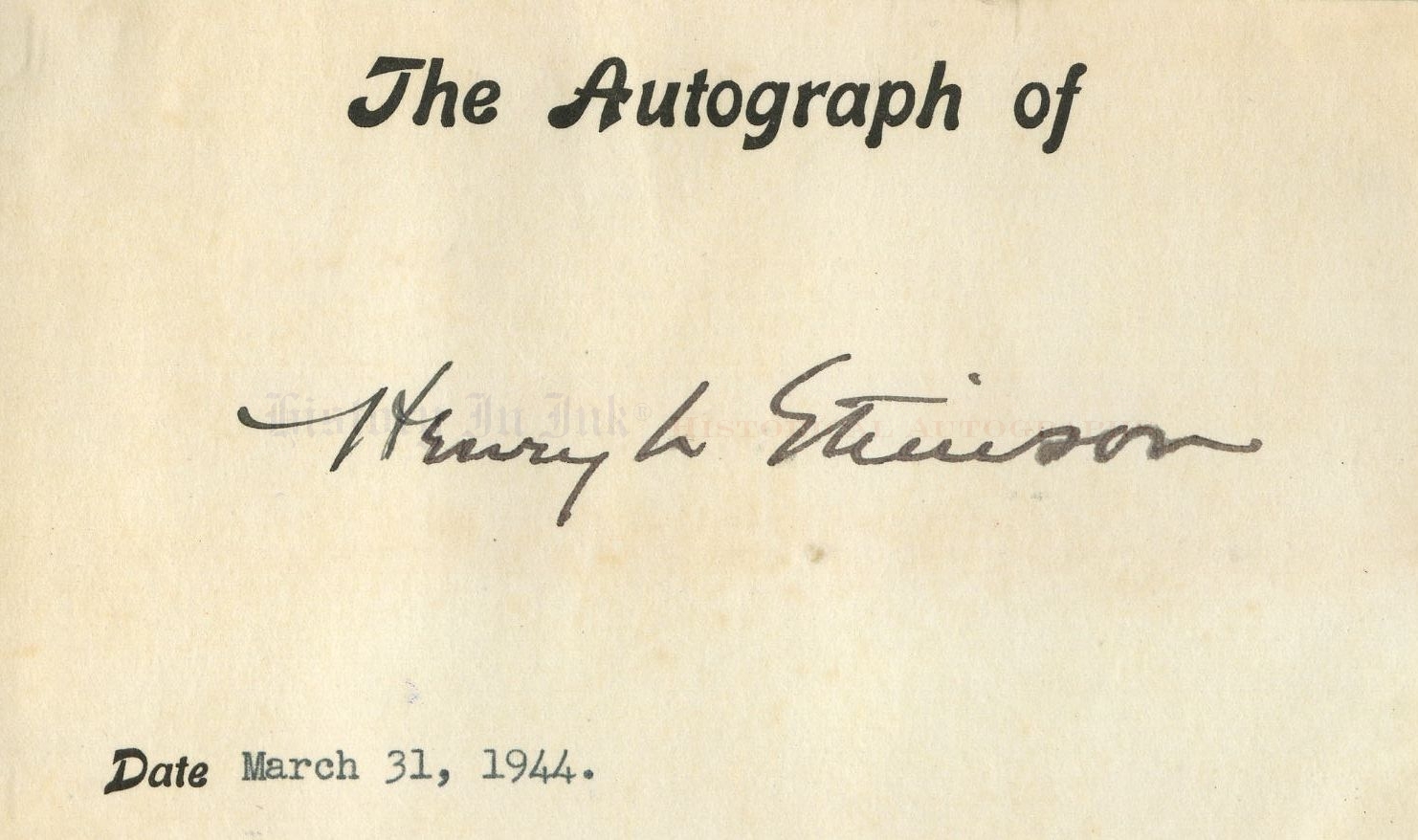 707004
Henry L. Stimson
Click on image for larger size
Henry Lewis Stimson, 1867–1950. U.S. Secretary of War, 1911–1913, 1940–1945; Secretary of State, 1929–1933; Governor General of the Philippines, 1927–1929. 3" x 5" imprinted card, signed Henry L. Stimson, March 31, 1944.
This is a nice card that was made for collecting autographs. Stimson has boldly signed in black fountain pen. The card is dated with a typewriter March 31, 1944, during World War II and Stimson's second term as Secretary of War. At the time, Stimson was actively involved in the Manhattan Project to develop the atomic bomb.
It was Stimson who informed President Harry S. Truman of the bomb project. After Truman was sworn in as President on the evening of April 12, 1945, Stimson privately told him that the allies had developed a new, highly destructive weapon. On April 24, after Truman had somewhat settled into the presidency, Stimson wrote Truman that it was "very important that I should have a talk with you as soon as possible on a highly secret matter," which he thought "has such a bearing on our present foreign relations and has such an important effect upon all my thinking in this field that I think you should know about it without much further delay."
Truman met with Stimson the next day. Stimson, accompanied by General Leslie Groves, who supervised the research in Los Alamos, New Mexico, told Truman the details, presenting the President with a memorandum and sitting patiently in the Oval Office as Truman read it. The memorandum began, "Within four months we shall in all probability have completed the most terrible weapon ever known in human history, one bomb of which could destroy a whole city." Truman recounted in his diary for that day that that the United States had "discovered the most terrible bomb in the history of the world. It may be the fire destruction prophesied in the Euphrates Valley Era, after Noah and his fabulous Ark."
The card is lightly toned, has some largely unnoticeable rippling, and has a bit of staining on the back that has bled through in a small spot below, but well removed from, the signature. Overall the piece is in fine condition. It would be nice framed with a portrait of Stimson. Unframed.
_____________
This item has been sold, but
click here to see other
American History items
that we are offering.