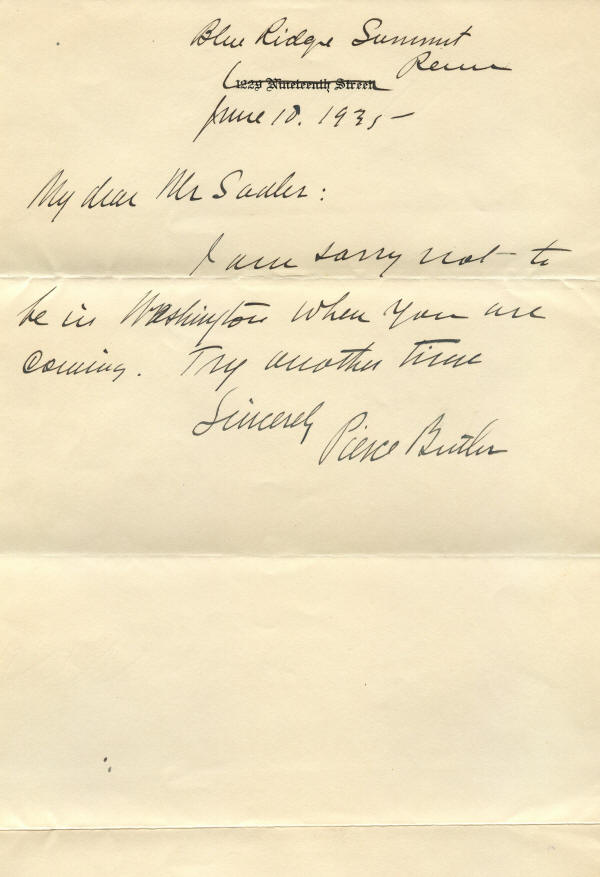 605310
Pierce Butler
Butler expresses his regret for being unable to meet a lawyer
Pierce Butler, 1866-1939. Associate Justice, United States Supreme Court, 1923-1939. Autograph Letter Signed, Pierce Butler, one page, quarto, on personal stationery, Blue Ridge Summit, Pennsylvania, June 10, 1935. With original autograph envelope.
Butler, the first Minnesotan to sit on the Supreme Court, apologizes for being unable to meet with Oklahoma lawyer Ewing Sadler. In full: "I am sorry not to be in Washington when you are coming. Try another time."
Although he was a Democrat, Butler was appointed by a Republican, President Warren G. Harding. As a Justice, he did little to disappoint economic conservatives. He joined with Justices James C. McReynolds, George Sutherland, and Willis Van Devanter, the "Four Horsemen," in staunch opposition to much of President Franklin D. Roosevelt's New Deal social legislation. The Supreme Court's hostility to New Deal measures led Roosevelt to propose his controversial Court-packing plan in 1937.
Yet Butler showed signs of liberalism as well. For example, in Buck v. Bell, 274 U.S. 200 (1927), Butler was alone in dissent from the Court's opinion, written by Justice Oliver Wendell Holmes, Jr., holding that Virginia could involuntarily sterilize a third-generation "feeble minded" woman. "Three generations of imbeciles," Holmes had written, "are enough." In Palko v. Connecticut, 302 U.S. 319 (1937), Butler was again the lone dissenter from the ruling that the Fourteenth Amendment did not bar the state from trying a criminal defendant a second time for the same crime, obtaining a conviction and death sentence for first degree murder, after obtaining a reversal of his second-degree murder conviction. Palko was later overruled in 1969. Unfortunately, Butler did not write an opinion expressing the reasons for his dissent in either case.
Butler's appointment was controversial. He was supported by Chief Justice and former President William Howard Taft and by railroads, the Minnesota Bar Association, and prominent Roman Catholics. He drew opposition, however, from the likes of Minnesota Senator-elect Henrik Shipstead, Wisconsin progressive Senator Robert M. LaFollette, Jr., and liberal newspapers such as The New Republic and The Nation. In the end, however, the United States Senate confirmed him by a wide margin, 61-8.
This letter is in very fine condition, with only normal mailing folds. Butler's writing and signature are extremely bold, as the scan below shows. The accompanying envelope is toned and somewhat soiled but overall is in fine condition.
Unframed.
_____________
This item has been sold, but
click here to see other
Supreme Court items
that we are offering.