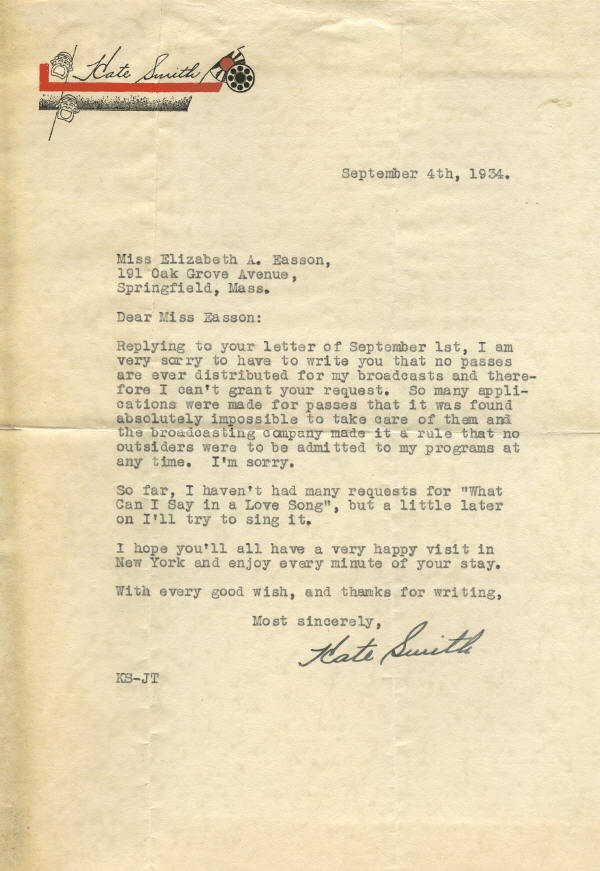 518601
Kate Smith
Kathryn Elizabeth Smith, 1907-1986. American entertainer. Typed Letter Signed, Kate Smith, one page, 7" x 10", on personal stationery, [no place], September 4, 1934.
Smith sends her regrets that—because of overwhelming demand—she cannot provide passes to one of her broadcasts. "I am very sorry to have to write you that no passes are ever distributed for my broadcasts and therefore I can't grant your request. So many applications were made for passes that it was found absolutely impossible to take care of them and the broadcasting company made it a rule that no outsiders were to be admitted to my programs at any time. I'm sorry." She goes on to address a request. "So far I haven't had many requests for 'What Can I Say in a Love Song', but a little later on I'll try to sing it."
Smith became a star in the late 1920's and early 1930's, moving from vaudeville to Broadway and then to radio. In 1931, she began the 16-year run of her own CBS radio show, "Kate Smith Sings," to which she refers in this letter. As the letter suggests, it was one of the most popular shows of the 1930's and 1940's. Smith sold 19 million copies of its theme song, "When the Moon Comes Over the Mountain," which she helped to write.
Smith became an icon when she recorded Irving Berlin's "God Bless America" in 1938. Within a year, the song became the unofficial national anthem. It hit the charts twice more, in 1940, as the United States supported England against Nazi Germany, and again in 1942, after the United States entered World War II following the Japanese attack on Pearl Harbor. Smith sold some $600 million in war bonds, more than anyone else, and she entertained troops throughout the United States.
During her career, Smith introduced more than 600 popular songs and made over 2,000 recordings. She was honored by every President from Franklin D. Roosevelt, who called her an "American treasure," to Ronald Reagan, who gave her the Medal of Freedom, the nation's highest civilian award.
This letter is in fine condition. The letter is slightly toned on the left. There are also some paper thinning at the top, where the letter was removed from another sheet to which it had been laid down, and mounting traces on the back. Smith has signed nicely in blue-gray fountain pen.
Unframed.
_____________
This item has been sold, but
click here to see other
American History items
that we are offering.