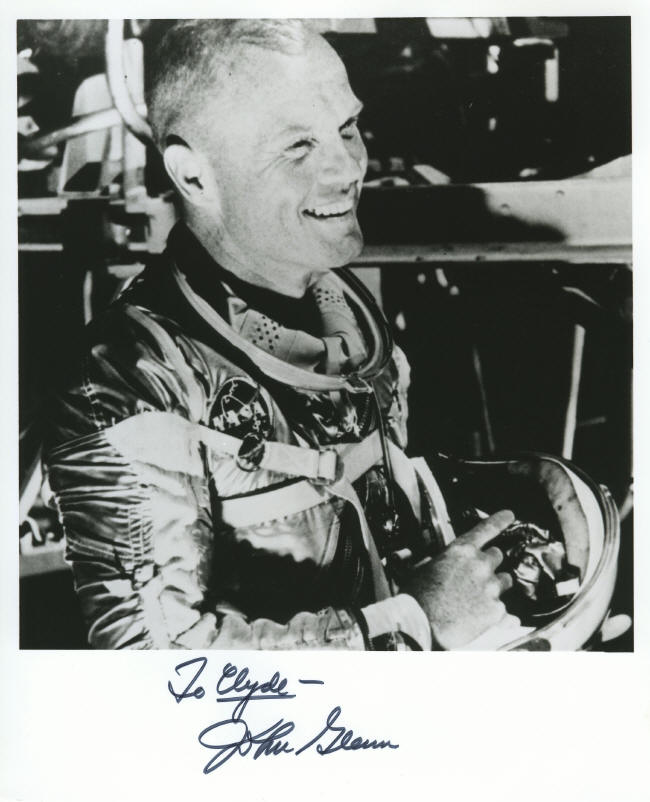 511905
John H. Glenn, Jr.
John Herschel Glenn, Jr., 1921–. NASA astronaut, 1959-1964, 1998; United States Senator from Ohio, 1975-1999. Candid black-and-white glossy photograph, inscribed and signed To Clyde– / John Glenn, showing a smiling, youthful Glenn in his Mercury space suit.
In 1959, NASA selected John Glenn as one of the original seven astronauts in Project Mercury, the United States' first manned space program. Following suborbital flights by Alan B. Shepard, Jr., and Virgil I. "Gus" Grissom, Glenn became the first American to orbit the Earth on February 20, 1962. He made three orbits in his Friendship 7 spacecraft in a flight lasting 4 hours, 55 minutes, and 23 seconds.
Glenn came to the manned space program with considerable flight experience. As a Marine pilot, and as an exchange pilot with the Air Force, he flew 59 South Pacific combat missions during Word War II and 90 during the Korean conflict. He received many decorations, including the Distinguished Flying Cross six times. After Korea, Glenn was a test pilot for Navy and Marine aircraft. In 1957, he flew from Los Angeles to New York in an F8U Crusader in 3 hours, 23 minutes, setting a new transcontinental speed record in the first transcontinental flight to average supersonic speed.
Since NASA had no further flight assignment for him, Glenn left the astronaut corps in 1964. He ran twice for the United States Senate before being elected from Ohio in 1974. He served until 1999.
On February 20, 1997, the 35th anniversary of his Mercury flight, Glenn announced that he would retire from the Senate. The next year, NASA invited him to rejoin the space program as a crew member on the space shuttle Discovery, and Glenn accepted. On October 29, 1998, at age 77, Glenn became the oldest human to fly in space, testing the effects of space flight on the aging process. The flight of STS-95 Discovery was a 9-day mission that traveled 134 orbits, covering 3.6 million miles, in 213 hours, 44 minutes.
This photograph is absolutely pristine. Glenn has inscribed and signed it with a black felt-tipped pen.
Unframed.
_____________
This item has been sold, but
click here to see other
American History items
that we are offering.