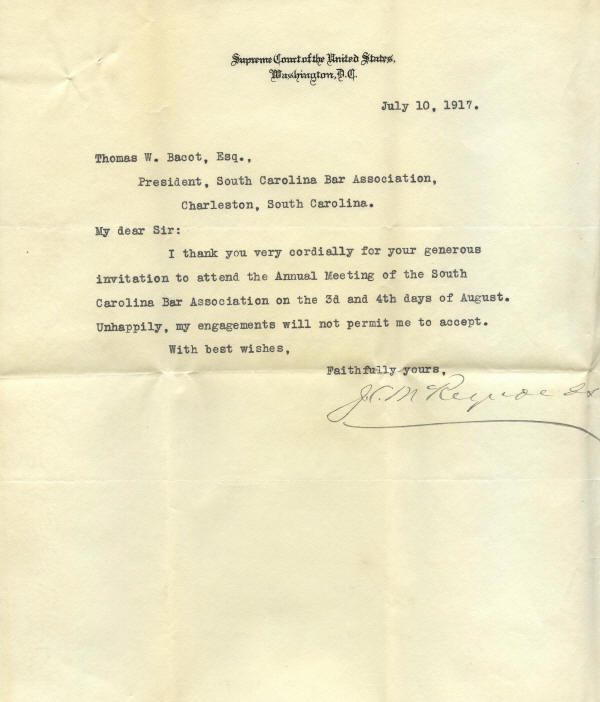 510804
James C. McReynolds
McReynolds declines to attend the annual South Carolina Bar Association meeting
James Clark McReynolds, 1862–1946. Associate Justice, United States Supreme Court, 1914–1941. Typed Letter Signed, J. C. McReynolds, one page, quarto, on engraved stationery of the Supreme Court of the United States, Washington, D.C., July 10, 1917.
McReynolds declines an invitation to attend the annual meeting of the South Carolina Bar Association. In part: "I thank you very cordially for your generous invitation . . . . Unhappily, my engagements will not permit me to accept."
McReynolds is best known as one of the "Four Horsemen," the group of four conservative Justices who opposed most of President Franklin D. Roosevelt's New Deal programs. McReynolds and Justices George Sutherland, Willis Van Devanter, and Pierce Butler influenced the Court's invalidation of much New Deal legislation, including the National Industrial Recovery Act of 1933, Schecter Poultry Corp. v. United States, 295 U.S. 495 (1935); the Agricultural Adjustment Act of 1933, United States v. Butler, 297 U.S. 1 (1936); the Bituminous Coal Act of 1935, Carter v. Carter Coal Co., 298 U.S. 238 (1936); and a New York minimum wage law for women and children, Morehead v. New York, 298 U.S. 587 (1936). By 1937, the success of these four, often joined by the swing vote of Justice Owen Roberts, led to Roosevelt's infamous "Court Packing Plan," by which the President sought to appoint a majority of new Justices favorable to the administration.
Although McReynolds was a Democrat, appointed to the Supreme Court by President Woodrow Wilson, by the time he retired he was the most conservative voice on the Court. He dissented from the Court's decision upholding the Social Security Act, saying, "I can not find any authority in the Constitution for making the Federal Government the great almoner of public charity throughout the United States." From 1937, when a change in the views of Justice Roberts killed the Court Packing Plan, through 1941, when McReynolds retired, McReynolds dissented 119 times. He voted against more New Deal legislation than any other Justice. Increasingly isolated, McReynolds announced his retirement by saying, bitterly, that "any country that elects Roosevelt three times deserves no protection."
McReynolds was also by far the most cantankerous of the Justices, unable to get along with most of his colleagues. Indeed, Wilson had appointed him to the Supreme Court to get him out of the cabinet as Attorney General. A man that one critic described as "intolerably rude," McReynolds refused to converse with Justice John Clarke, another Wilson appointee, because Clarke was too liberal. He was also so anti-Semitic that he likewise refused to speak to Justices Louis D. Brandeis and Benjamin N. Cardozo. Chief Justice William Howard Taft said that McReynolds was "fuller of prejudice than any man I have ever known."
Yet McReynolds had another side. A lifelong bachelor, he had a soft spot for children and heavily supported children's and other charities. He gave generously to support 33 young victims of the German bombardment of England in 1941, and he pledged the first $10,000 in the initial $10,000,000 Save the Children Campaign. He left the bulk of his estate to charities, including the Children's Hospital in Washington, D.C.
A fascinating account of McReynolds and his time leading up to and during the Court Packing Plan appears in John Knox, The Forgotten Memoir of John Knox: A Year in the Life of a Supreme Court Clerk in FDR's Washington (Dennis J. Hutchinson & David J. Garrow, eds., 2002). Knox served as McReynolds' private secretary and law clerk during the October 1936 term. He writes of McReynolds' abrasive personality—and of how McReynolds' two African-American servants derisively referred to him as "Pussywillow" behind his back. More importantly, however, Knox watched as McReynolds and the other Horsemen collaborated on decisions and fought their fight against Roosevelt and the New Deal.
McReynolds' autograph is available but certainly not abundant. McReynolds has signed this letter with a nice fountain pen signature. The letter has horizontal and vertical folds and pin holes in the upper left corner. It is in fine condition.
_____________
This item has been sold, but
click here to see other
Supreme Court items
that we are offering.