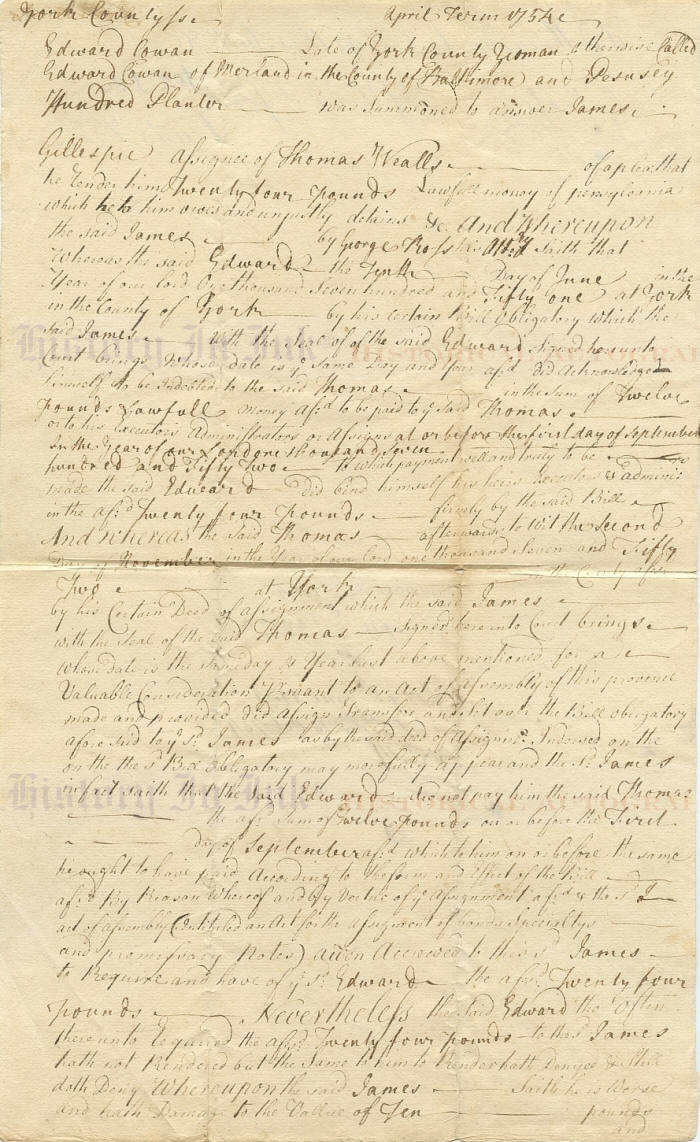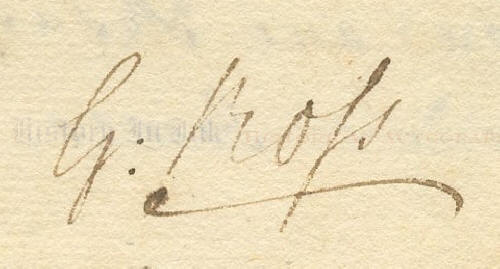 1923601
George Ross
The 24-year-old lawyer sues to collect a promissory note for a client
George Ross, Jr., 1730–1778. Signer of the Declaration of Independence. Partially Autograph Document signed twice, G: Ross at the conclusion and George Ross in the text, two pages (recto and verso), 7½" x 12¼", no place [Lancaster, Pennsylvania], no date [ca. June 25, 1754]. With bronze Ross collectors' medal.
This document is uncommon because it contains a full George Ross signature in the text. Ross usually signed his signature "Geo: Ross," as he signed on the Declaration of Independence, or "G. Ross," as he did at the conclusion of this document.
The 24-year-old Ross, then in the fourth year of his law practice, filled in the blanks by hand in this otherwise manuscript document as the attorney for James Gillespie, the assignee of Thomas Wealls, to sue Edward Cowan on his promissory note to collect the sum of "Twenty four pounds Lawfull money of pennsylvania, which he to him owes and unjustly detains," together with ₤10 in additional damages. Ross, who practiced law at Lancaster, Pennsylvania, filed this lawsuit in York County, Pennsylvania, during the April term of the court. A note in another hand, presumably that of the clerk, notes that the suit was filed June 25, 1754.
Ross was elected to the Pennsylvania Assembly in 1768. He evidently retained that position while being elected to the Continental Congress in 1774, 1776, and 1777. He also served as a colonel in the Continental Army in 1776. Initially opposed to independence, hoping that the colonies could reconcile their differences with Great Britain, he ultimately changed his mind after becoming disgusted with Tory politics. He was the last of Pennsylvania's delegates to sign the Declaration of Independence.
This document is in fine condition. Ross has filled in the blanks and signed at the conclusion, with his typical paraph, in brown ink. As noted, he has signed again in the text where he has filled in his name as the plaintiff's attorney. The document has intersecting folds, with pinholes from wear at the fold intersections and minor fold splits at the edges of four of the folds. There are some soiling and a few ink smears on the outer folded panels on the back, but the text of the document on both the front and back and Ross's signature are clean and bright. Overall, this is an attractive document.
Unframed.
_____________
This item has been sold, but
click here to see other
American History items
that we are offering.