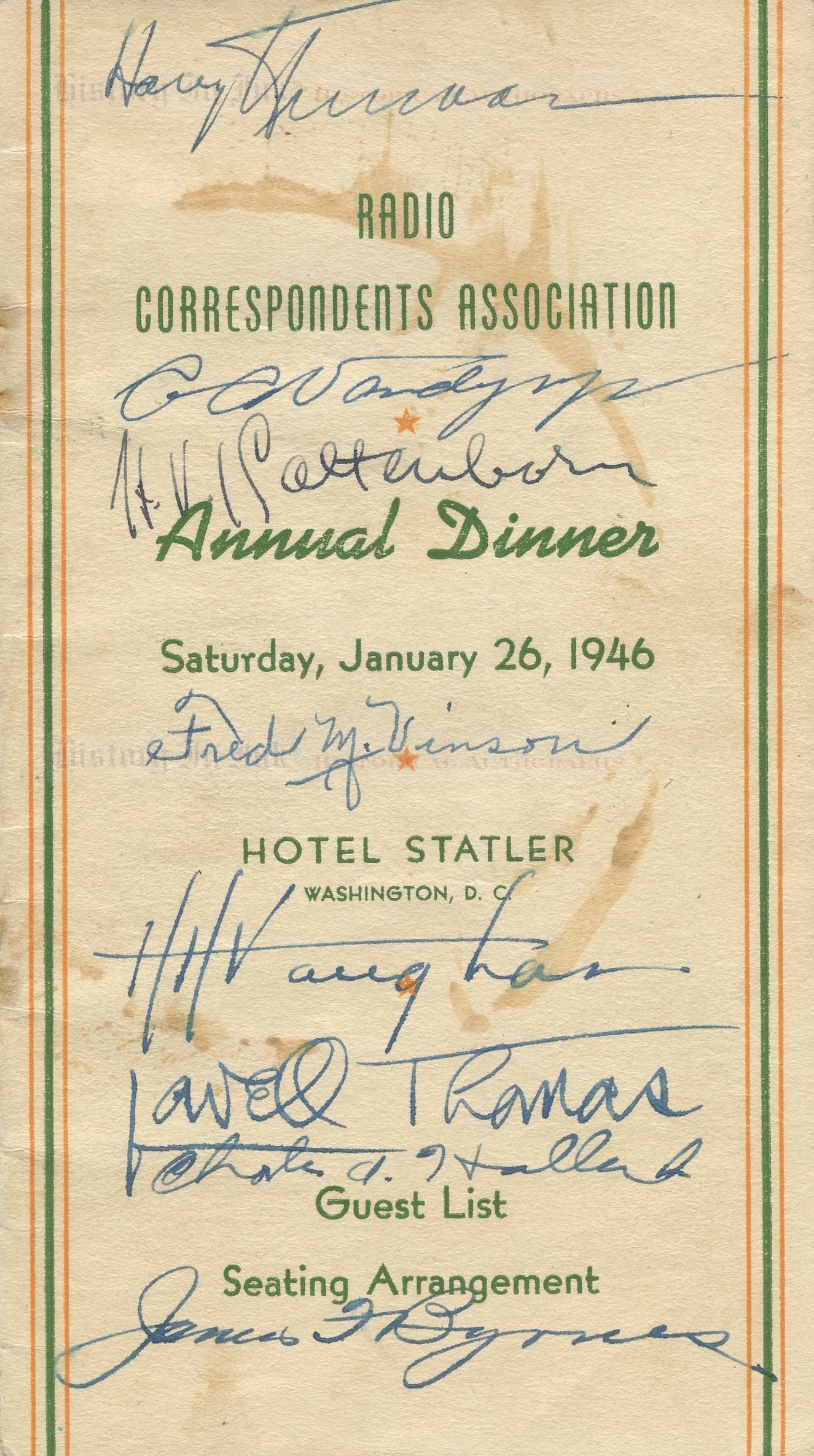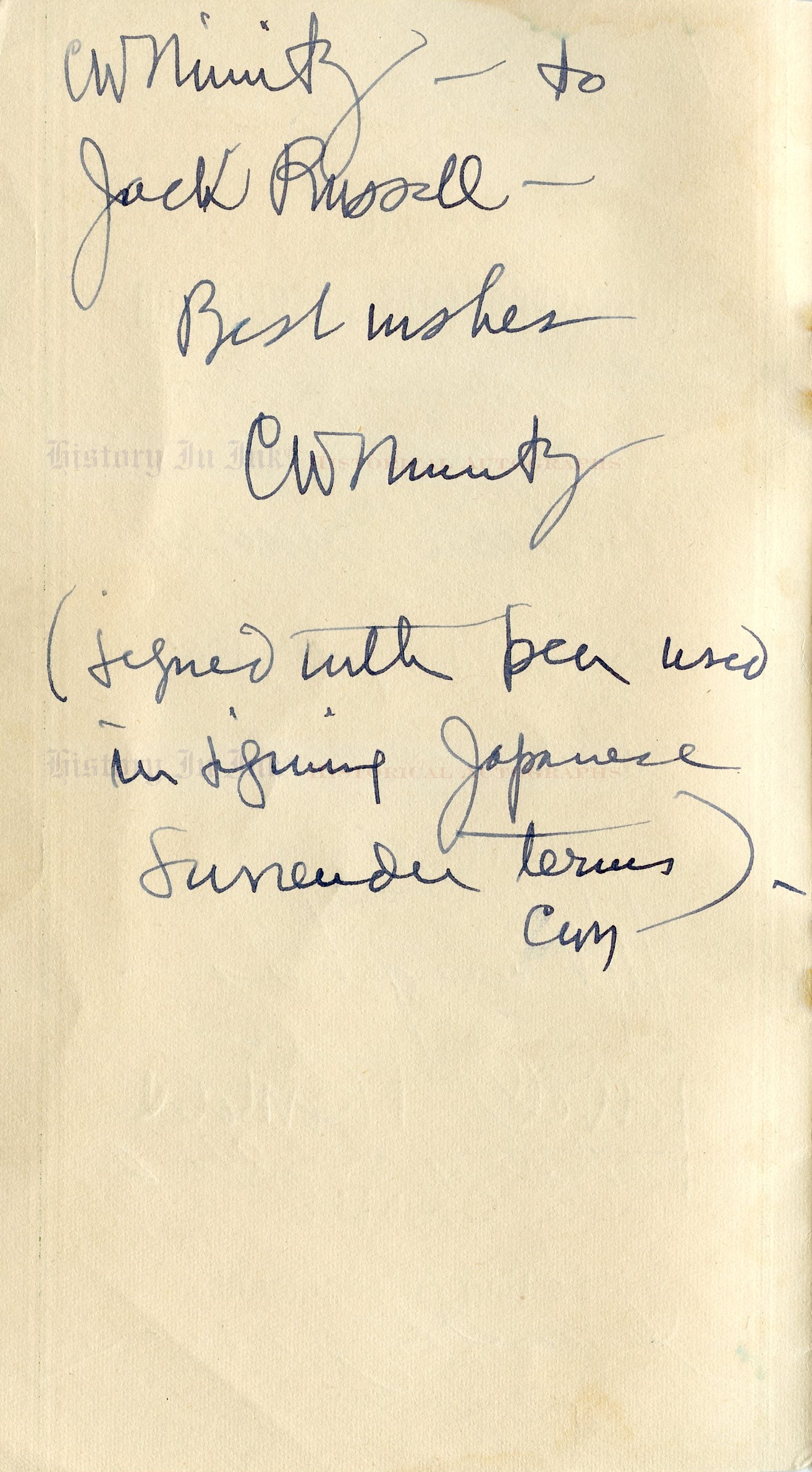 1733401
Harry S. Truman
Chester W. Nimitz
Fred M. Vinson
James F. Byrnes
General Alexander A. Vandegrift
General Harry H. Vaughan
Charles A. Halleck
H. V. Kaltenborn
Lowell Thomas
Superb dinner program signed by nine World War II personalities,
including President Harry S. Truman, Chief Justice Fred M. Vinson, and
Admiral Chester W. Nimitz, who signed "with the pen used in signing Japanese surrender terms"
Harry S. Truman (1884–1972), 33rd President of the United States; Chester William Nimitz (1885–1966), U.S. Fleet Admiral; Commander In Chief of Pacific Naval Forces in World War II; Frederick Moore Vinson (1890–1953), Secretary of the Treasury; Chief Justice of the United States, 1946–1953; James Francis Byrnes (1882–1972), Associate Justice, United States Supreme Court, 1941–1942; United States Senator from South Carolina, 1931–1941; Secretary of State, 1945–1947; Governor of South Carolina, 1951–1955; Alexander Archer Vandegrift (1887–1973), General, United States Marine Corps, 1909–1949; Harry Hawkins Vaughan (1893–1981), Major General, United States Army Reserves, 1917–1953; Military Aide to President Harry S. Truman, 1945–1953; Charles Abraham Halleck (1900-1986), United States Representative from Indiana, 1935–1969; Hans von Kaltenborn, also known as H. V. Kaltenborn (1878–1965), American radio commentator; and Lowell Jackson Thomas (1892–1961), American writer, actor, broadcaster, and traveler. Superb signed Radio Correspondents Association dinner program, 4½" x 8", 22 pages, January 26, 1946.
This is a rare and outstanding World War II association program from the 1946 annual dinner of the Radio Correspondents Association held at the Hotel Statler in Washington, D.C. It is signed on the front by President Harry S. Truman, Secretary of the Treasury (later Chief Justice) Fred M. Vinson, Secretary of State James F. Byrnes, General Alexander A. Vandegrift, General Harry H. Vaughan, Congressman Charles A. Halleck, and radio broadcasters H. V. Kaltenborn and Lowell Thomas. It is signed on the inside by Admiral Chester W. Nimitz, who has inscribed and signed the piece and noted that he "signed with the pen used in signing Japanese surrender terms."
Nimitz was one of the United States' greatest naval commanders. He was promoted to Fleet Admiral on December 19, 1944, after a series of victories over the Japanese Imperial Navy at the Battle of the Coral Sea, the Battle of Midway, the Solomon Islands campaign, the Battle of the Philippine Sea, and the Battle for Leyte Gulf.
Nimitz began his World War II career ten days after Japan attacked and destroyed virtually all of the American naval fleet at Pearl Harbor. He was promoted to admiral, named Commander in Chief of the United States Pacific Fleet, and assigned the daunting task of assembling 1,000 ships and 2,000,000 sailors to face the Japanese. Nimitz carefully deployed the cruisers and carriers that remained, and despite the shortage of ships, airplanes, and supplies, he succeeded in halting the Japanese advance. Nimitz not only took command of the Pacific Fleet but was also designated Commander in Chief, Pacific Ocean Areas, which gave him operational control over all of the allied air, land, and sea forces in that sector. As ships became available, he went on the offensive. Following the sea victories noted above, Nimitz's subsequent successful amphibious assaults on Iwo Jima and Okinawa drove the Japanese back to their home islands.
When Japan formally surrendered on the deck of the U.S.S. Missouri in Tokyo Bay on September 2, 1945, Fleet Admiral Nimitz signed the instrument of surrender for the United States.
Nimitz has signed his signature twice and a third time with his initials in blue fountain pen. The others have signed the cover in blue fountain pen as well. There is a semicircular stain on the cover that affects four signatures but misses the signatures of Truman, Vinson, and Byrnes. The recipient and his relative's names are highlighted inside. The program lists those in attendance in alphabetical order and also lists the seating arrangements for the head table and 48 dinner tables. Overall the piece is in very good to fine condition.
Unframed.
_____________
This item has been sold, but
click here to see other
American History items
that we are offering.