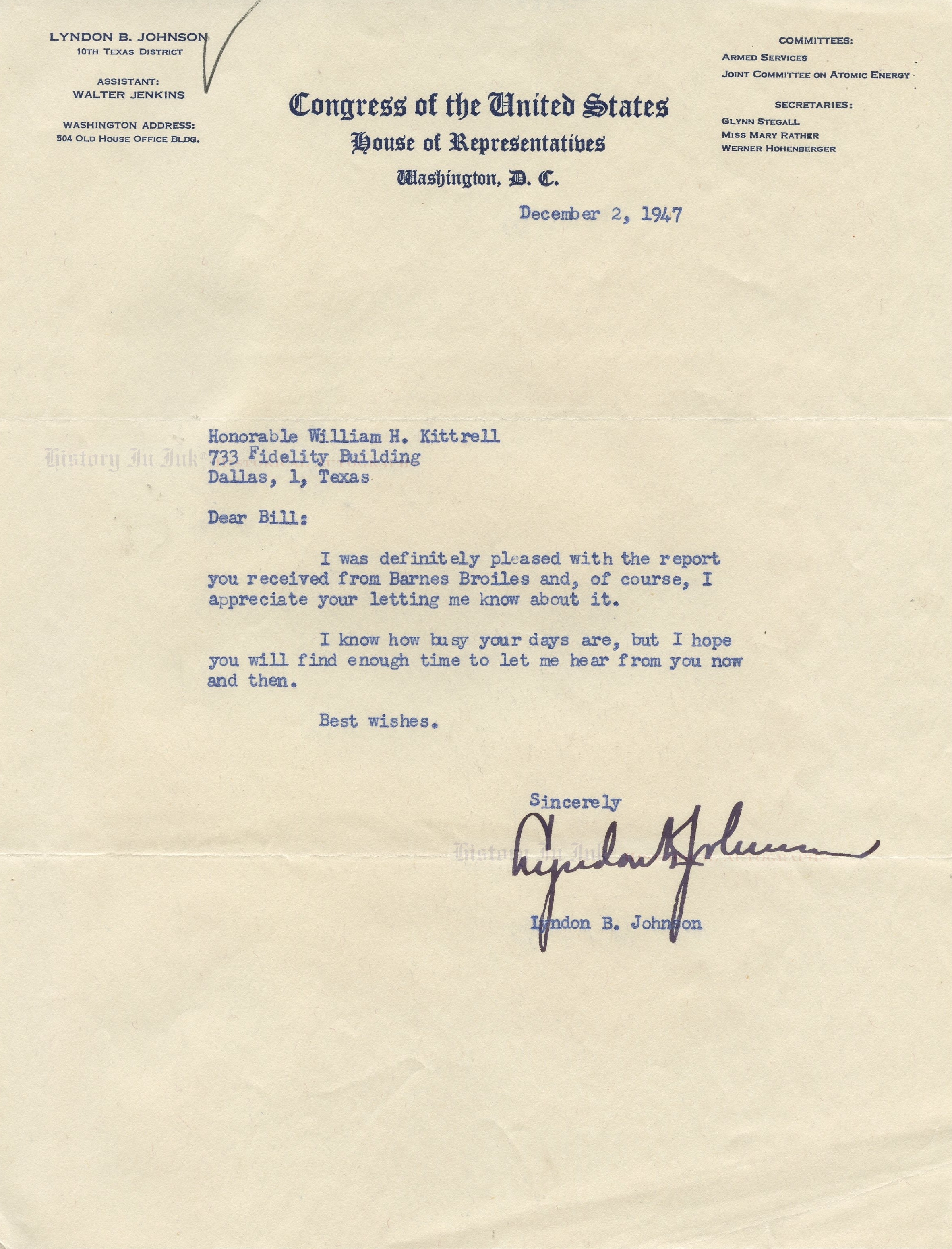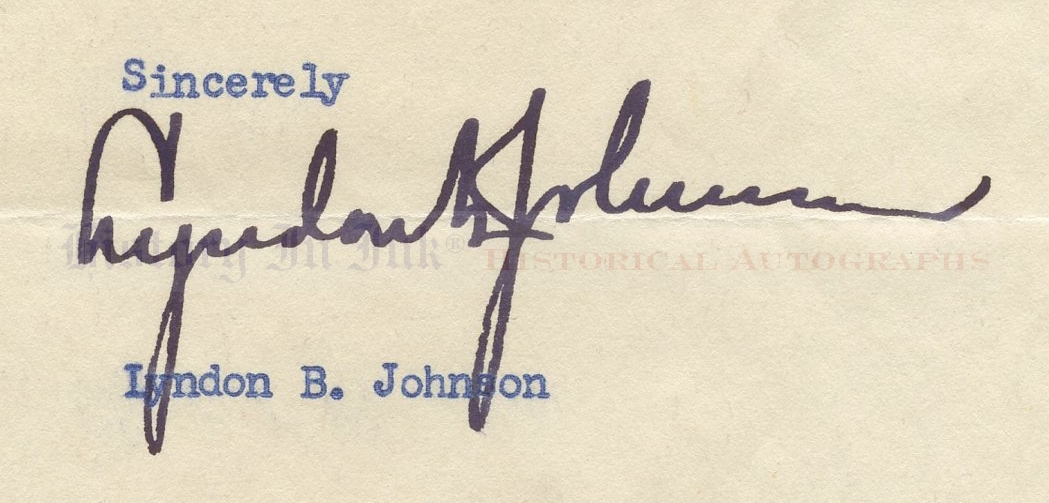 1705805
Lyndon B. Johnson
Scroll down to see images of the item below the description
Johnson, eyeing a 1948 Senate run, thanks a friend and supporter for a newspaperman's report
Lyndon Baines Johnson, 1908–1973. 36th President of the United States, 1963–1969. Typed Letter Signed, Lyndon B Johnson, one page, 8" x 10½", on stationery of the Congress of the United States, House of Representatives, Washington, D.C., December 2, 1947.
The ambitious Johnson, anticipating a run for the United States Senate in 1948, thanks a friend and supporter for a newspaperman's report. He writes, in full: "I was definitely pleased with the report you received from Barnes Broiles and, of course, I appreciate your letting me know about it. / I know how busy your days are, but I hope you will find enough time to let me hear from you now and then."
Johnson wrote this letter shortly before he made his second run for the Senate. He entered Congress when he was only 24 years old after winning a special election as a New Deal Democrat in 1937. He sought to move to the Senate but narrowly lost another special election in 1941. Seven years later, he moved to the right in an effort to appeal to the more conservative Southern elements in Texas. After a hard-fought primary campaign in which he toured the state in a helicopter, a novelty at the time, Johnson finished second to popular Democratic Governor Coke Stevenson in the three-way race and then, because Stevenson had not won a majority, defeated Stevenson by 87 votes out of 988,285 cast in the runoff election. The runoff was marred by widespread reports of election fraud, of votes by people who claimed they had not voted, of stuffed ballot boxes, of altered vote totals. But the Texas Democratic Committee certified his victory by one vote, 29–28, and Stevenson's effort to overturn the election in the courts failed. For his razor-thin margin of victory, Johnson was forever branded as "Landslide Lyndon." He handily won the general election over his Republican opponent, and the rest, as they say, is history: He went on to become the youngest majority leader in Senate history, Vice President under John F. Kennedy, and President of the United States upon Kennedy's assassination in 1963.
Barnes Hoover Broiles (1897–1980), whom Johnson mentions in this letter, was the editor and publisher of the Gladewater Times Tribune, a newspaper in Gladewater, Texas, northeast of Tyler. He sold that newspaper in 1949 and bought the Jacksonville Daily Progress, in Jacksonville, Texas, in 1951. A native Texan, he had a 60-year career as a newspaperman, beginning in California before he returned to Texas to join the staff of the Houston Post in 1923. He was president of the North and East Texas Press Association in 1956–1957.
William H. Kittrell (1894–1966), to whom Johnson wrote this letter, was long active in Democratic party politics. He served as secretary of the Texas delegation to the 1932 Democratic convention that nominated Franklin D. Roosevelt and later managed Roosevelt's reelection campaign in the Dallas area in 1940. Roosevelt appointed him to the North African Economic Board, which managed Allied economic intervention in French North Africa and was responsible for distribution of Lend-Lease supplies. Kittrell supported Democratic nominee Adlai Stevenson against Dwight D. Eisenhower in 1952, and under Kennedy he served as a consultant to the Office of Emergency Planning.
This letter has one of the most beautiful early Johnson signatures that we have ever seen. Johnson has signed a 3" in black fountain pen. The letter normal mailing folds and handling bends in the blank lower right corner, affecting nothing. The recipient's penciled checkmark at the upper left affects one letter of the printed letterhead. Overall the letter is in fine condition.
Unframed.
_____________
This item has been sold, but
click here to see other
Presidents and First Ladies items
that we are offering.