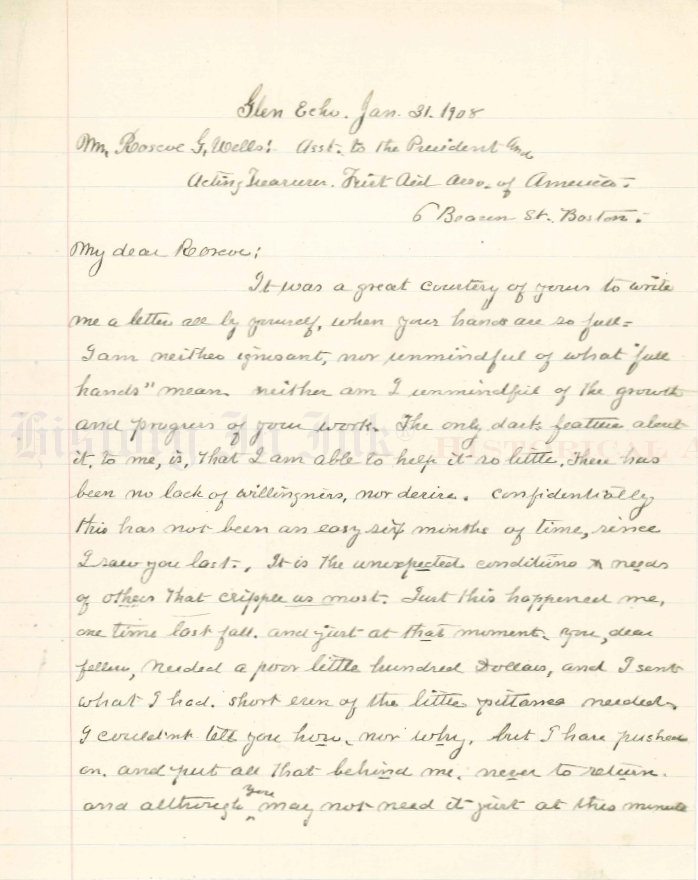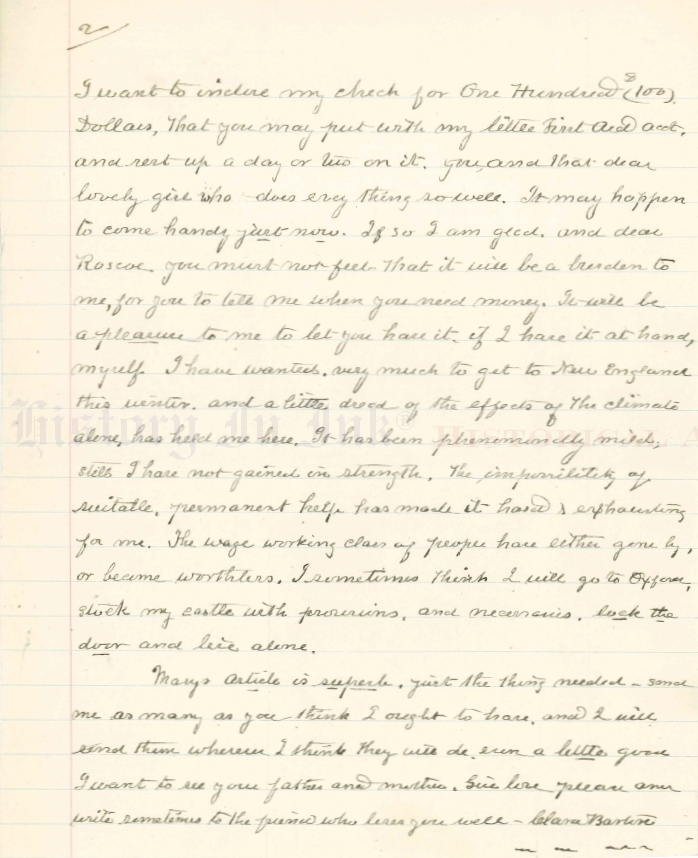 1701801
Clara Barton
"It has been phenomenally mild, still I have not gained in strength.
The impossibility of suitable, permanent help
has made it hard & exhausting for me."
Clarissa "Clara" Harlowe Barton, 1821–1912. Nurse and humanitarian; founder of the American Red Cross. Autograph Letter Signed, Clara Barton, two pages, quarto, on lined stationery, Glen Echo, [Maryland], January 31, 1908.
The 88-year-old Barton writes to her friend and supporter Roscoe G. Wells, who held various positions in the National First Aid Association of America. She sends him money and writes of both his work and her difficulties. In full:
"It was a great courtesy of yours to write me a letter all by yourself, when your hands are so full. I am neither ignorant, nor unmindful of what 'full hands' mean neither am I unmindful of the growth and progress of your work. The only dark feature about it, to me, is, that I am able to help it so little. There has been no lack of willingness, nor desire. Confidentially this has not been an easy six months of time, since I saw you last. It is the unexpected conditions & needs of others that cripple us most. Just this happened [to] me, one time last fall, and just at that moment, you, dear fellow, needed a poor little hundred dollars, and I sent what I had. Short even of the little pittance needed I couldn't tell you how, nor why, but I have pushed on, and put all that behind me, never to return, and although you may not need it just at this minute I want to inclose [sic] my check for one hundred ($100) Dollars, that you may put with my little first aid acct. and rest up a day or two on it. You, and that dear lovely girl who does every thing so well. It may happen to come handy just now. If so I am glad and dear Roscoe you must not feel that it will be a burden to me, for you to tell me when you need money. It will be a pleasure to me to let you have it if I have it at hand, myself. I have wanted, very much to get to New England. This winter and a little dread of the effects of the climate alone, has held me here. It has been phenomenally mild, still I have not gained in strength. The impossibility of suitable, permanent help has made it hard & exhausting for me. The wage working class of people have either gone by, or become worthless. I sometimes think I will go to Oxford, stock my castle with provisions, and necessities lock the door and live alone. Mary's article is superb. Just the thing needed—send me as many as you think I ought to have, and I will send them wherever I think they will do even a little good. I want to see your father and mother. Give love please and write sometimes to the friend who loves you well . . . "
Barton has penned this letter on the front sides of two pages in black. She writes from her home in Glen Echo, Maryland, where she spent the last 15 years of her life. She published her autobiography, The Story of My Childhood, in 1907, not long before she wrote this letter.
The letter has mailing folds and shows some light creasing and wear. There are a few pin holes in the left blank margin, affecting nothing. The letter is in fine condition.
Unframed.
_____________
This item has been sold, but
click here to see other
American History items
that we are offering.