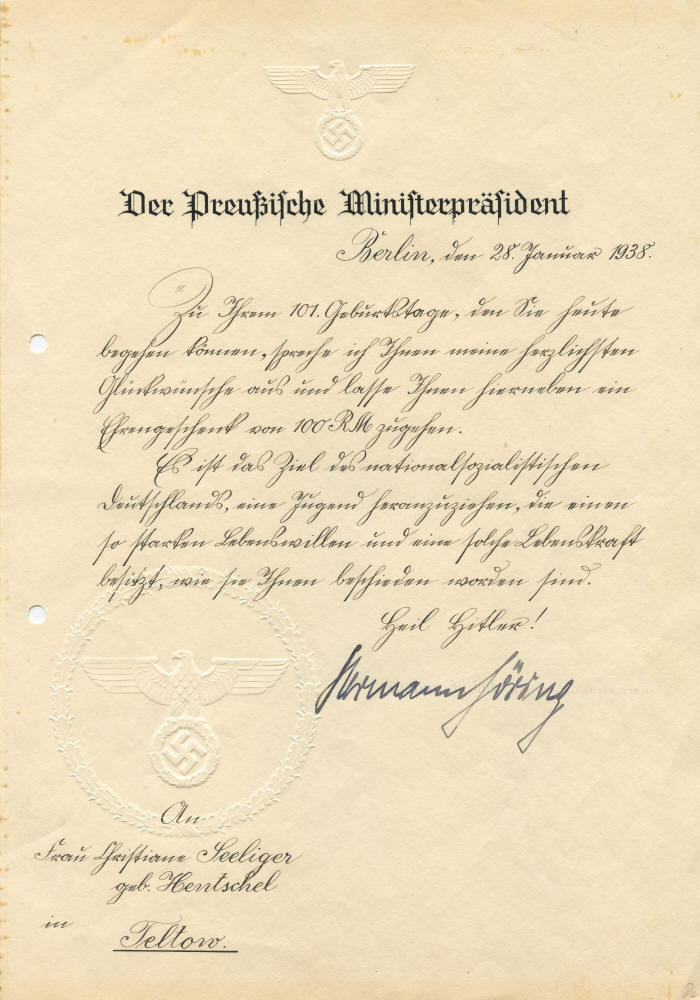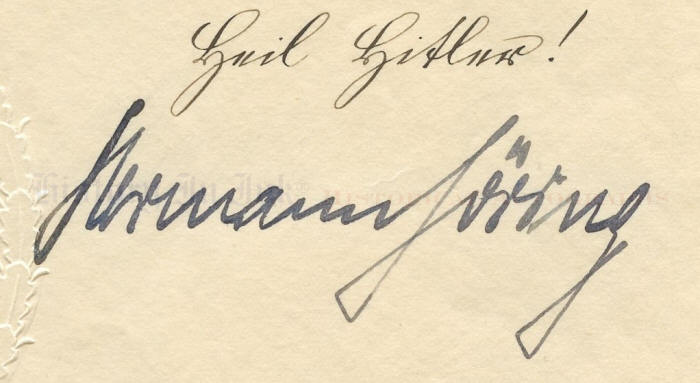 1607702
Hermann Göring
Göring, as Prime Minister of Prussia, congratulates a lady on her 101st birthday
Hermann Wilhelm Göring, 1893–1946. Nazi Reichsmarshall; Luftwaffe commander-in-chief; Prime Minister of Prussia, 1933–1945. Partially printed Manuscript Document Signed, Hermann Göring, one page, 8¼" x 11¾", with integral leaf attached, on blind-embossed, engraved stationery of The Prime Minister of Prussia, Berlin, January 28, 1938. In German, with translation.
This is an impressive deckle-edged presentation document in which Göring, as the Prime Minister of Prussia, sends congratulations and a monetary gift to a lady on her 101st birthday. He writes, in full: "Of your 101 birthdays, which you can celebrate today, I offer you my warmest congratulations and give you herewith an honor gift of 100 Reichmarks. It is the aim of Nazi Germany to attract youth who have such a strong will to live and such a force of life as have been allotted to you. Heil Hitler!"
This was no token gift. The economic depression in Germany largely fueled Hitler's rise to power. In 1938, 100 German Reichmarks were worth about $40, which is about $680 today. But in the world economic situation that still prevailed in 1938, it was much more valuable yet: Since the average annual wage in Germany was 1,850 Reichmarks, this gift was about 2/3 of one month's income. Gauged by the standard of living, it amounted to $1,490 in today's dollars.
Göring sent this gift at an important and busy time in Germany. The day before, the German War Minister, Field Marshal Werner von Blomberg, had resigned following the revelation that his wife had previously posed for pornographic photos. Göring had been Blomberg's best man at his wedding just 15 days earlier. On February 4, Adolf Hitler abolished the War Ministry and created the Oberkommando der Wehrmacht, the military high command, which gave him direct control of the German Army. He forced the resignation of General Werner von Fritsch as commander in chief of the Army following accusations of homosexuality and replaced him with General Walther von Brauchitsch. On February 12, Austrian chancellor Kurt von Schuschnigg met with Hitler and, under threat of German invasion, yielded to German demands for greater Nazi participation in the Austrian government. By March 13, Germany annexed Austria.
A decorated World War I pilot, Göring was one of Nazi Germany's most important officials. From roughly 1933 to 1945, he held several offices simultaneously: He was the German Reichsminister of Aviation; the acting governor of Prussia as well as its Prime Minister, the position from which he issued this document; the German Reichsminister of Forestry; and President of the Reichstag, Germany's national legislative body. He also served almost two months in 1937–1938 as the Reichsminister of Economics. In 1941, he became Hitler's Deputy Führer, the vice chancellor of Germany, a post that he held until Hitler deposed him in the closing days of the Third Reich.
Apart from the engraved printing in the letterhead, this document is completely—and beautifully—engrossed by hand. The letterhead has the blind-embossed Nazi eagle at the top. The eagle device appears again in the large circular seal that barely touches the edge of the "H" in Göring's black fountain pen signature. The document has two file holes in the left blank margin, affecting nothing, a few scattered stains in the blank upper left area, and a small pencil notation in the lower right corner. Overall it is in fine condition.
This is a quite unusual item. Our research has not found another document like this one sold at auction over the past 40 years.
We reject Nazism and all that it represented. We nevertheless offered this document because the German Third Reich, although despised, had an undeniable effect on the course of the 20th Century.
Unframed.
_____________
This item has been sold, but
click here to see other
World History items
that we are offering.