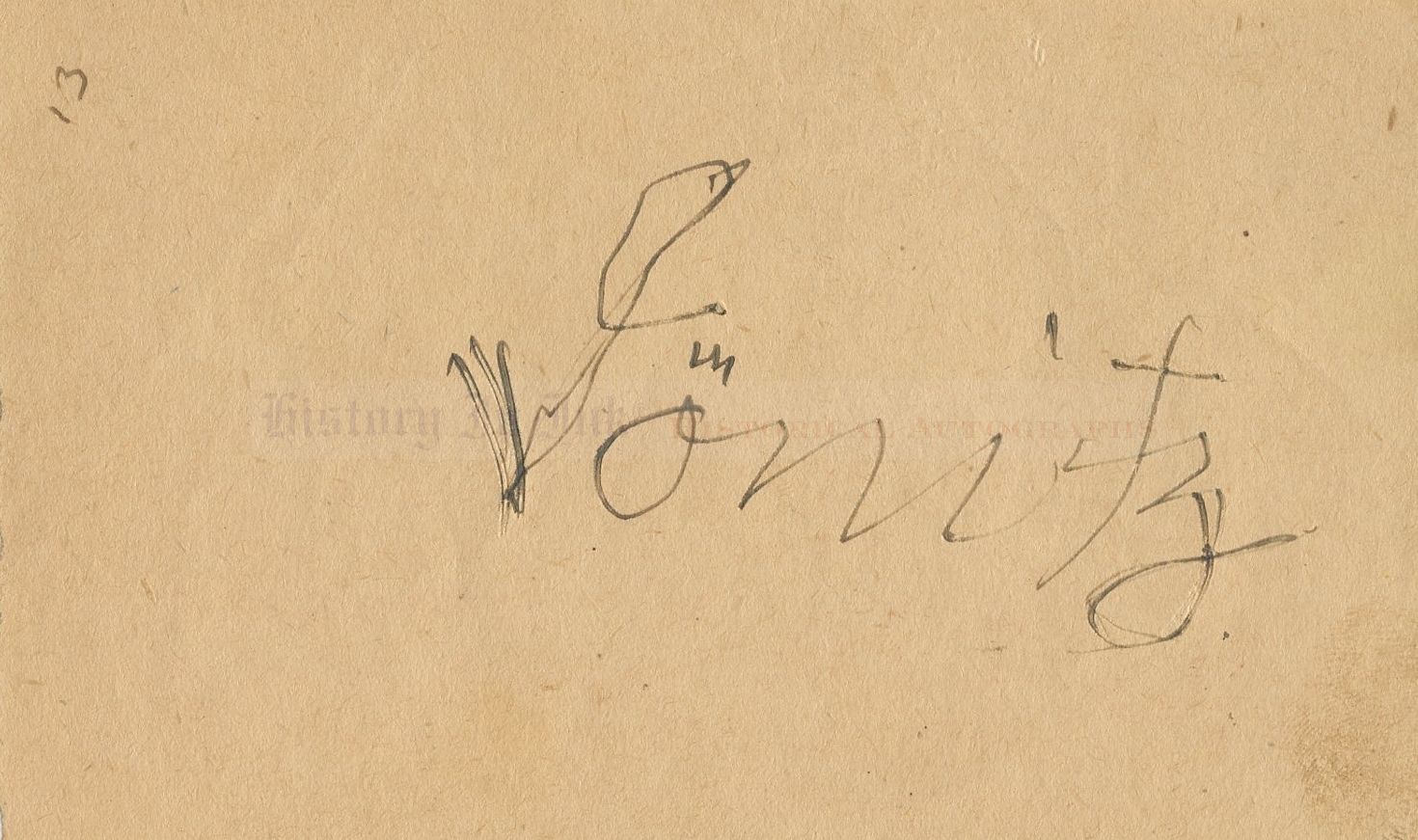 Grand Admiral Karl Dönitz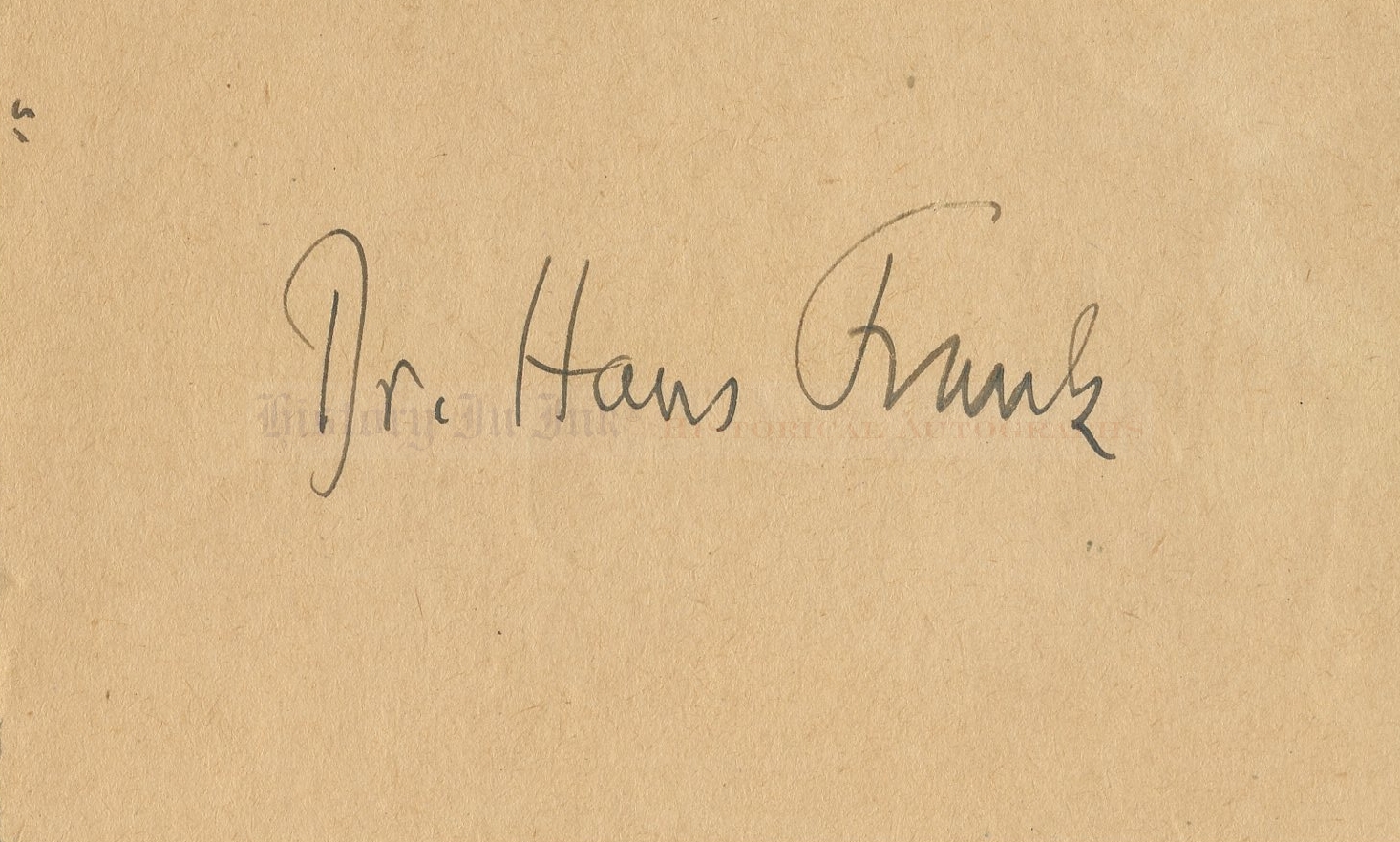 Hans Frank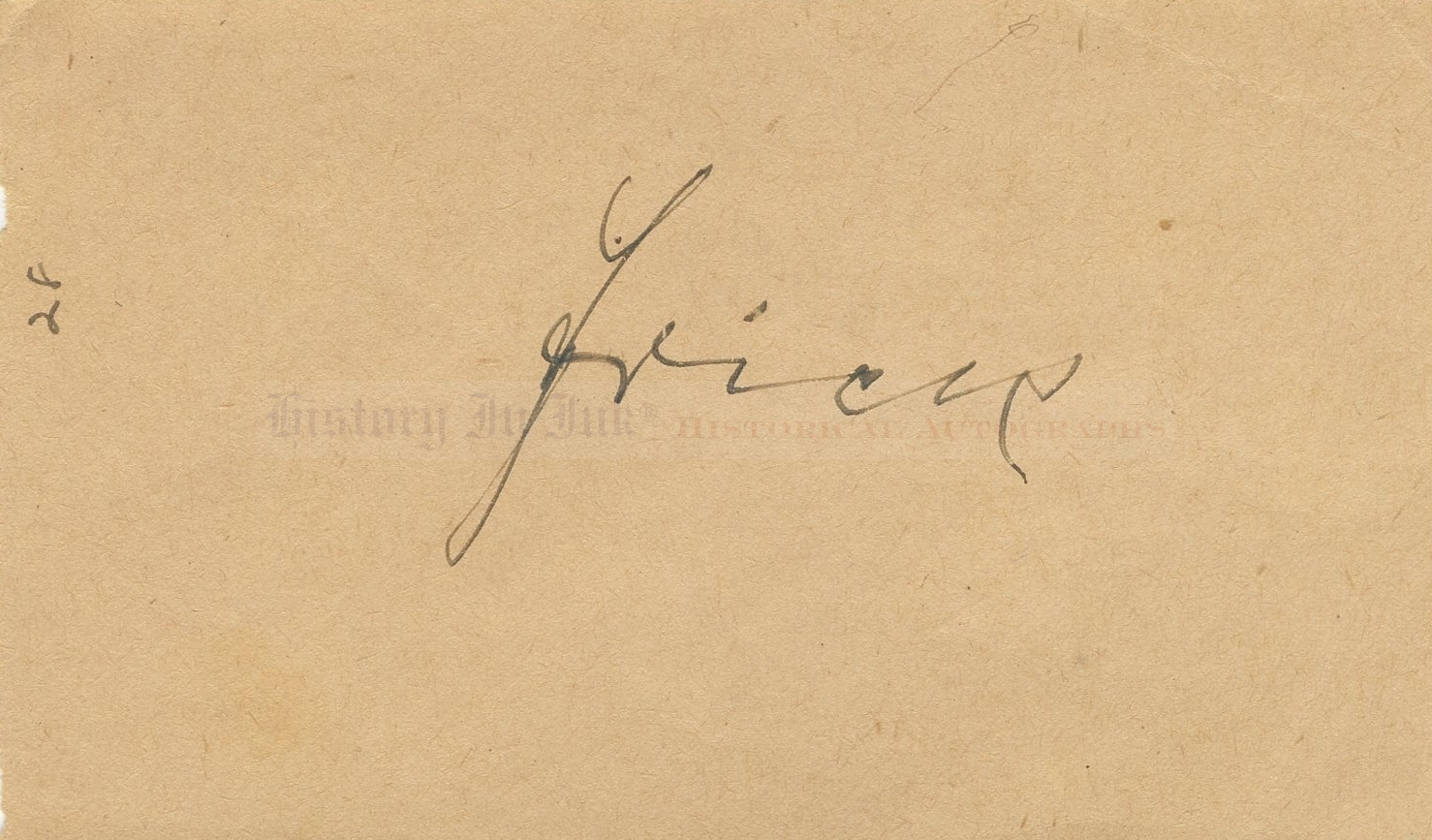 General Wilhelm Frick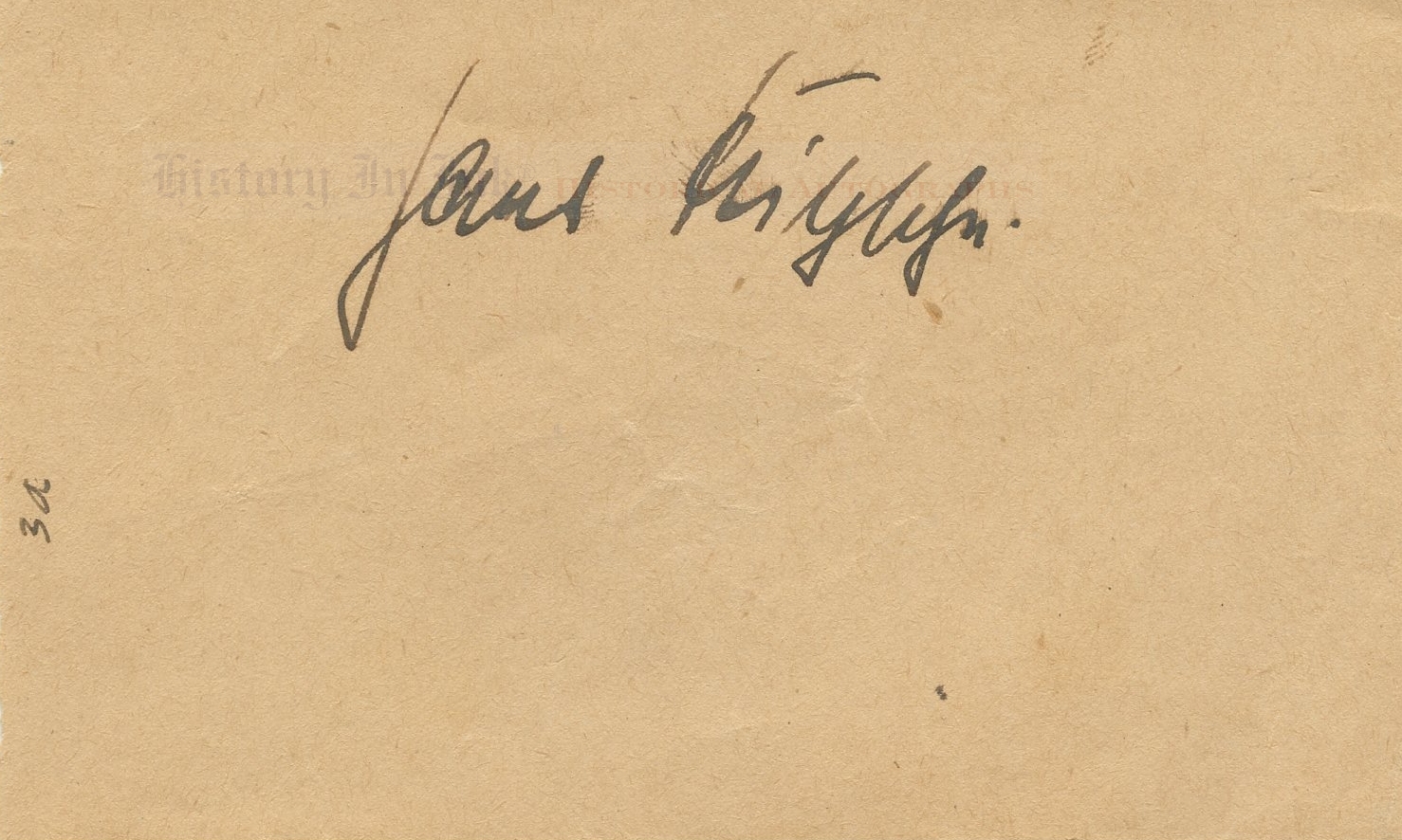 Hans Fritzsche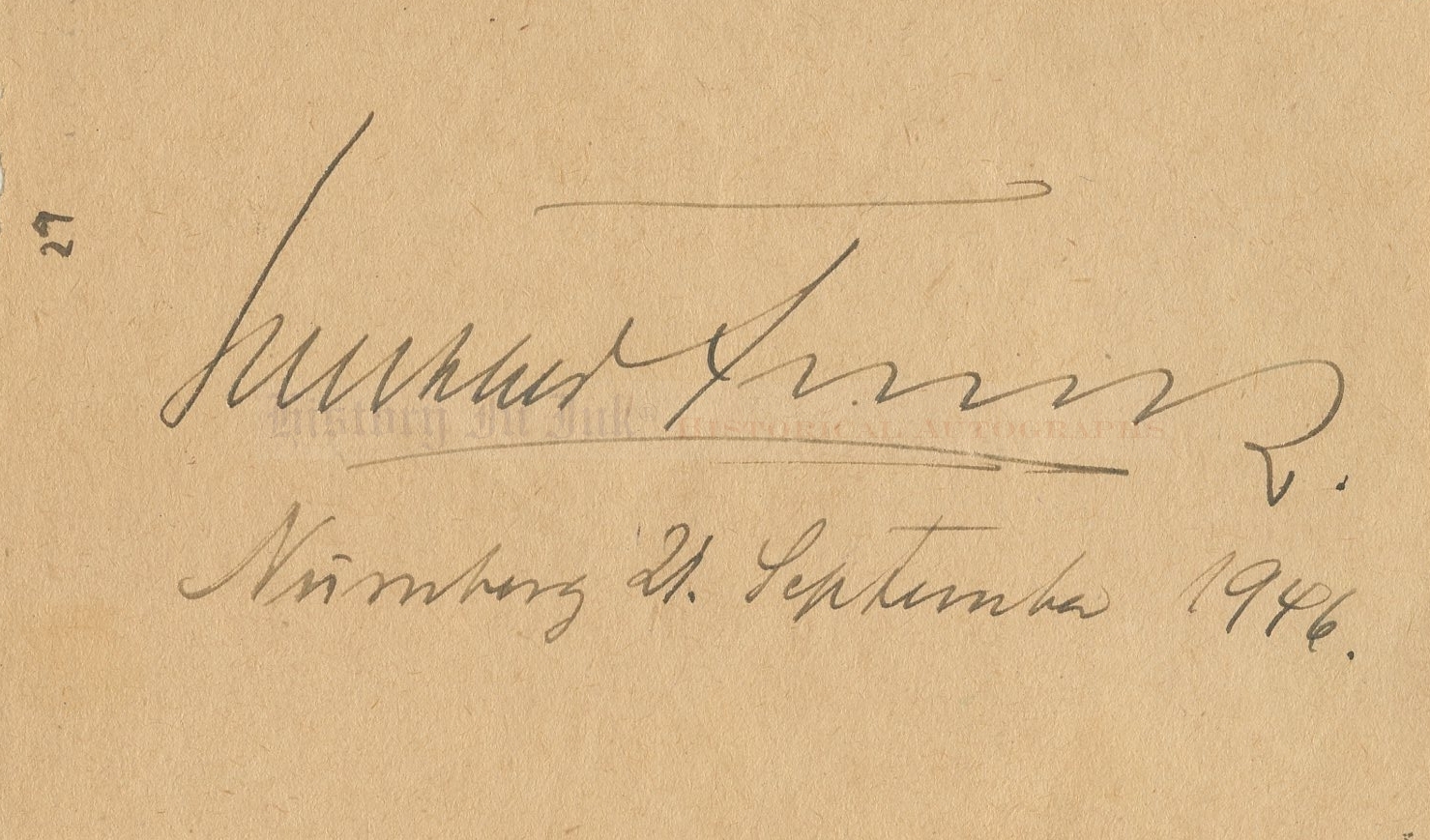 Walther Funk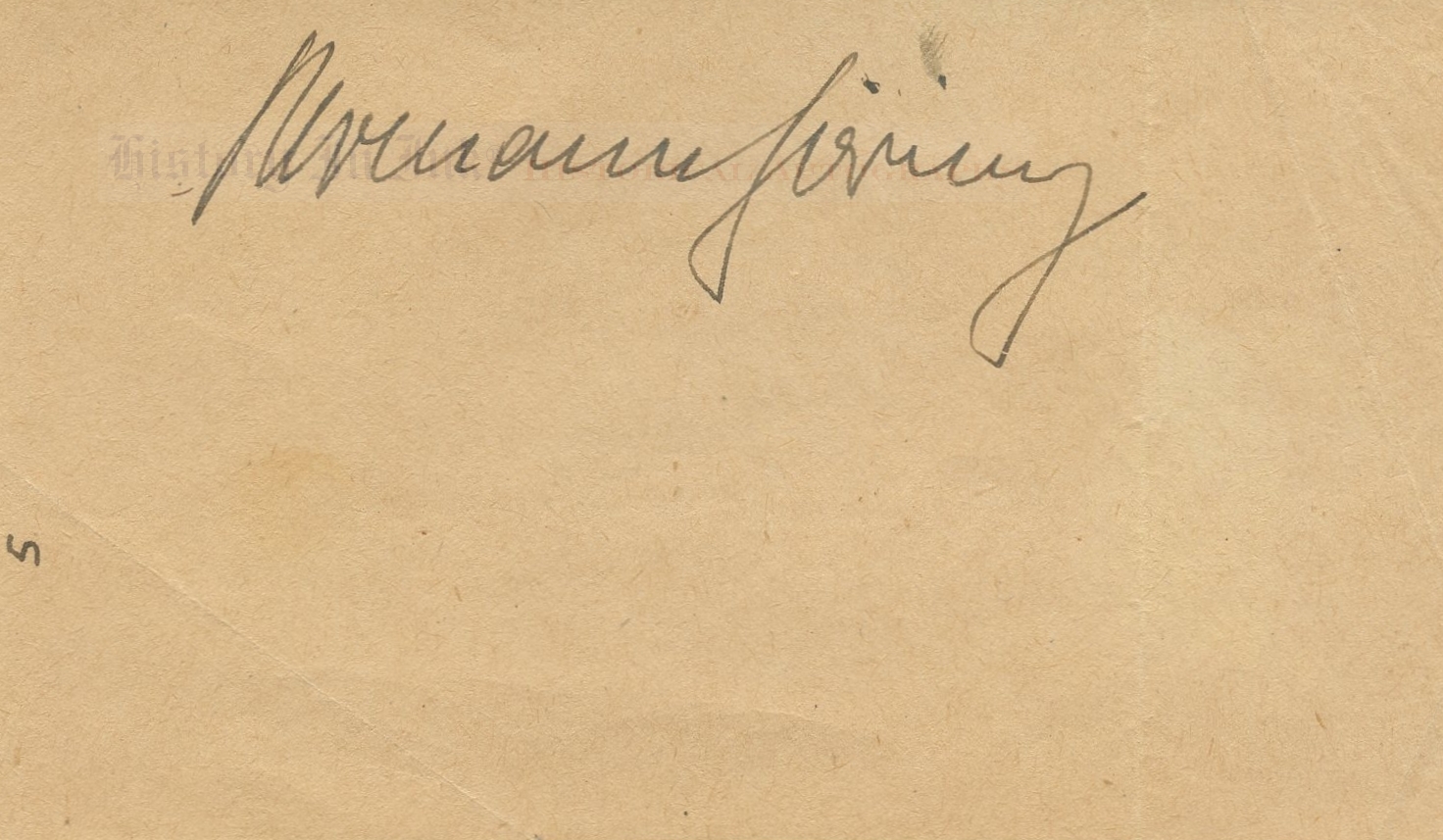 Reichsmarschall Hermann Göring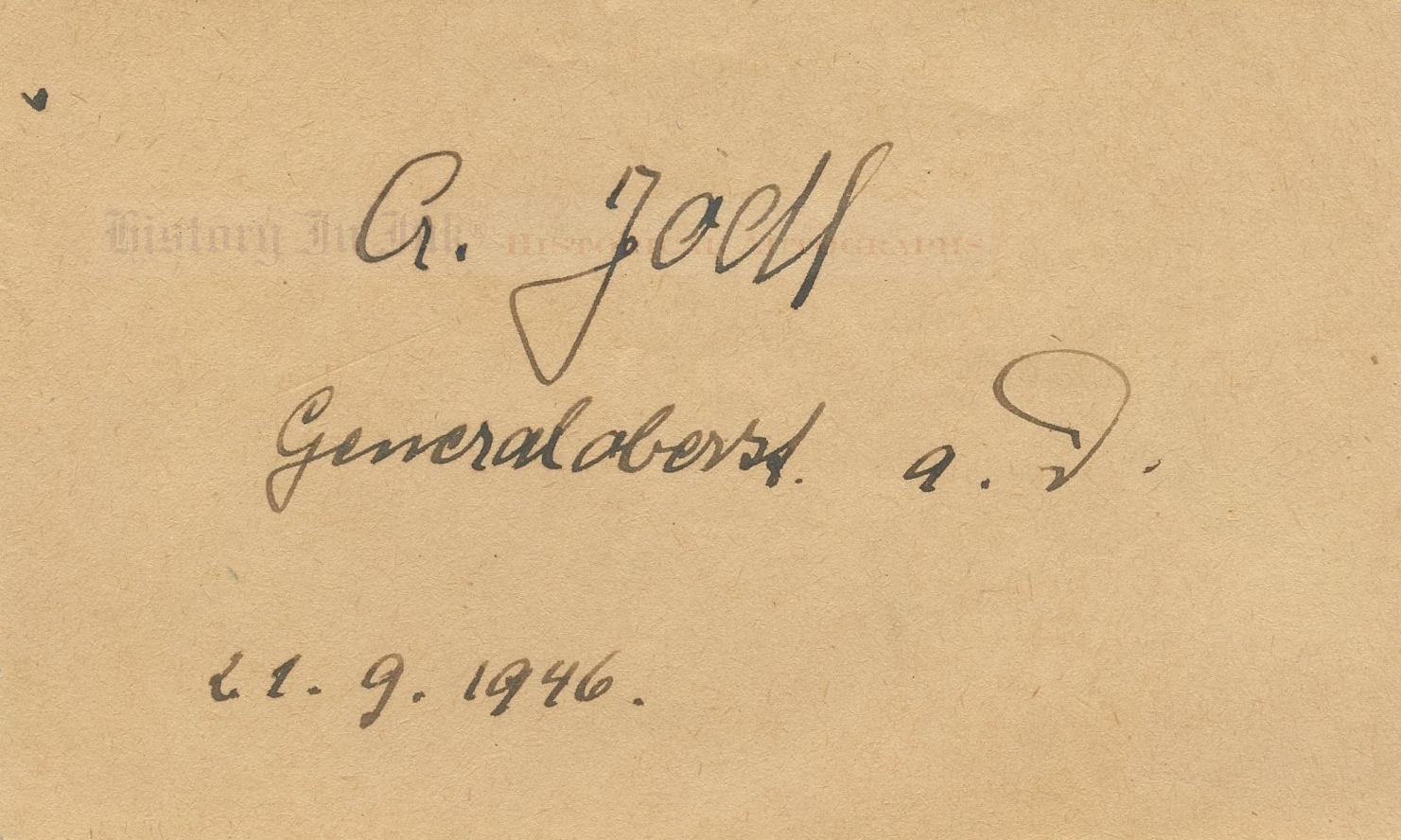 General Alfred Jodl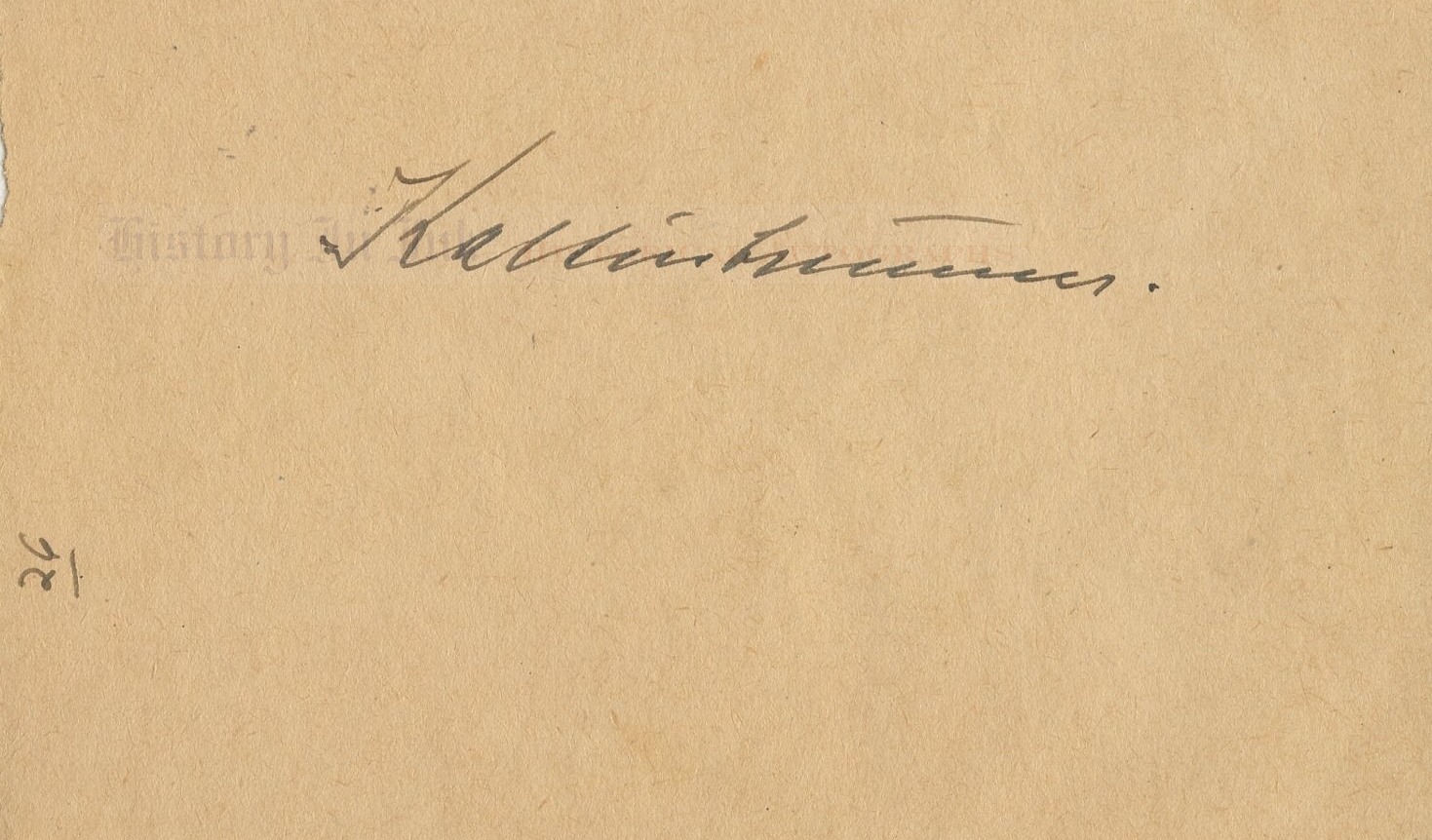 Ernst Kaltenbrunner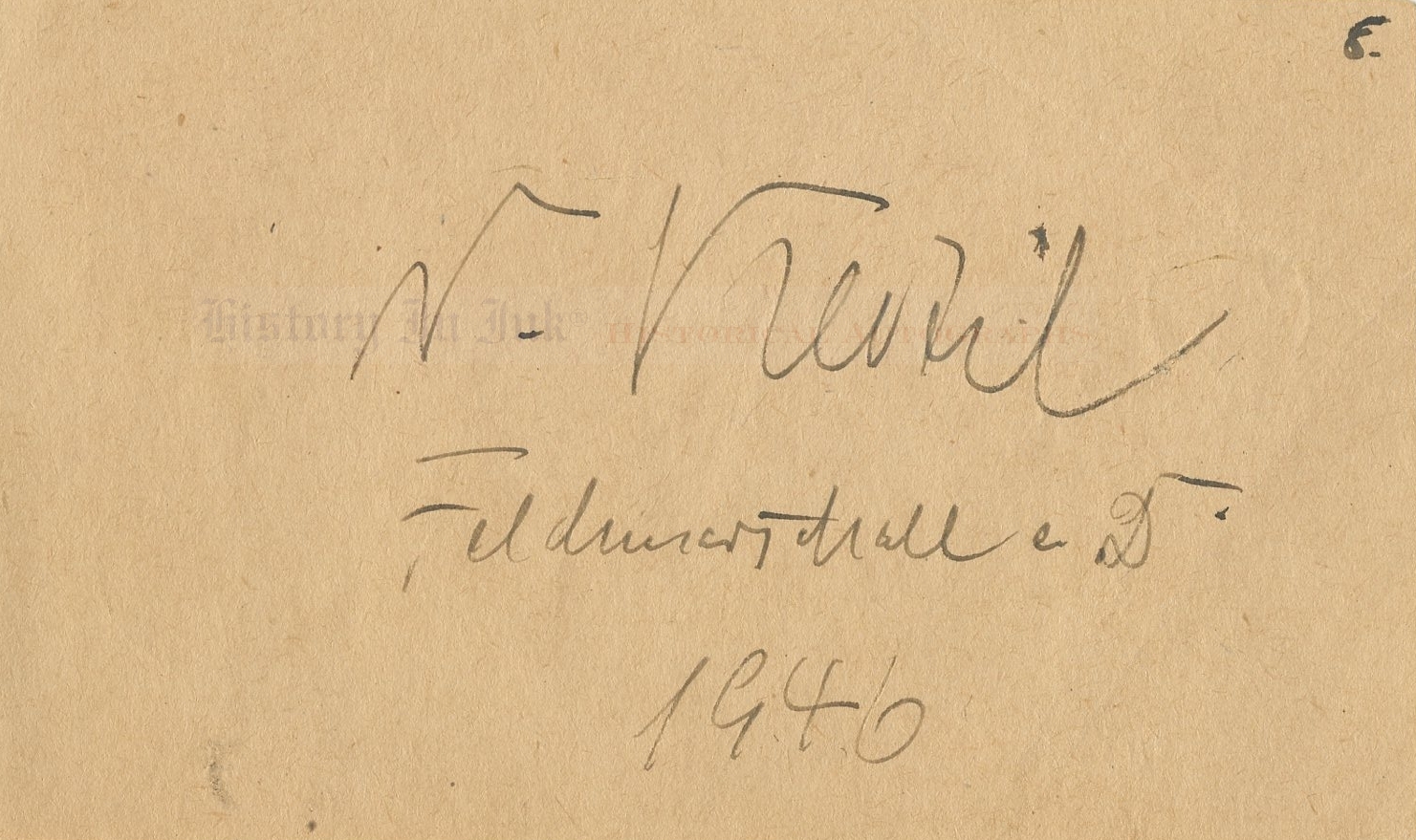 General Wilhelm Keitel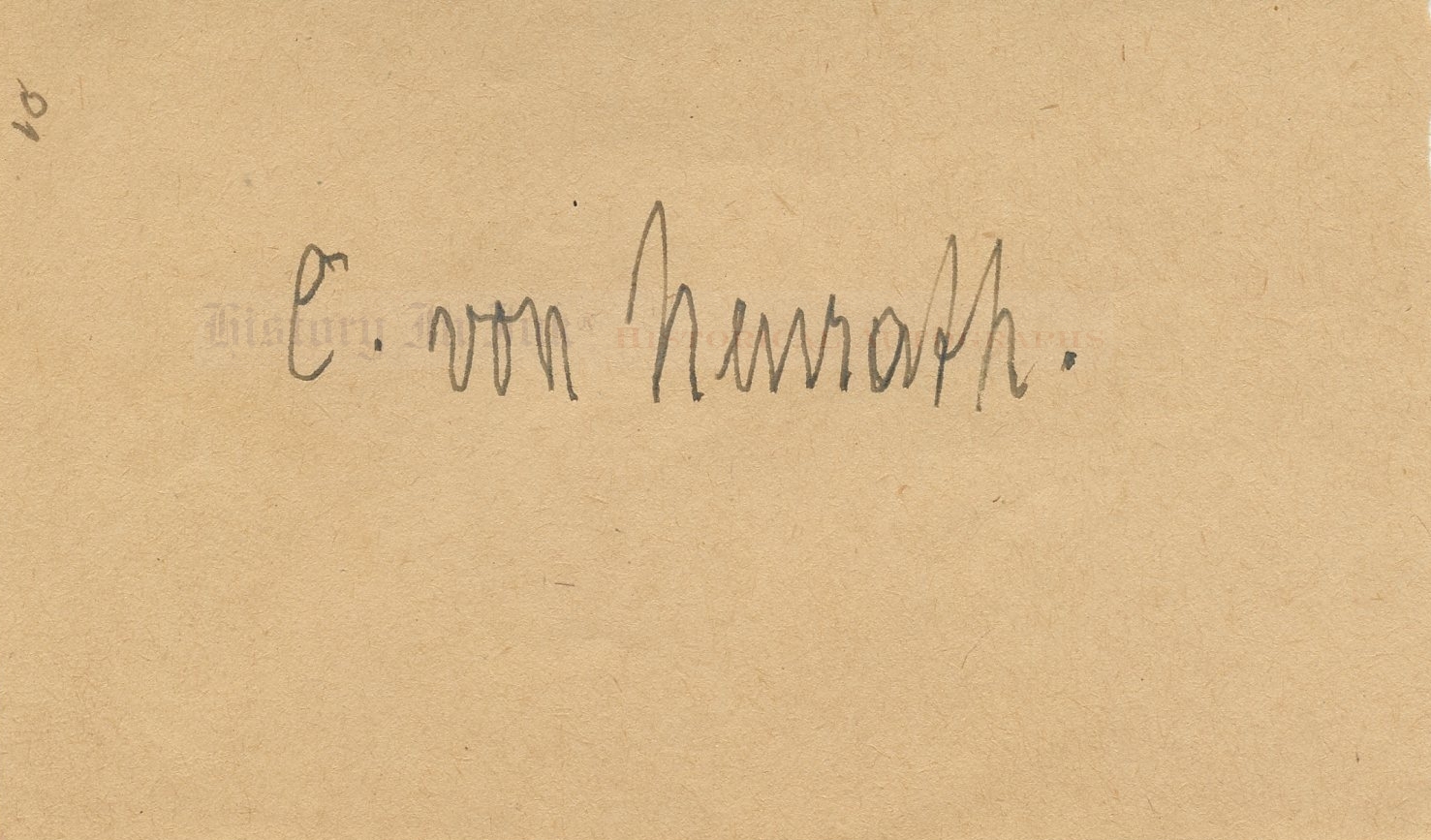 Konstantin von Neurath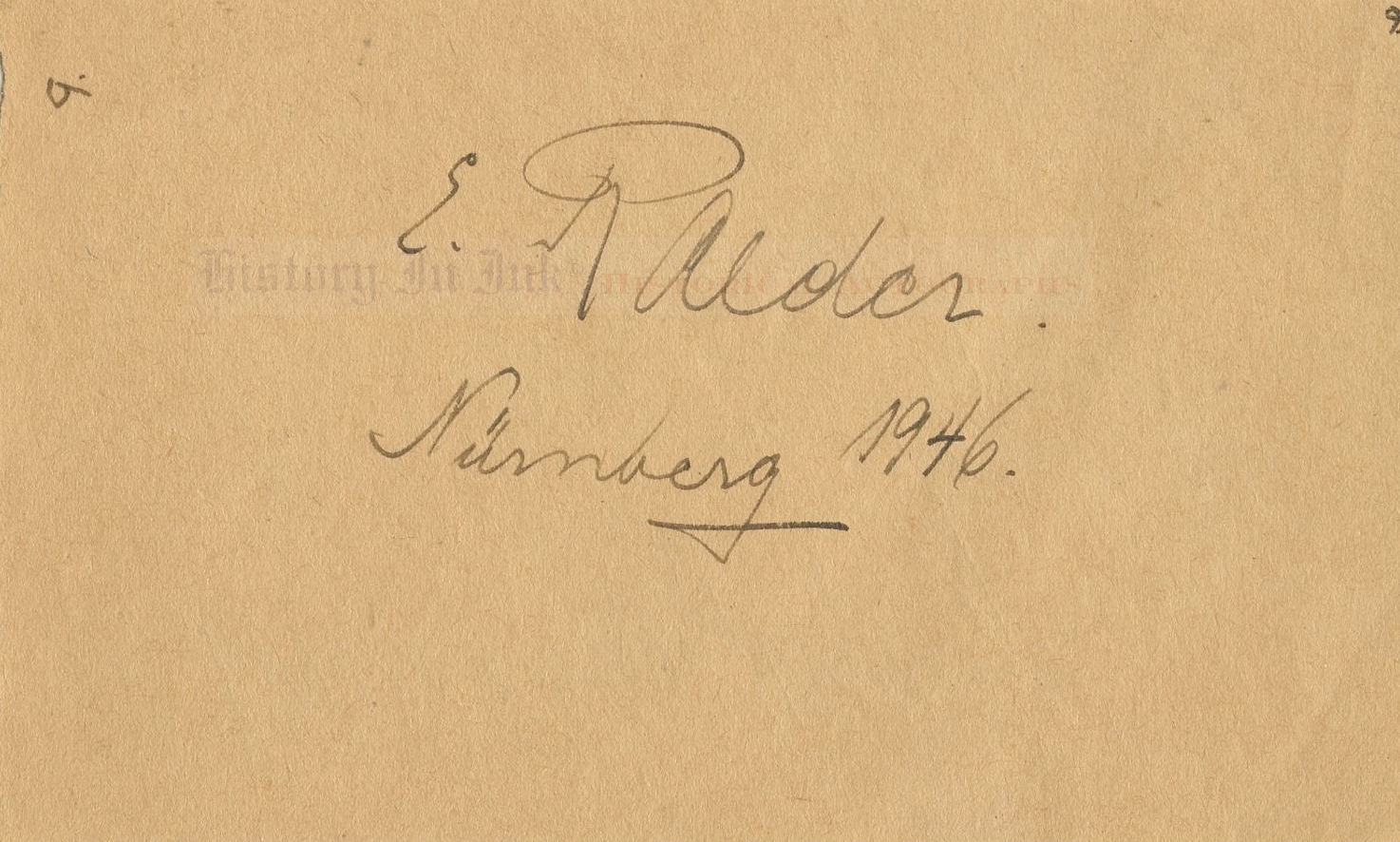 Grand Admiral Erich Raeder (front)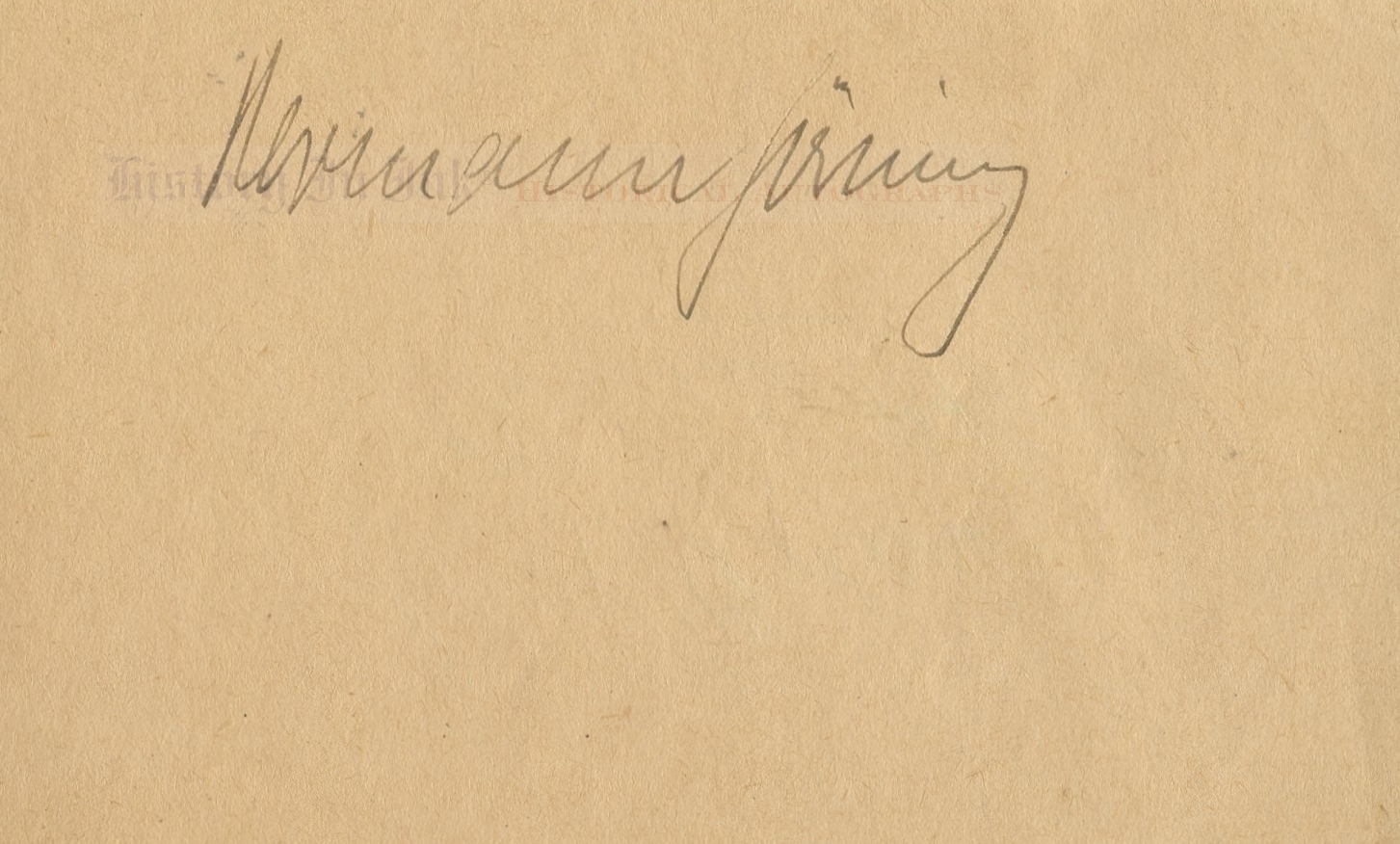 Reichsmarschall Hermann Göring (back)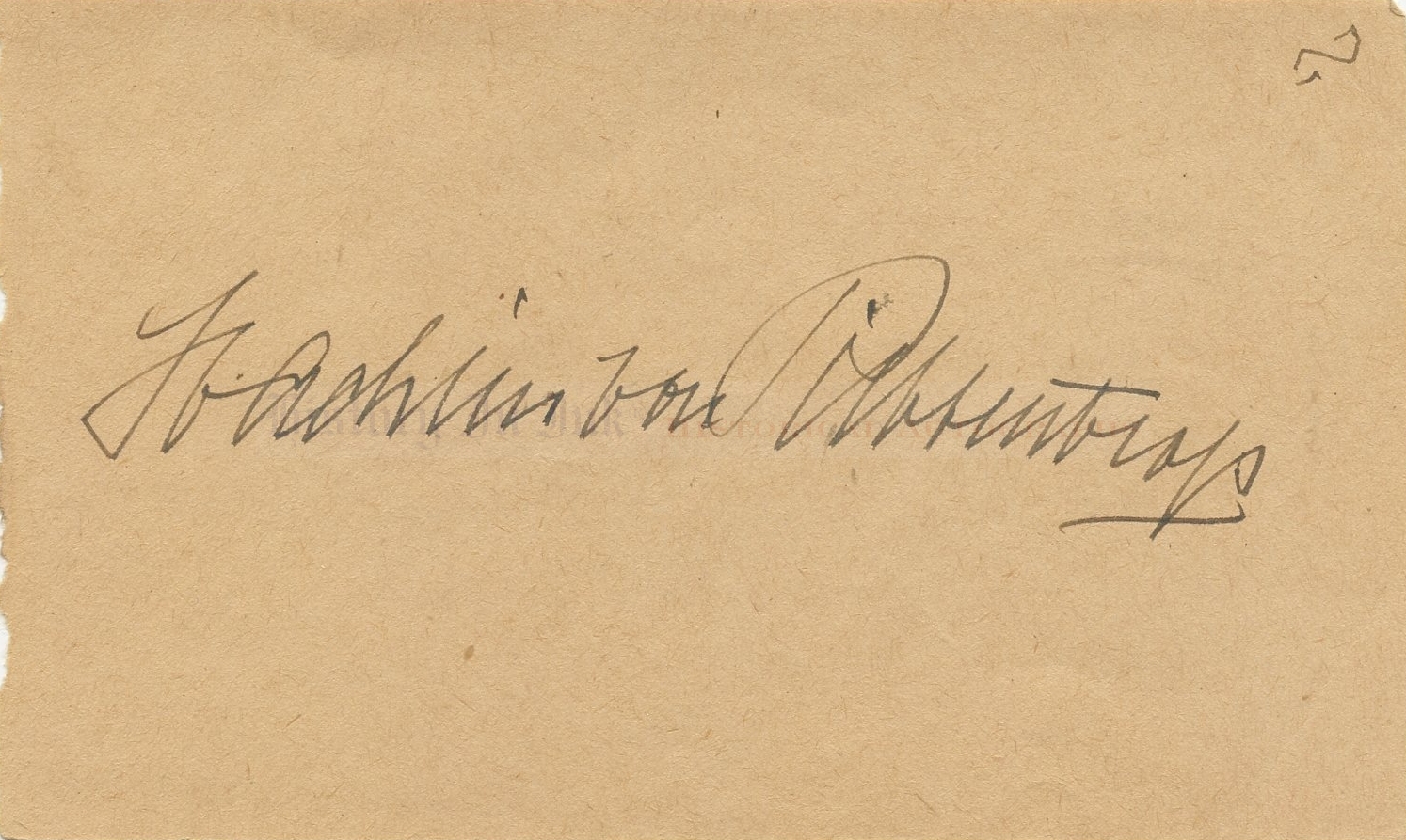 Joachim von Ribbentrop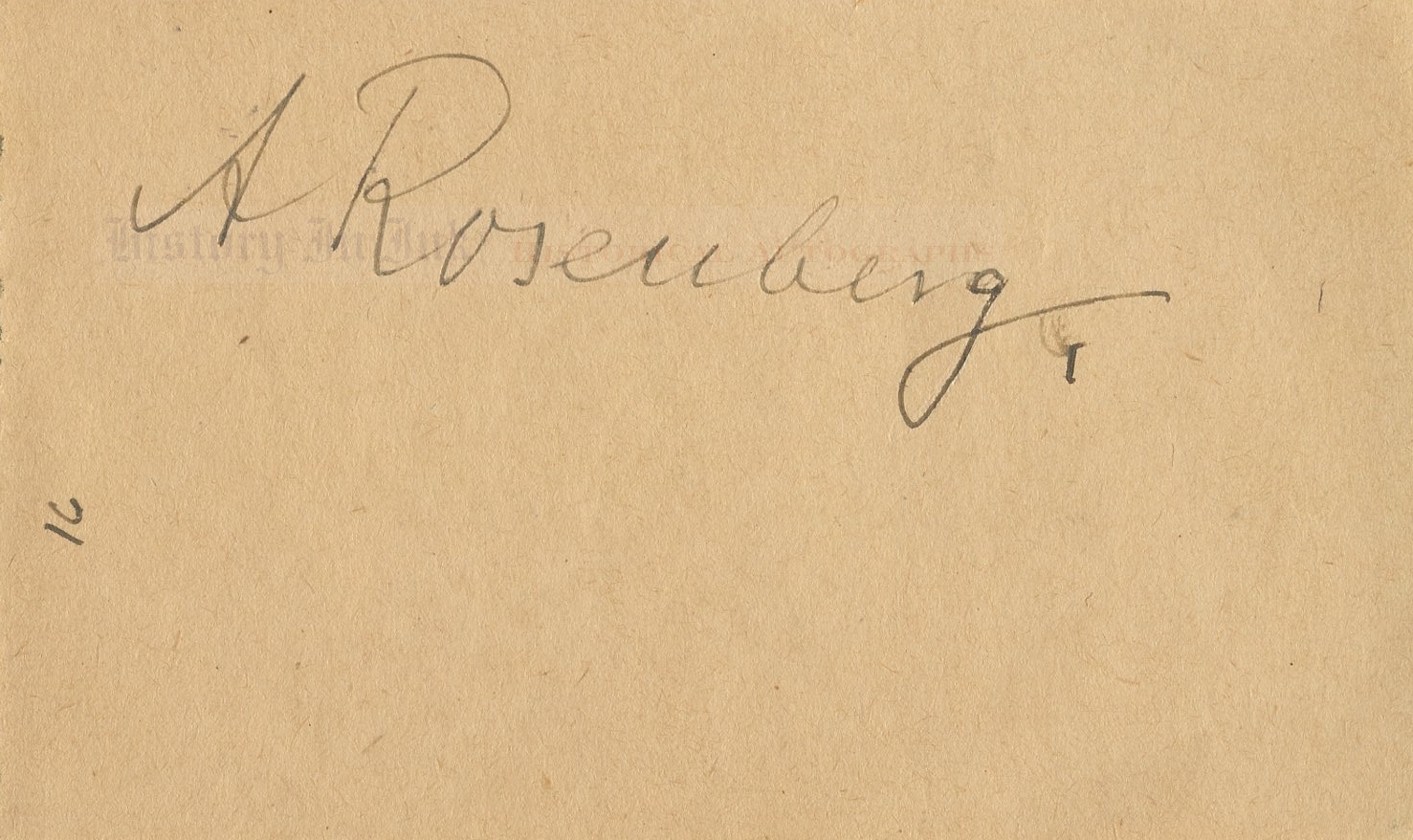 Alfred Rosenberg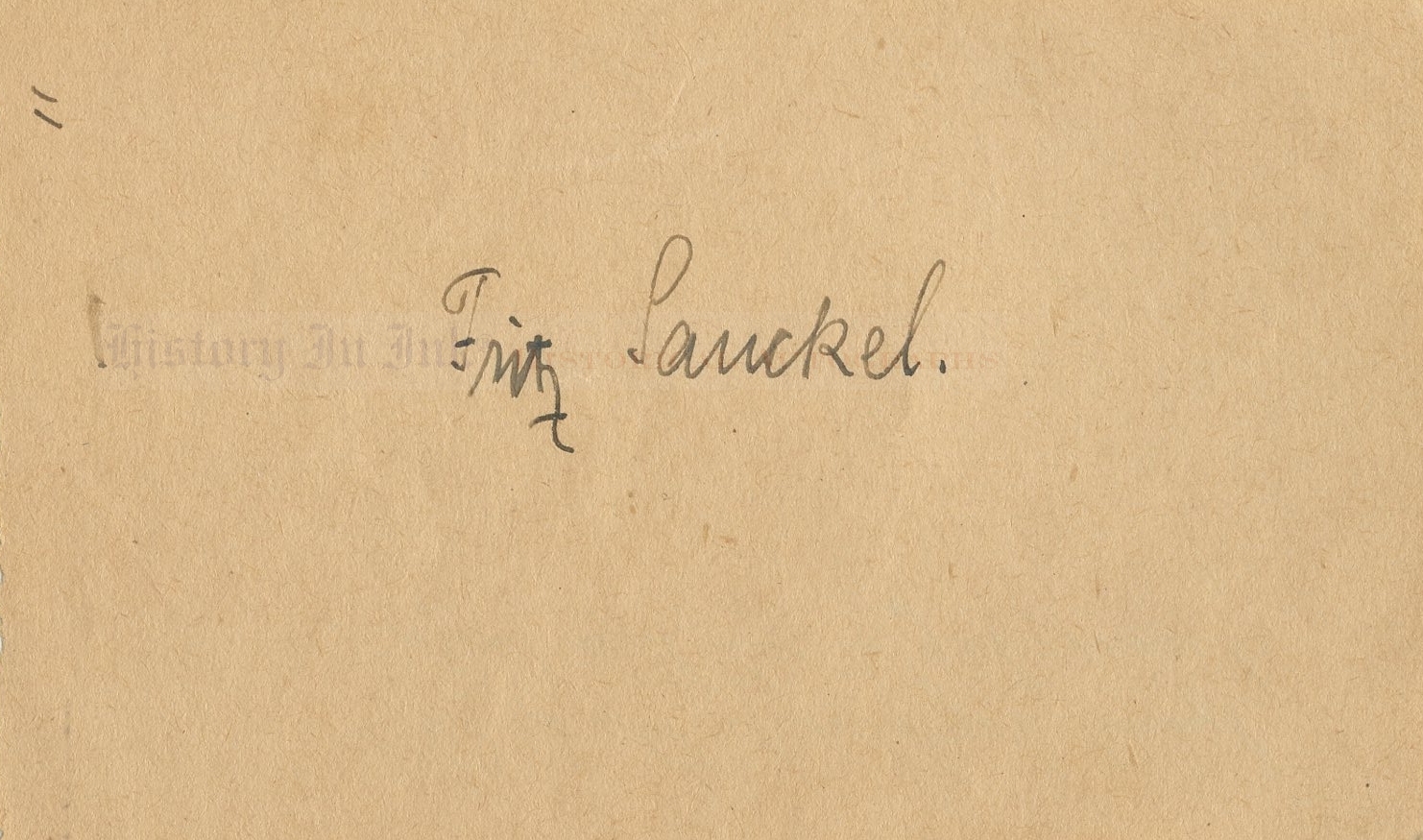 Fritz Sauckel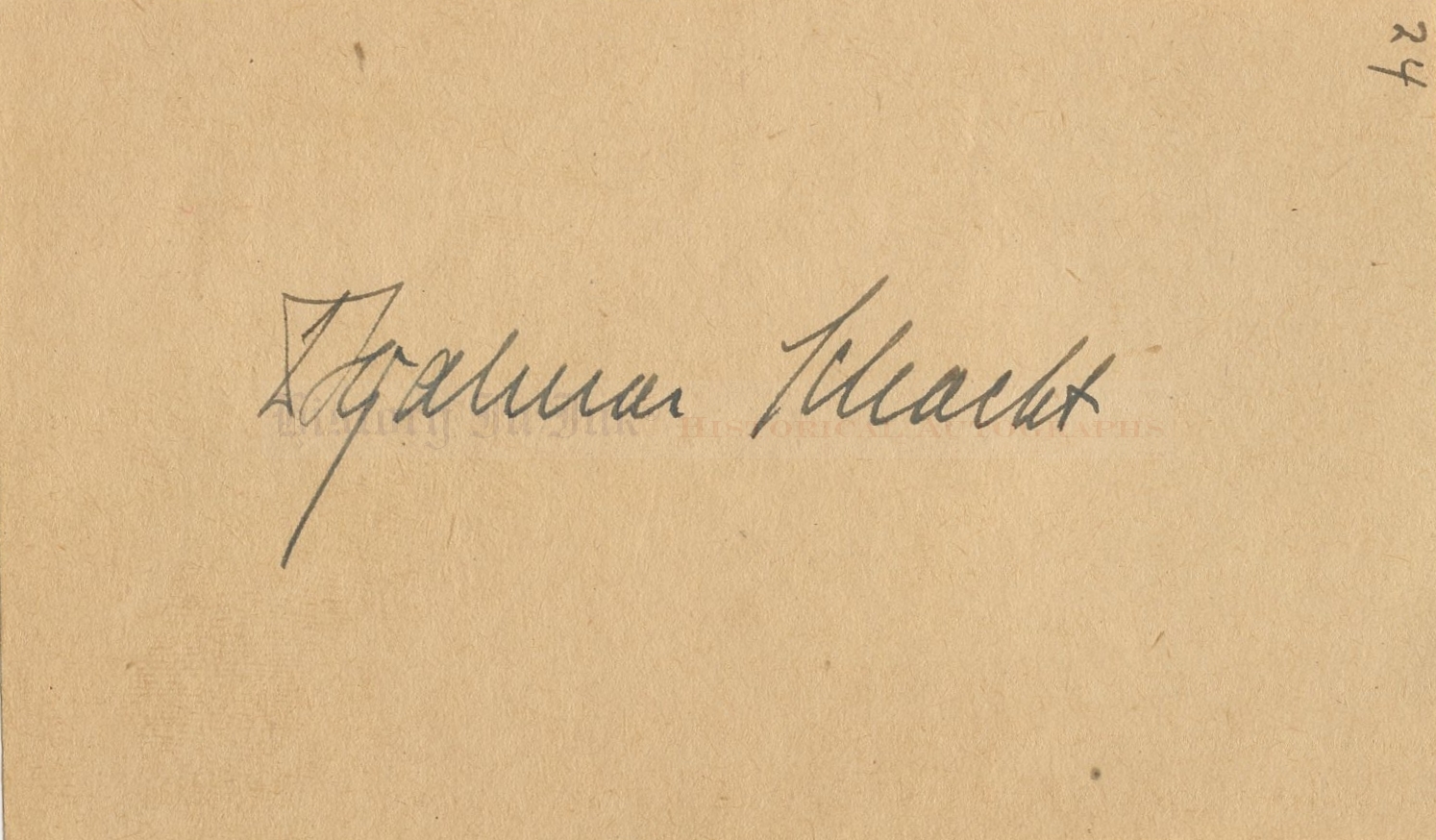 Hjalmar Schacht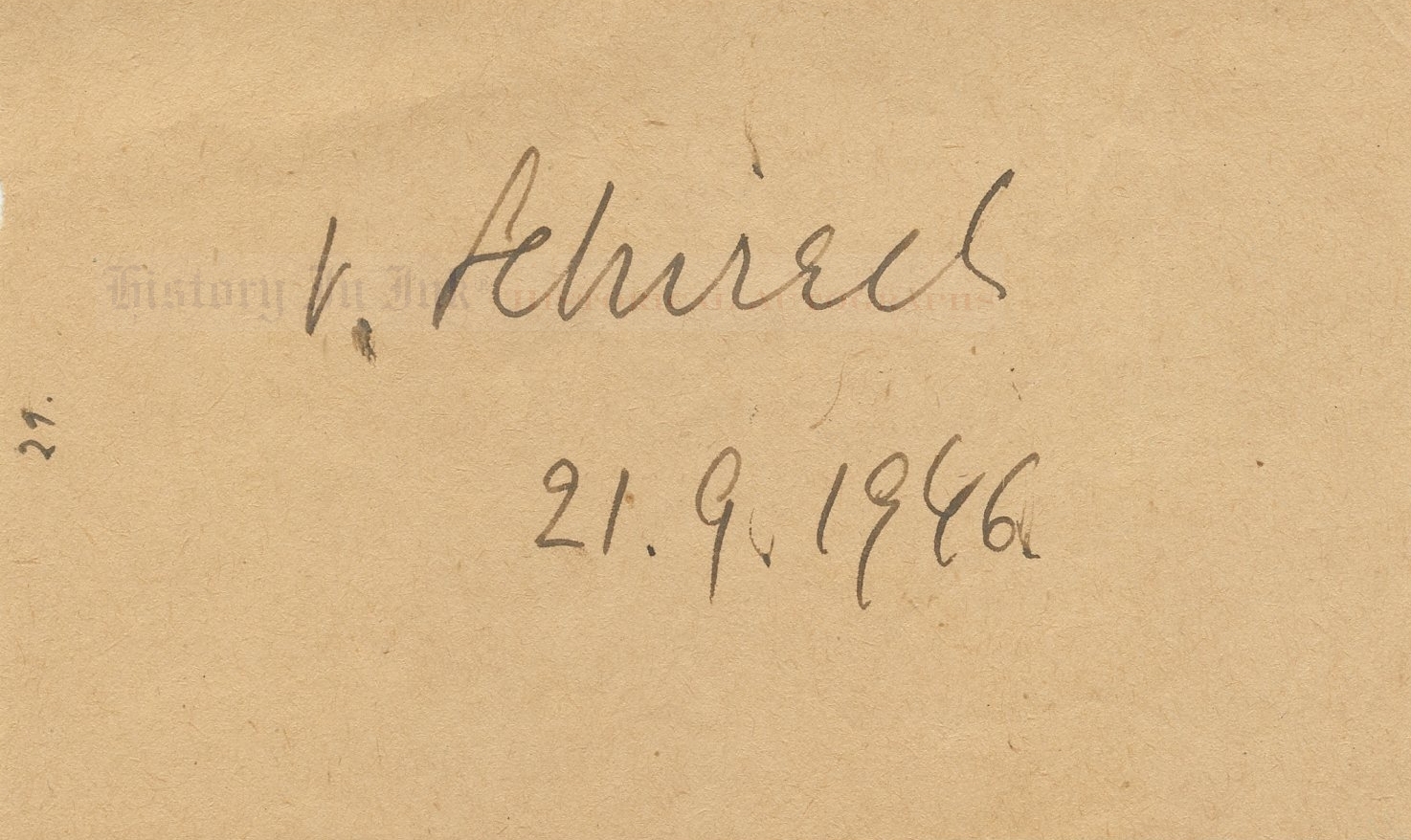 Baldur von Schirach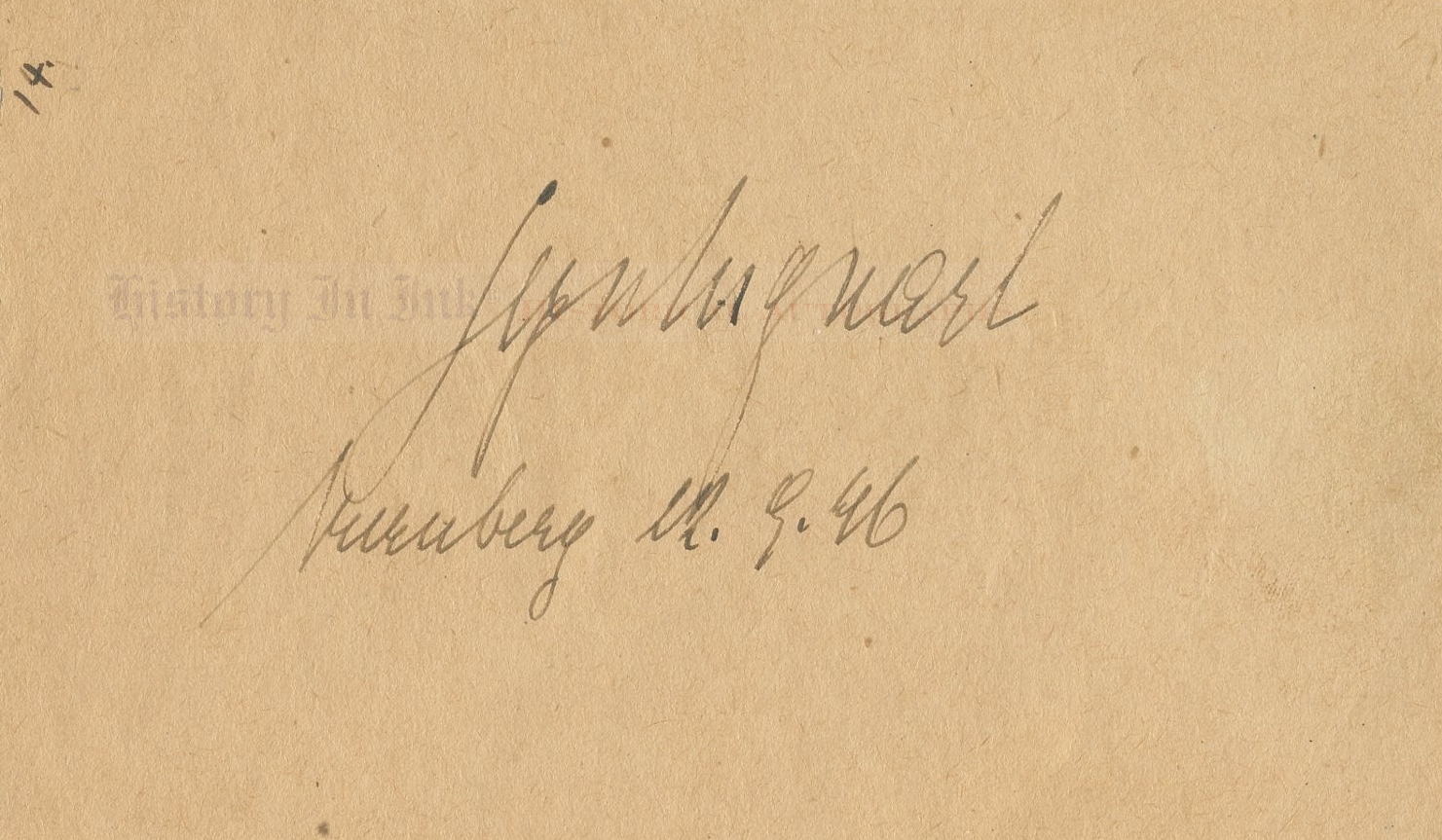 Arthur Seyss-Inquart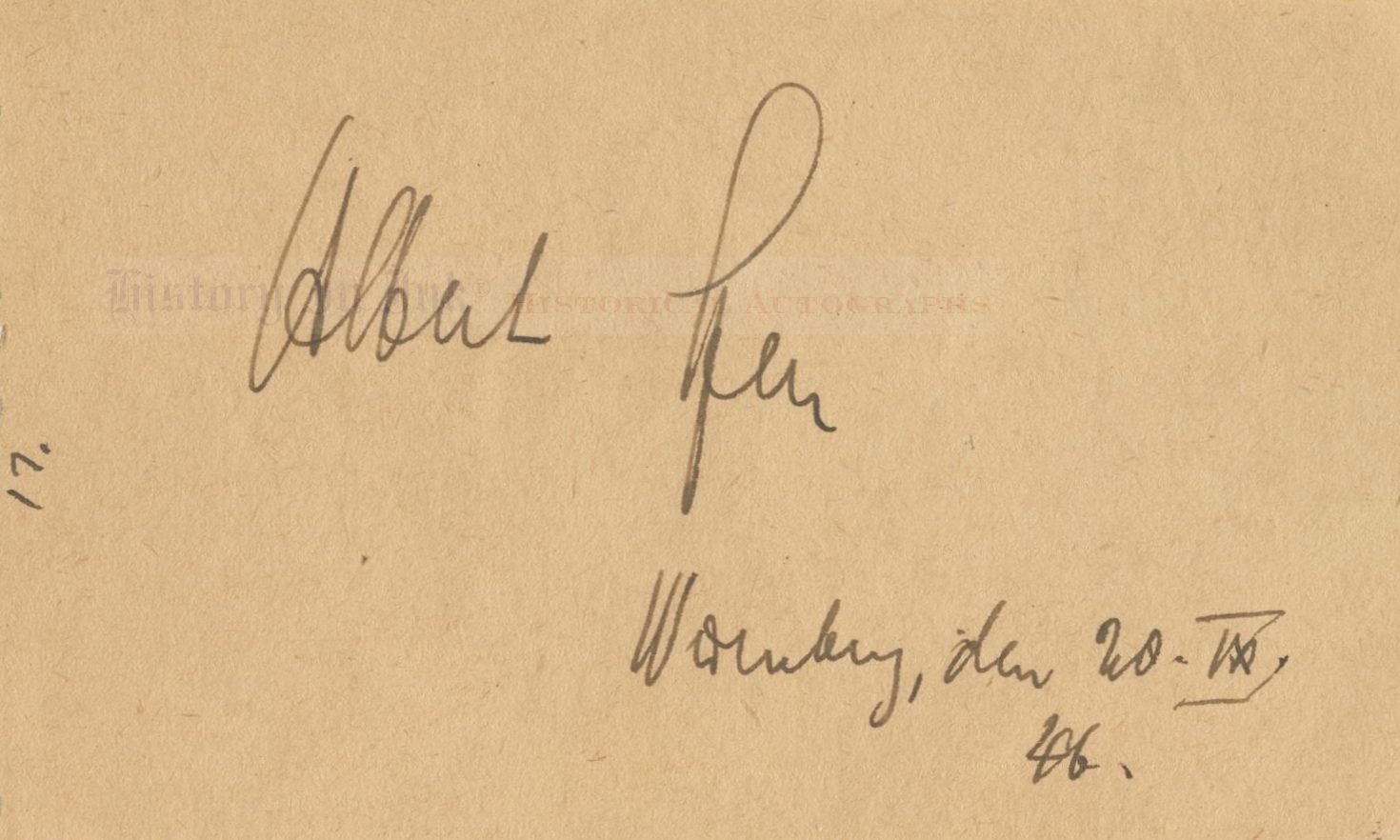 Albert Speer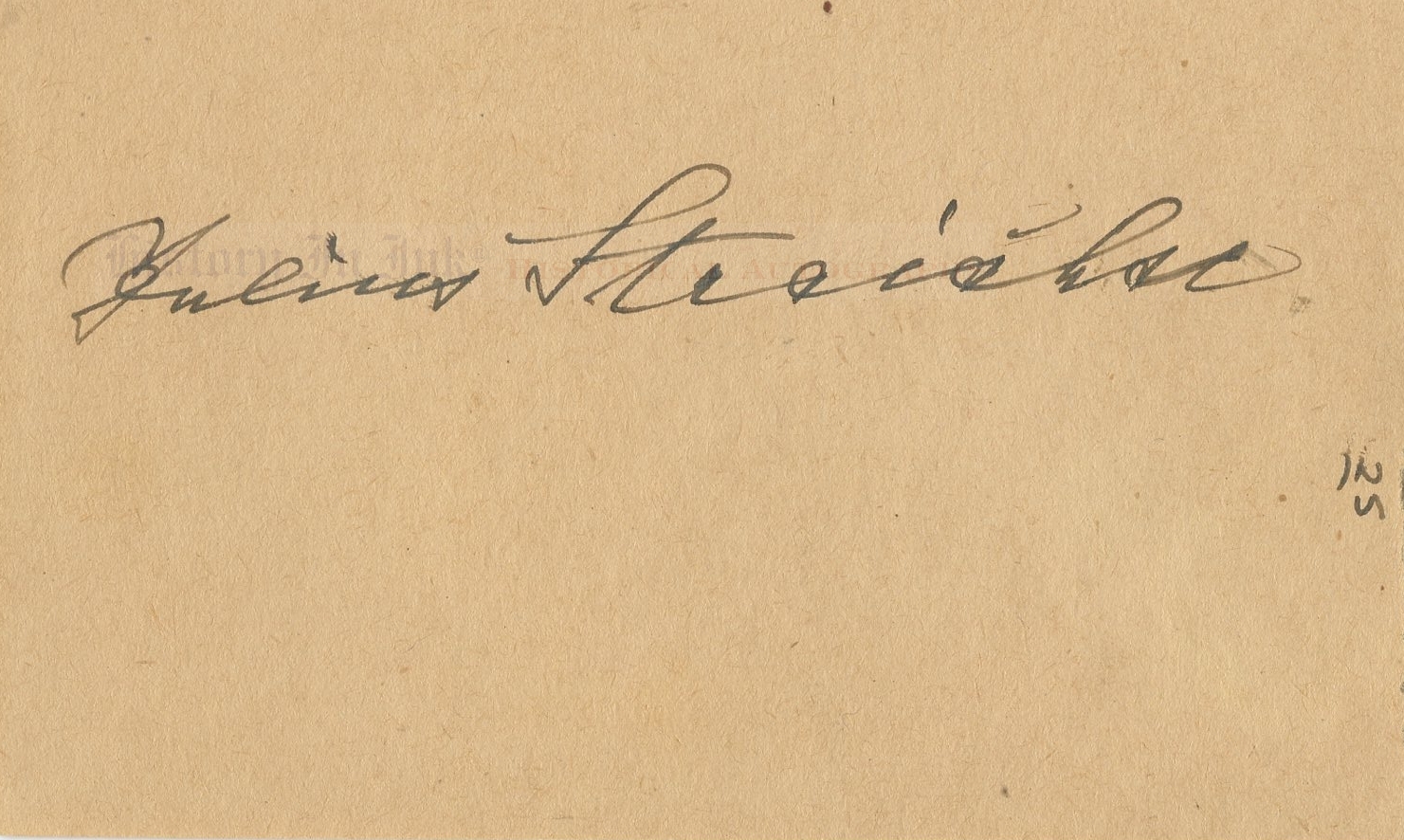 Julius Streicher
1602301
Nazi Defendants
Nuremberg War Crimes Trials
Signatures of 19 major Nazi defendants
tried at the Nuremberg War Crimes Trials,
including all of those who were hanged
Nuremberg War Crimes Trials, 1946.
This is an exceptional set of signatures of 19 of the 21 principal defendants tried in person at the Nuremberg War Crimes Trials following the surrender of Nazi Germany in 1945. The signatures are on separate 3" x 5" sheets of paper that evidently were removed from a pad or small notebook. The sheets are toned but otherwise range in condition from very fine to extra fine.
These signatures have impeccable provenance. They were obtained by an American soldier who was assigned to work as a guard at Nuremberg to transport the defendants between their cells and the courtroom. His widow kept them after his death until we obtained them from her. The set thus has never been offered on the autograph market before. It comes with a statement of provenance from the soldier's son and copies of the soldier's military papers showing that he was indeed in the Army during the time that the Nazi defendants signed these signatures. Five of the signatures are dated in September 1946, and the Army records establish that the soldier did not depart for the United States until October 3, 1946, after arriving back in Europe on April 8, 1946, for his second enlistment in the Army.
This set includes all of the 10 defendants who were sentenced to death and were hanged on October 16, 1946, plus Hermann Gӧring, who was sentenced to hang but committed suicide to escape the hangman. This group actually includes two signatures of Gӧring, one on its own sheet of paper and one on the back of the sheet that bears the signature of Admiral Erich Raeder. The only two Nuremberg defendants who were present at the trial but are not in this group are Adolf Hitler's Deputy Führer Rudolf Hess, who was mentally unstable and rarely if ever signed, and former German Chancellor Franz von Papen, who was acquitted. Martin Bormann, the other defendant tried at Nuremberg, was tried in abstentia.
The 19 defendants' signatures present here are those of:
• Grand Admiral Karl Dönitz (1891–1980). Under Hitler's last will and testament dated April 29, 1945, Dönitz succeeded Hitler as the German head of state, with the titles of President and Supreme Commander of the Armed Forces, after Hitler's suicide on April 30. He was convicted of planning, initiating, and waging wars of aggression and of crimes against the laws of war. He was sentenced to ten years in prison and was released in October 1956.
• Dr. Hans Michael Frank (1900–1946). Frank, a lawyer who worked for the Nazi Party and served as Hitler's personal lawyer, was Governor-General of the General Government of Nazi-occupied Poland. He led a reign of terror against the civilian population and was directly involved in the Holocaust. At Nuremberg, he was found guilty of war crimes and crimes against humanity and was hanged.
• Wilhelm Frick (1877–1946). A prominent Nazi politician, Frick was Reich Minister of the Interior under Hitler for ten years, 1933–1943, and then served as Protector of Bohemia and Moravia. He, took was found guilty of war crimes and was hanged.
• Hans Georg Fritzsche (1899–1953). Fritzsche was the director of the Reich Ministry of Public Enlightenment and Propaganda. He was present with Hitler, holed up in the Führerbunker in Berlin, during Hitler's final days. He was captured by the Red Army on May 1, 1945, when he offered to surrender the city to the Soviets following Hitler's suicide. He was acquitted at Nuremberg, although he was later convicted by a West German denazification court. He was released in 1950 and died of cancer in 1953.
• Walther Funk (1890–1960). An economist, Funk served as the Reich Minister for Economic Affairs, 1938–1945. Although his health was poor, Funk was tried at Nuremberg and convicted on three counts: planning, initiating, and waging wars of aggression; war crimes; and crimes against humanity. He was sentenced to life in prison and served his sentence in Spandau Prison in Berlin, where other imprisoned senior Nazi officials were held, until he was released because of his health in 1957.
• Reichsmarschall Hermann Göring (1893–1946). Göring was one of Nazi Germany's most important officials. The Nazi Reichmarschall, the highest rank in the German military during World War II, he was commander-in-chief of the Luftwaffe, the German air force. From roughly 1933 to 1945, he also held several other offices simultaneously. In 1941, he became Hitler's Deputy Führer, the vice chancellor of Germany, a post that he held until Hitler deposed him for treason for daring to ask permission to take over leadership of Germany when Hitler was pinned down in the Führerbunker in Berlin. It was Göring who, on Hitler's orders, directed Reinhard Heydrich to convene the 1942 Wannsee Conference, which decided the "final solution to the Jewish question"—forcibly transporting Jews to concentration camps in Germany and Poland, where some six million Jews died of overwork, starvation, disease, experimentation, and outright murder. Göring surrendered to the Americans to avoid capture by the Soviets, and he was perhaps the most outspoken of the Nazi defendants at Nuremberg. He was convicted of four counts: conspiracy to accomplish a crime against peace; waging a war of aggression; war crimes; and, the most significant, crimes against humanity, including the disappearance of political opponents, torture and ill-treatment of prisoners of war, and murder and enslavement of civilians. He was sentenced to death by hanging. Göring asked to be shot rather than hanged as a common criminal, but the Allies denied his request. The night before the executions were to take place, Göring committed suicide by taking potassium cyanide from an ampoule concealed in his personal belongings.
• General Alfred Josef Ferdinand Jodl (1890–1946). Jodl was a Generaloberst in the Wehrmacht, the second highest general officer rank. He served as the chief of the operation staff of OKW, the Oberkommando der Wehrmacht, or Supreme Command of the Armed Forces. He signed both the Commisar Order of June 6, 1941, under which captured Soviet political officers were to be summarily executed, and the Commando Order of October 28, 1942, under which Allied commandos, including properly uniformed soldiers, were also to be summarily executed if captured behind German lines. Jodl signed the instrument of surrender on May 7, 1945, as Dönitz's representative. At Nuremberg, Jodl was prosecuted principally for the Commisar and Commando Orders. He was found guilty on four charges, including war crimes and crimes against humanity, and was hanged.
• Ernst Kaltenbrunner (1903–1946). Kaltenbrunner was the highest-ranking member of the Nazi SS to be tried at Nuremberg. He succeeded Heydrich and Heinrich Himmler as Chief of the Reich Main Security Office, a position he held 1943–1945. A committed anti-Semite, Kaltenbrunner tightened Nazi control within Germany. Under his oversight, Jewish persecution increased as he sought to exterminate Jews in both Germany and the occupied countries as soon as possible. At Nuremberg, Kaltenbrunner was convicted war crimes and crimes against humanity, and he was hanged.
• General Wilhelm Keitel (1882–1946). Keitel, a field marshal who served as the chief of OKW, was the third-highest ranking German officer to be tried at Nuremberg. He was one of the principal authors of the German military campaigns on both the eastern and western fronts. Although he advised Hitler not to invade the Soviet Union, he deferred to Hitler and tendered his resignation, although Hitler refused to accept it. Keitel signed a number of orders questionable under the laws of war, including the Commissar Order, which Jodl also signed, and the Night and Fog Decree, which called for disappearance of resistance fighters and other political prisoners in the territories that Germany occupied. He was convicted of all four counts of crimes at Nuremberg and was hanged.
• Konstantin Hermann Karl Freiherr von Neurath (1873–1956). Von Neurath served as Foreign Minister from 1932 to 1938. During the years leading up to World War II, he played a key role in pursuit of Hitler's agenda, including Germany's withdrawal from the League of Nations in 1933 and its remilitarization of the Rhineland, flouting the Treaty of Versailles, in 1937. Hitler replaced him as Foreign Minister with the pliable Joachim von Ribbentrop in 1938 and made von Neurath the Reich Protector for Bohemia and Moravia in 1939, a position that he held until 1943, although his authority was nominal after Hitler, believing that von Neurath was too lenient, made the brutal Reinhard Heydrich his deputy. The Nuremberg tribunal concluded that von Neurath did not hold such a prominent position in the Nazi hierarchy that he deserved death. He was sentenced to only 15 years in prison and was released in November 1954 following a heart attack.
• Grand Admiral Erich Johann Albert Raeder (1876–1960). Raeder was commander-in-chief of the German Navy during the first half of World War II. German naval losses, especially at the Battle of the Barents Sea, led to Raeder's demotion to the ceremonial office of Admiral Inspector. He resigned in 1943 and was replaced by Dönitz. At Nuremberg, He was sentenced to life in prison but was released in 1955 because of his health. As noted above, on the back of the sheet that contains Raeder's signature is a second signature of Hermann Göring.
• Ulrich Friedrich Wilhelm Joachim von Ribbentrop (1893–1946). A confidant of Hitler, von Ribbentrop served as Germany's Foreign Minister 1938–1945. He was prominent in negotiating two major agreements in 1939: the Pact of Steel, Germany's alliance with fascist Italy, and the Molotov-Ribbentrop Pact, the non-aggression pact between the Soviet Union and Germany. He was actively involved in planning the German invasions of Austria, Poland, and Czechoslovakia and was involved with sending Jews to death camps in the east. Although he argued at Nuremberg that Hitler had been in control and had deceived him by claiming that he wanted peace, the tribunal did not believe that von Ribbentrop could have "remained unaware of the aggressive nature of Hitler's actions." He was the first of the 10 Nazi defendants to be hanged.
• Alfred Ernst Rosenberg (1893–1946). Rosenberg was one of the principal architects of Nazi Party ideology, including its positions on race, territorial expansion, abrogation of the Treaty of Versailles, and persecution of the Jews. Following Germany's 1941 invasion of the Soviet Union, Hitler appointed Rosenberg the head of the Reich Ministry for the Occupied Eastern Territories. In November 1941, Rosenberg said that because approximately "six million Jews still live in the East," the Jewish question could "only be solved by a biological extermination of the whole Jewry of Europe." At Nuremberg, he denied knowledge of the Holocaust, but his representatives had attended the Wannsee Conference. He was convicted of all four counts, including war crimes and crimes against humanity. The tribunal found that he was a principal planner of the invasions of Norway and the Soviet Union and that he was responsible for the brutal conditions in Eastern Europe. He was hanged.
• Ernst Friedrich Christoph Sauckel, known as Fritz Sauckel (1894–1946). As the General Plenipotentiary for Labor Deployment from 1942 until the war in Europe ended in 1945, Sauckel was directly responsible for the forced labor of some five million foreign workers, most of them from the occupied territories in the east. Concentration camp workers worked in harsh labor conditions and were allowed only starvation rations. Sauckel was found guilty of war crimes and crimes against humanity and was hanged.
• Hjalmar Horace Greeley Schacht (1877–1970). Along with Fritzsche and Franz von Papen, Schacht was one three of the major defendants acquitted at Nuremberg. An economist and banker, Schacht served as president of the Reichsbank and, from 1934 to 1937, as the Reich Minister of Economics. His opposition to Germany's violation of the Treaty of Versailles put him at odds with Hitler and Göring. After he was removed as president of the Reichsbank in 1939, he served as a minister without portfolio until Hitler dismissed him from the government entirely in 1943. At Nuremberg, since he was not a member of the Nazi Party and shared little of its ideology, Schacht convinced the tribunal that he had simply tried to strengthen the German economy.
• Baldur Benedikt von Schirach (1907–1974). The Nazi Party's youth leader and the head of the Hitler Youth from 1931 to 1940, von Schirach served as the Gauleiter of Vienna, the governor of the Vienna territory, from 1940–1945. In that capacity, he was responsible for sending some 65,000 Jews from Vienna to Nazi death camps in Poland, calling their deportation a "contribution to European culture." At Nuremberg, he denounced Hitler, claimed that he had not known about the extermination camps, and showed that he had complained to Martin Bormann about the inhumane treatment of the Jews. He was convicted at Nuremberg of crimes against humanity but received only a 20-year prison sentence, which he fully served before being released in 1966.
• Arthur Seyss-Inquart (1892–1946). Seyss-Inquart, an Austrian Nazi, served as chancellor of Austria for three days in 1938 before Germany annexed Austria following the Austrian Anschluss. Hitler respected Seyss-Inquart and appointed him to government oversight positions in Poland and in the Netherlands. He served as Reichskommissar in the Netherlands, where he led a brutal regime responsible for the forced labor of Dutch civilians and the internment of some 140,000 Jews in concentration camps, including Buchenwald, Mauthausen, Auschwitz, and Theresienstadt. Seyss-Inquart was convicted of crimes against humanity at Nuremberg and was the last of the 10 executed defendants to be hanged.
• Berthold Konrad Hermann Albert Speer (1905–1981). Speer, Hitler's favorite architect an a member of Hitler's inner circle, designed the Zepplinfeld stadium in Nuremberg, the site of Nazi Party rallies, which Speer ringed with anti-aircraft searchlights to create an icy nighttime effect that Speer described as his most beautiful work. Among other projects, he designed the new Reich Chancellery in Berlin and had plans to rebuild the city on a monumental scale. From February 1942 until the end of the war, he served as the Reich Minister of Armaments and War Production, dramatically increasing armaments production, primarily through the use of slave labor from the occupied territories. At Nuremberg, he straightforwardly accepted responsibility for the acts of the Nazi regime but insisted that he knew nothing about its plans to exterminate the Jews. After a split vote among the tribunal judges, he was sentenced to 20 years in prison, which he served completely before his release in 1966. While in prison, he wrote his memoirs, the basis for Inside the Third Reich, and smuggled out letters to his children that formed the basis for Spandau: The Secret Diaries.
• Julius Streicher (1885–1946). The crass, obscene Streicher was widely known as Nazi Germany's "Jew-Baiter Number One." In 1923, Streicher founded and published Der Stürmer, a violently anti-Semitic weekly tabloid propaganda newspaper that made little pretense of publishing legitimate news. From at least 1933 forward, Der Stürmer repeatedly urged extermination of the Jews. As the Gauleiter of Franconia, he exercised power to excesses that alienated other Nazis, including Hermann Göring and many of the party leaders. He was removed from his party offices 1940 but nevertheless remained on good terms with Hitler and continued to publish Der Stürmer, which Hitler called his favorite newspaper. At Nuremberg, he railed against the Jews, the Allies, and even the tribunal judges. The tribunal found that Streicher's long history of "speaking, writing and preaching hatred of the Jews" had "infected the German mind with the virus of anti-Semitism, and incited the German people to active persecution." Streicher was found guilty of crimes against humanity and was hanged.
All of these signatures are signed in black ink. One edge of some of the pieces, although not all of them, is a little uneven from where it was removed from the pad or notebook, but the appearance does not detract. Some of the signatures, such as those of Dönitz and von Neurath, are a little shaky and show skips or corrections where the ink did not cover completely, and on some the paper has pen indentations that are somewhat deeper than typical. This suggests that those signatures were signed while the defendants were standing or were unable to lay the paper against something solid when they signed. As noted, however, the conditions of the pieces range from very fine to extra fine.
Officially, it was forbidden to ask for autographs from the defendants, although American soldiers did it anyway. Our research has found three similar sets that have sold at auction, the last one in 2008.
Sets such as these are popular when they appear on the market, and this one is nice. This is an excellent opportunity to obtain the autographs of virtually all of the high-level Nazis who survived the war.
We reject Nazism and all that it represented. We nevertheless offered this set of signatures because of its relevance to the history of World War II and its aftermath and because the Third Reich, and the war that it spawned, were the turning point of the 20th Century and gave rise to the Cold War that followed.
Unframed.
_____________
This item has been sold, but
click here to see other
World History items
that we are offering.