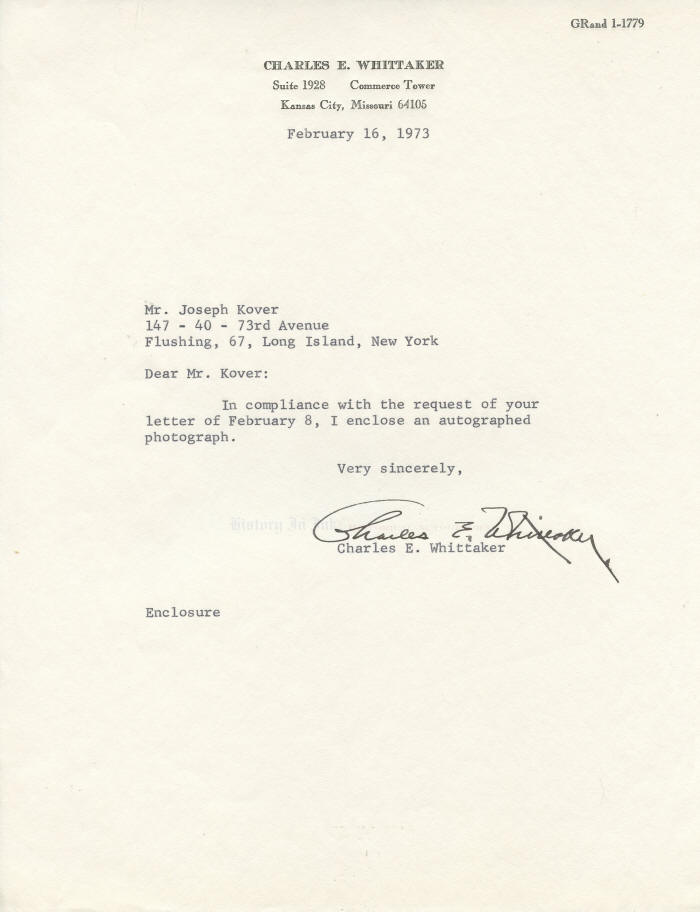 1536501
Charles E. Whittaker
Scarce letter by the former Justice sending a signed photograph
Charles Evans Whittaker, 1901–1973. Associate Justice, Supreme Court of the United States, 1957–1962. Typed Letter Signed, Charles E. Whittaker, one page, 8½" x 11", on engraved personal stationery, Kansas City, Missouri, February 16, 1973.
This is a scarce letter by Whittaker. The former Justice sends a signed photograph (not present). "In compliance with the request of your letter of February 8," he writes, "I enclose an autographed photograph."
Whittaker rose quickly through the federal judicial ranks. A corporate lawyer with strong Republican connections, he secured rapid successive appointments from President Dwight D. Eisenhower to the United States District Court for the Western District of Missouri on July 8, 1954; then to the United States Court of Appeals for the Eighth Circuit on June 5, 1956; and then, just nine months later, to the Supreme Court of the United States on March 25, 1957. He was the first person to serve as a judge of a federal district court and court of appeals and as a Justice of the Supreme Court.
Although Whittaker had a good reputation as a lower court judge, he was a weak Justice. His was a swing vote on a Court that included strong personalities such as Chief Justice Earl Warren and Associate Justices Hugo L. Black, William O. Douglas, and Felix Frankfurter. He vacillated on decisions and reportedly thought himself less qualified than some of the other Justices. Both sides courted him in close cases, and finally the pressure got to him. After he agonized for months over his vote in Baker v. Carr, a landmark legislative reapportionment case in which the Supreme Court ruled that federal courts may review state legislative redistricting, Whittaker suffered a nervous breakdown in the spring of 1962. At Warren's suggestion, he recused from the case. On March 31, 1962, five days after the Court decided Baker without his vote, Whittaker retired, effective the next day, on his doctor's orders. He issued a statement saying that he had "reached a point of physical exhaustion from the great volume and continuous stresses of the court's work."
This is a beautiful letter. It has never been folded. Whittaker has signed with a dark black fountain pen signature. Only a faint paper clip mark in the upper blank margin and a bit of light soiling near the bottom keep this from being extra fine. Overall, it is in very fine condition.
Unframed.
_____________
This item has been sold.
Click here to see other Supreme Court items
that we are offering.