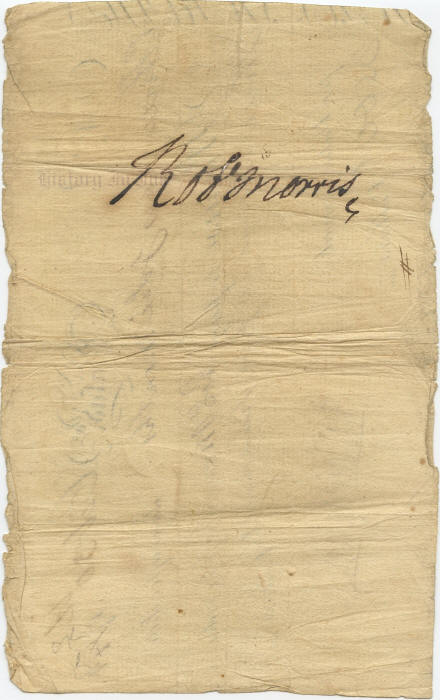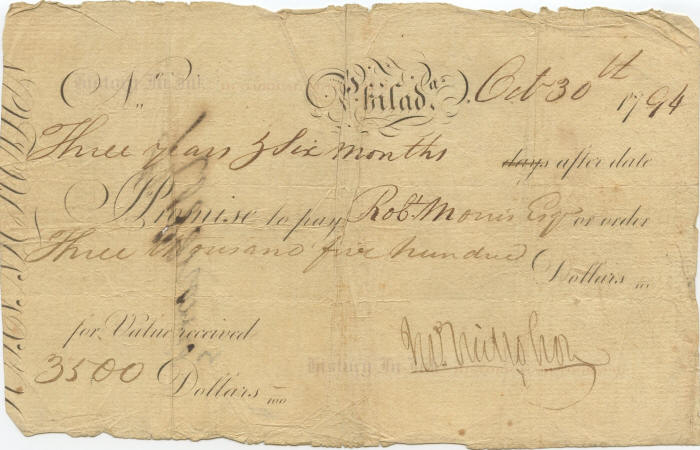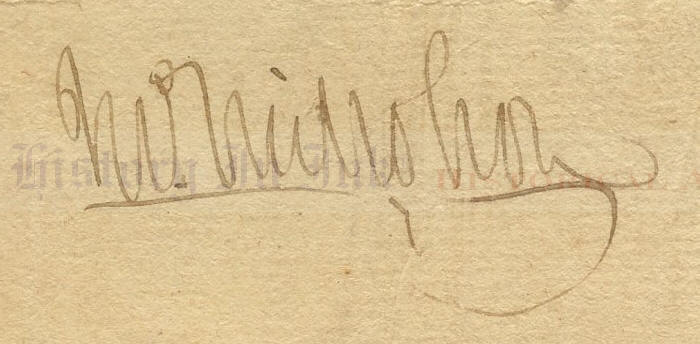 1531617
Robert Morris
Signer of the Declaration of Independence
Morris endorses a promissory note from his business partner
Robert Morris, Jr., 1734–1806. Signer of the Declaration of Independence, Articles of Confederation, and United States Constitution. Partially printed Document Signed, Robt Morris, one page, 4¼" x 6¾", Philadelphia, [Pennsylvania], October 30, 1794. Also signed by Morris's business partner John Nicholson, 1757–1800, Jno. Nicholson.
This promissory note evidences the financial dealings between Morris and one of his business partners, John Nicholson. Morris, a wealthy businessman known as the "Financier of the Revolution," endorses this promissory note from Nicholson to him for $3,500, which would be more than $75,000 today. Morris has endorsed the note on the back with a particularly bold signature.
The note is payable "Three years & six months after date." By then, Morris would be in a debtor's prison. Nicholson would soon follow.
Nicholson had been a Pennsylvania state official but had resigned in the wake of an unsuccessful attempt by the Pennsylvania legislature to impeach him. He served as the clerk to the Board of Treasury of the Continental Congress during the Revolutionary War but resigned to take a position as a Pennsylvania state auditor. In 1782, the Pennsylvania legislature appointed him Comptroller General, where he had broad powers to manage the state's finances. Later, the legislature empowered him to collect taxes and to liquidate the estates of those convicted of treason. Because of allegedly shady dealings with respect to federal securities in 1792, the Pennsylvania House of Representatives moved to impeach him in 1793, but he was acquitted on all seven counts. He nevertheless resigned his state offices.
At that point, Nicholson became involved with Morris in real estate speculation and development. Among other dealings, Morris and Nicholson, along with James Greenleaf, formed the North American Land Company in 1795, was one of the largest land trusts in American history. It owned some 6,000,000 acres of land in Pennsylvania, the District of Columbia, and five southern states, Virginia, North Carolina, South Carolina, Georgia, and Kentucky.
The North American Land Company, though, had financial problems from the start. There were questions about the validity of some of its land titles. Some 2,000,000 acres of its land in Georgia were difficult to sell because they consisted of bare, sandy wilderness. Furthermore, the financial situation in Europe made Marshall unsuccessful in his efforts to sell the company's stock there. The French Revolution and the revolutionaries' declaration of war against Britain, Spain, and the Netherlands in 1793 and the subsequent War of the First Coalition, which pitted Austria, Prussia, Great Britain, Spain, Sardinia, and the Netherlands against France in northern Italy in 1796–1797, played havoc with the European economy.
When Greenleaf (1765–1843) could not obtain personal loans from Dutch investors, he paid his own debts with North American Land Company money. Because of his embezzlement and other corrupt business practices, Morris and Nicholson bought his interest in the company. But their own financial situations were so precarious that they defaulted on their promissory notes to Greenleaf, who then wound up in debtors' prison in 1797. Morris and Nicholson were soon imprisoned for debts, too. Morris served some 3½ years in prison, from February 1798 to August 1801, before Congress, in part acting to release Morris, enacted the Bankruptcy Act of 1800.
This document is nice for its age. Morris's dark signature bleeds through somewhat to the front, affecting four words of the text. There are three lines of vertical folds, one of which runs through Morris's signature, which runs vertically across the back. Not uncommon for Morris's typically bold signature, there is ink erosion to the "b" in "Robert" and the "o" in "Morris." There is a bit of chipping along the top and bottom edges, but it is not particularly noticeable. Overall the document is in very good to fine condition.
Unframed.
_____________
This item has been sold, but
click here to see other
American History autographs
that we are offering.