Representative Scans: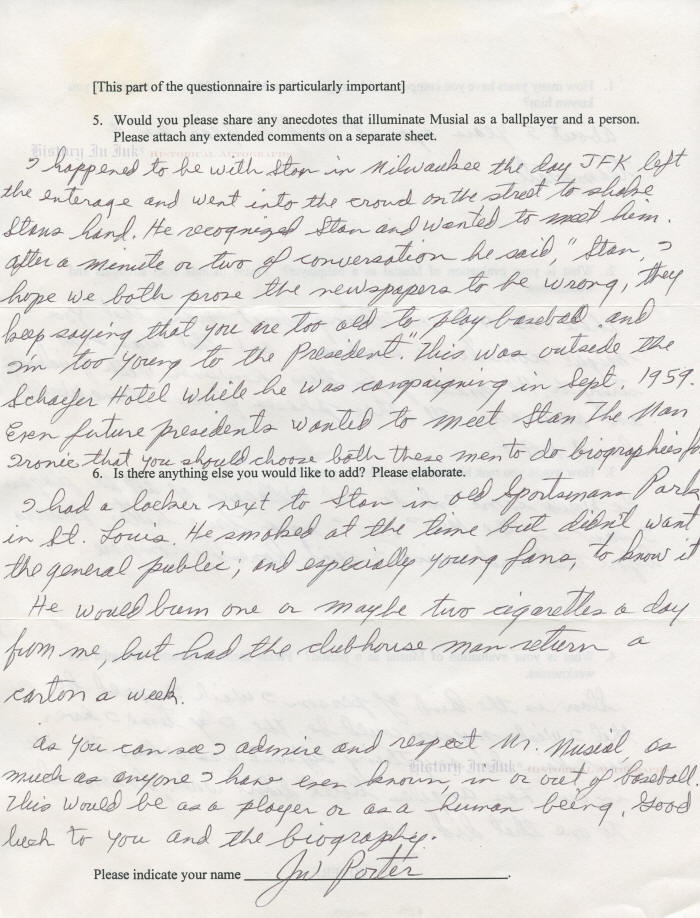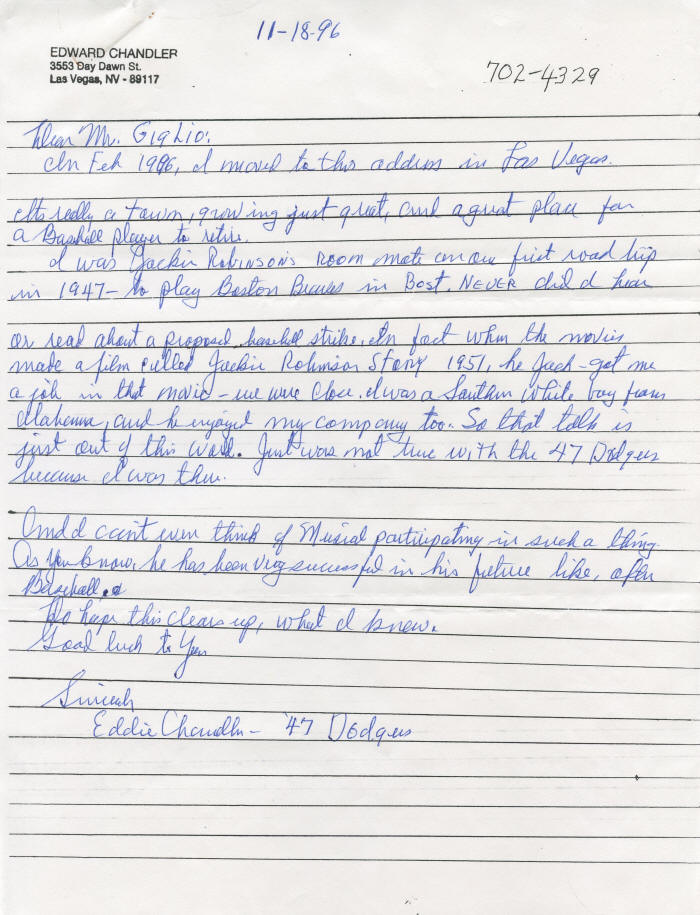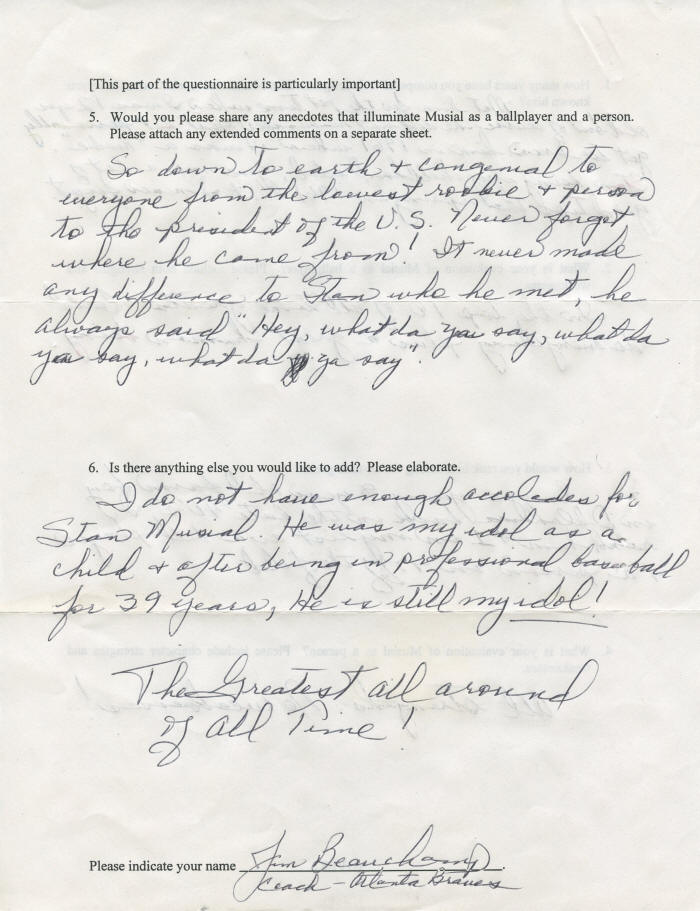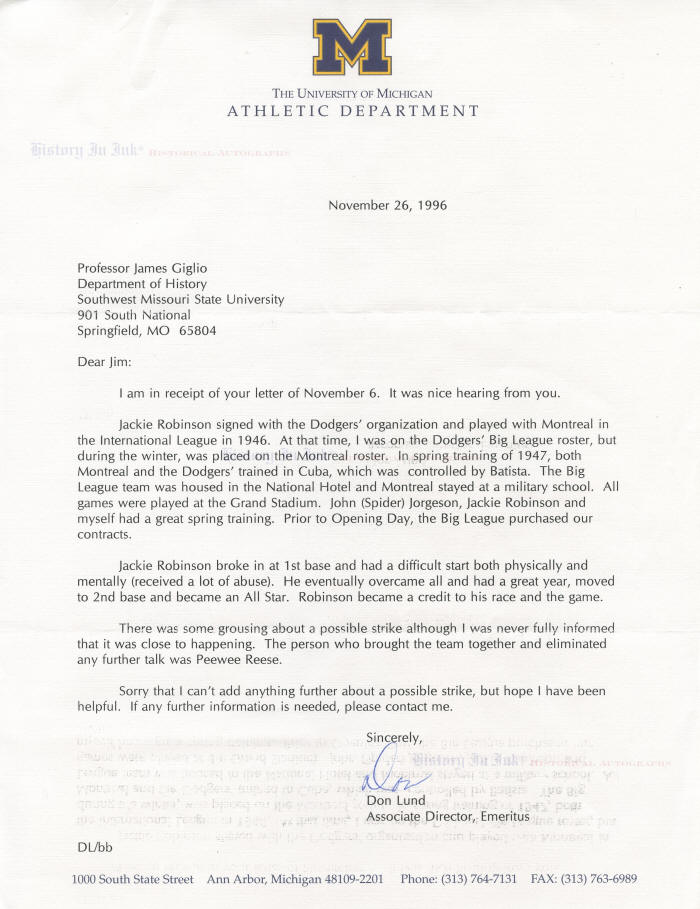 1525601
[Stan Musial]
Superb, Unique Archive of
Major League Baseball Players' Reminiscences
About St. Louis Cardinals Legend Stan Musial
Scroll down to see representative images below the description
"I would chat with him before games and he was very kind and patted you on the back
and then go out and beat your brains out with his bat and glove.
He was always a great competitor."
—Don Gutteridge, major league infielder
[Stanley Frank Musial, born Stanislaw Franciszek Musial, 1920–2013.]
This is an outstanding unique archive of letters and notes from more than 300 major league baseball personalities pertaining to Hall of Fame outfielder Stan "The Man" Musial. The greatest player in the history of the St. Louis Cardinals, Musial was undeniably one of the finest hitters in the history of the game. He played 22 seasons with the Cardinals from 1941–1945 and 1946–1963 and was inducted into the Baseball Hall of Fame in Cooperstown, New York, in 1969.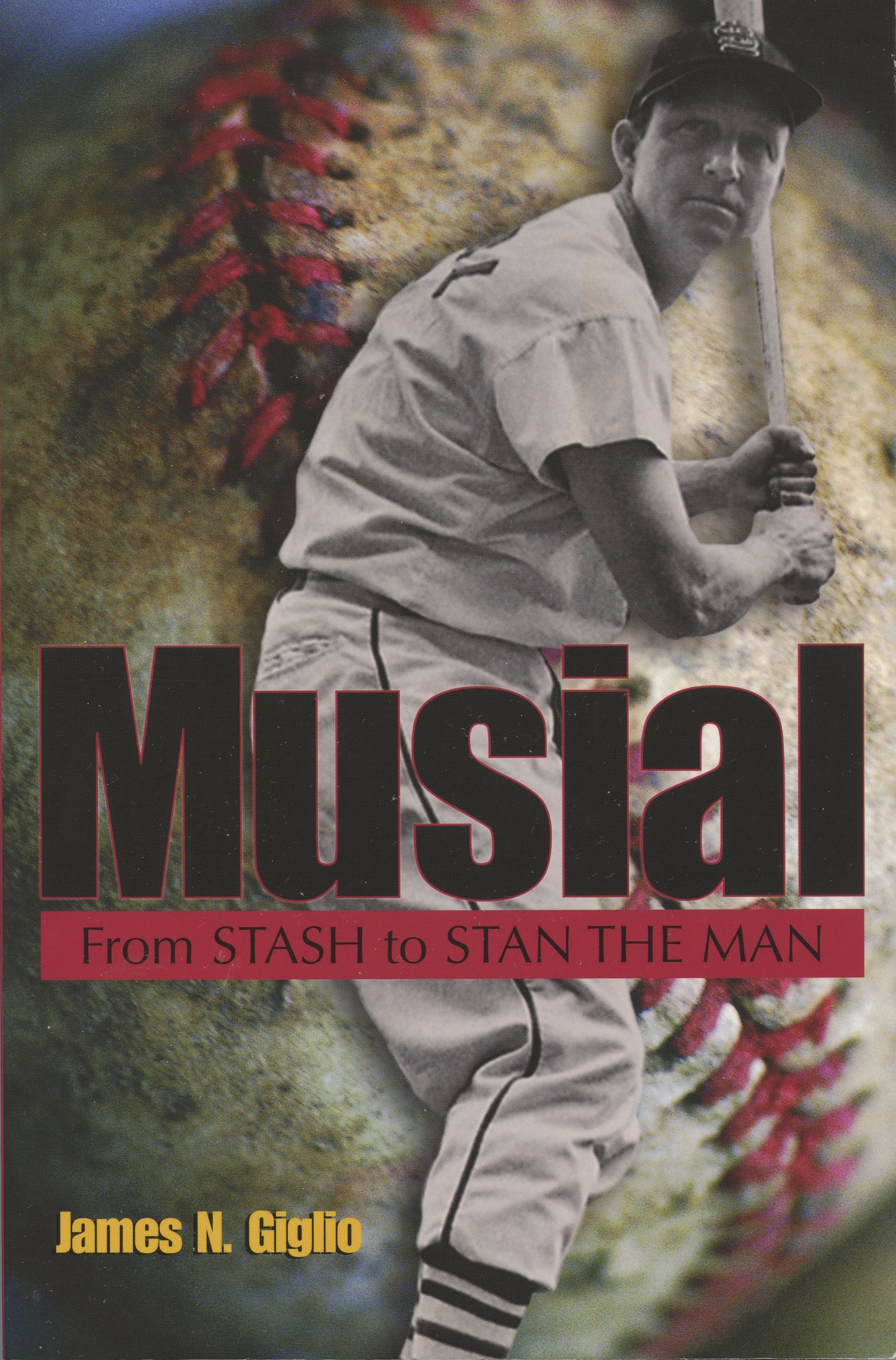 This archive was compiled by Missouri State University Professor James N. Giglio, who wrote a comprehensive biography of Musial. The book, Musial: From Stash to Stan The Man, was published by the University of Missouri Press in 2001.
As part of his research for the book, Giglio sent questionnaires to some 1,300 former major league baseball players who played during the period spanning Musial's career. The responses that he received were vital to telling the Musial story. In the introduction to the book, Giglio explained that, along with various library archive collections,
I also depended on the results of a questionnaire sent to some thirteen hundred former National Leaguers who competed with or against Musial. More than three hundred responded to open-ended questions about Musial's personality, accomplishments, and limitations; some wrote several pages of comments. The majority of respondents were ballplayers, usually pitchers, who performed for less than three years in the major leagues. Many of them remembered some particular kindness from Musial, which reinforced their beliefs in his humanity. Virtually no negative comment came from any of the players . . . .
Indeed, a number of players wrote of Musial's warmth and genuineness. For example, Jerry Kindall recalled that "my first base hit in the major leagues, yea in pro ball, was a single up the middle off Lindy McDaniel in July, 1956. When I pulled up at first base and tried to be ʻcool' (my heart was in my throat) Stan knew it was my first hit and congratulated me warmly. As I recall, he even offered to get me the ball as it was returned to the mound. He then said ʻthere will be a lot more hits for you, kid. Keep swinging.'" Ron Necciai, who came from a town neighboring Musial's home town of Donora, Pennsylvania, said that in 1952, "after I pitched against the Cards (& lost) Stan sent the Cardinals clubhouse man over to the Pirates clubhouse to get me. He talked to me, wished me a great success, not to get discouraged. . . . To have someone as great as Stan do that to a no one like me was & is still my all time thrill."
Then, of course, the archive extraordinarily attests to Musial's baseball talents. Musial, who won seven National League batting titles, was named Most Valuable Player three times, and finished his career with at .331 batting average, was a pure hitter. "Throw it low and right behind him—he could hit it," said Giants pitcher Barney Martin. Dodgers pitcher Carl Erskine wrote that Musial "hit exceptionally well at Ebbets Field—in fact the Dodger fans loved him & named him Stan the Man—Brooklyn fans cheered him so much it annoyed our players." Lee Tate, a Cardinals utility infielder, "ask[ed] him one day what made him such a great hitter and he told me he could see the ball so well he knew what the pitch was going to be before it got half way to home plate." Even later in his career, Musial could still hit. Hank Fischer, who pitched for the Milwaukee (and later Atlanta) Braves, related that he "came into the major leagues as a ʻbonus baby' who could throw hard and always had a lot of strike-outs. As I walked to the mound in St. Louis as a member of the Milwaukee Braves I remember thinking about the Cardinals line-up and when I came to Musial I thought this guy was a great hitter but this ʻold' guy can't get around on my fastballs. After getting two or three line drives hits down the right field line against my ʻheat' I realized that this ʻold' guy could still hit with the best of them. He hit .330 that year."
Yet Musial remained humble. "You would never know from his actions that he was a super-star," wrote Johnny Klippstein, "which is something we are sorely missing in the game today." In short, wrote Hobie Landrith, "If the current players would mirror Stan Musial's character, attitude and appreciation for the game, the future of baseball would be great shape."
Jay Porter, whose locker was next to Musial's in St. Louis' Sportsman's Park, recalled the day in Milwaukee in September 1959 when John F. Kennedy "left the enterage [sic] and went into the crowd to shake Stans hand. He recognized Stan and wanted to meet him. After a minute or two of conversation he said, ʻStan, I hope we both prove the newspapers to be wrong, they keep saying that you are too old to play baseball and I'm too young to [be] the President.'"
This archive contains handwritten and typed letters and notes from more than 300 players, including Hall of Famers Ralph Kiner, Joe Morgan, and Robin Roberts, in response to Giglio's letters and questionnaires. Roberts's response includes a Baseball Hall of Fame Induction Day ticket from August 8, 1976, bearing Roberts' career statistics. He has signed "Stan was The Best & is / Robin Roberts."
Don Larsen, the only pitcher ever to throw a perfect game in World Series history, for the New York Yankees against the Brooklyn Dodgers in 1956, wrote in an unsigned note that "Stan was one of the best and also a very fine person." "Double No Hit" Johnny Vander Meer, who gained fame with the Cincinnati Reds as the only pitcher ever to toss back-to-back no hitters, sent both the completed questionnaire and a handwritten letter.
The archive contains a typed letter from Cardinals first baseman Bill White, who later served as president of the National League, and both the signed questionnaire and a handwritten letter from Ernie Broglio, who pitched for the Cardinals before he was traded to the Chicago Cubs for Lou Brock, the Hall of Fame outfielder who sparked the Cardinals to three trips to the World Series and three world championships in the 1960s. There are multiple items, including a handwritten letter, from Ken Burkhart, who pitched for the Cardinals and the Cincinnati Reds in the late 1940s before becoming a National League umpire; an effusive four-page typed letter from Roy Smalley Jr.; a four-page handwritten letter by Dodgers infielder Eddie Basinski; and responses from players-turned-broadcasters Tim McCarver, a Cardinals catcher, and Ernie Johnson, who gained fame in later years as an Atlanta Braves broadcaster on WTBS.
The responses also include those from managers Sparky Anderson, who managed both the Reds and the Detroit Tigers to world championships; Roger Craig, one of the original New York Mets who later managed the San Diego Padres and San Francisco Giants; Don Gutteridge, who managed the Chicago White Sox; Bob Kennedy, who managed the Cubs and the Oakland Athletics before becoming an executive with the Houston Astros and the Giants; Chuck Tanner, who managed the Pittsburgh Pirates to a world championship in 1979; Bill Virdon, the National League Rookie of the Year with the Cardinals in 1955, who was named Manager of the Year in both the American and National Leagues with the New York Yankees and the Astros and also managed the Pirates and the Montreal Expos; and Harry "the Hat" Walker, who played for the Cardinals and three other clubs and later managed the Cardinals, Pirates, and Astros.
A significant part of the archive consists of correspondence relating to rumored plans by National League teams, including the Cardinals, to go on strike to protest the entrance into the league of Jackie Robinson, the first African-American player in the major leagues. The Brooklyn Dodgers broke the color barrier by starting Robinson at first base on April 15, 1947. Giglio surveyed players in writing and conducted interviews with a number of them in researching the truth about the planned strike, about which many of the players who responded to his inquiries either did not know or claimed not to have known, and whether Musial played any role in it. One player, Albert "Fuzz" White, who played for the New York Giants and St. Louis Browns from 1940–1947, confessed that "I am & was opposed to J. R. playing pro baseball." Giglio concluded in his book that while strike talk occurred—and was squelched by the forceful action of National League President Ford C. Frick— Musial was not involved and that his "passive support for Robinson seems much in character."
Giglio expressed disappointment that Musial himself did not participate other than for one 15-minute telephone interview in 1995. When Musial learned that Giglio intended to write about his life, not just his baseball career, he "refused to cooperate," Giglio writes in the introduction to the book, "to the extent that he even advised friends and associates to remain silent." A response from Cardinals outfielder Wally Moon, who won Rookie of the Year honors in 1955 over the likes of Ernie Banks and Henry Aaron, said that he required a request from Musial himself before he would respond to Giglio's questions.
Other players who did respond, however, include Ace Adams, George Altman, Earl Averill, Ed Bailey, Jim Bailey, Bill Baker, Floyd Baker, Gene Baker, Tony Balsamo, John "Red" Barkley, Bob Barthelson, Tony Bartirome, Frankie Baumholtz, Larry Bearnarth, Jim Beauchamp, Clarence Beers, Ray Berres, Charlie Bicknell, Ethan Blackaby, Bud Blattner, Cy Block, Jimmy Bloodworth, Eddie Bockman, Dick Bokelmann, Frank Bolling, Ray Boone, Bob Borkowski, Ron Brand, Jack Brewer, Leon Brinkopf , Jim Brosnan, Don Buddin, Mike Budnick, George Burpo, Larry Burright, Dick Burwell, Sammy Calderone, Dolph Camilli, Milo Candini, Don Cardwell, Eddie Carnett, Pete Castiglione, Cliff Chambers, Edward Chandler, Bubba Church, Mel Clark, Phil Clark, Gil Coan, Hy Cohen, Jackie Collum, Billy Cowan, Al Corwin, Jack Creel, Tony Criscola, Ray Crone, Jeff Cross, Joe Cunningham, Jim Davis, Otis Davis, Cot Deal, Don Demeter, Con Dempsey, Jim Dickson, Chuck Diering, Bob Dillinger, Jack Dittmer, Grant Dunlap, Ryne Duren, Jim Dyck, John Easton, John Edelman, Johnny Edwards, Sammy Ellis, Cal Emery, Slim Emmerich, Al Epperly, Eddie Erautt, Don Erickson, Dick Errickson, George Estock, Roy Face, Bob Farley, Maury Fisher, Leslie "Bill" Fleming, Dee Fondy, Terry Fox, Herman Franks, Ed Freed, Hershey Freeman, Mark Freeman, Bob Friend, Don Ferrarese, Frank Funk, Bob Garber, Sam Gentile, Dick Gernert, Buddy Gilbert, Len Gilmore, Joe Ginsberg, Angelo Giuliani, Jim Golden, Lonnie Goldstein, Charlie Gorin, Julio Gotay, Dick Gray, Alex Grammas, Fred Green, Jim Greengrass, Derrell Griffith, Al Grunwald, Dick Hall, Ralph Hamner, Carroll Hardy, Bill Harris, Gail Harris, Clint Hartung, Roy Hartzfield, Don Hasenmayer, Ray Hathawaym, George Hausmann, Solly Hemus, Gail Henley, Ron Herbel, Rick Herrscher, Earl Hersh, Neal Hertweck, Frank Hoerst, Cal Houge, Frank House, Frank Howard, Lee Howard, Bob Humphreys, Randy Jackson, Charlie James, Larry Jansen, Julian Javier, Virgil Jester, Art Johnson, Ken Johnson, Sherman Jones, Eddie Joost, Niles Jordan, Eddie Kasko, Ed Kazak, R. E. Kelly, Russ Kemmerer, Monte Kennedy, Marty Keough, Newt Kimball, Nellie King, Fred Kipp, Bill Klaus, Dick Koecher, Mike Kosman, Ernie Koy, Mickey Kreitner, Charlie Kress, Steve Kuczek, Bob Kuzava, Jack Lamabe, Joe Landrum, Don Lang, Max Lanier, Paul la Palme, Vern Law, Denny Lemaster, Jim Lemon, Ted Lepcio, Al Libke, Johnny Lipon, Dick Littlefield, Danny Litwhiler, Bud Lively, Whitey Lockman, Bill Lohrman, Vic Lombardi, Stan Lopata, Don Lund, Tony Lupien, Jerry Lynch, Hersh Lyons, Bobby Malkmus, Mal Mallette, Bob Malloy, Jim Mangan, Carmen Mauro, Willard Marshall, Stu Martin, Ralph Mauriello, Pinky May, Ed Mayer, Jim McAnany, Danny McDevitt, Cal McLish, Sam Mele, Lloyd Merriman, Lloyd Merritt, Jack Merson, Lennie Merullo, Larry Miggins, Don Miles, Ed Mickelson, Glenn Mickens, Eddie Miller, Rod Miller, Paul Minner, Herb Moford, Bill Moisan, Felipe Montmayor, Al "Hiker" Moran, Moe Morehardt, Seth Morehead, Bobby Morgan, Don Mueller, Hugh Mulcahy, Ford "Moon" Mullen, John "Red" Murff, Al Neiger, Mel Nelson, Roy Nichols, Irv Noren, Don Nottebart, George O'Donnell, Bob Oldis, Charlie O'Rourke, Andy Pafko, Jim Pagliaroni, Gene Patton, Don Pavletich, Orlando Peña, Lee Pfund, Dave Philley, Damon Phillips, Taylor Phillips, Ron Piche, Duane Pillette, John Pregenzer, Forest "Tot" Presnell, Ken Raffensberger, Claude Raymond, Herm Reich, Xavier Rescigno, Dino Restelli, Johnnie Riddle, Ed Roebuck, Dusty Rhodes, Bob Rush, Mike Sandlock, Ed Sanicki, Hank Sauer, Ted Savage, Carl Scheib, Paul Schramke, Art Schult, Barney Schultz, Andy Seminick, Sonny Senerchia, Frank Seward, Bob Shaw, Norm Sherry, Roy Sievers, Al Silvera, Charlie Silvera, Curt Simmons, Tommie Sisk, Sibby Sisti, Bob Smith, Earl Smith, Riverboat Smith, Jack Spring, Jerry Staley, Bobby Stephenson, R. C. Stevens, Chuck Stobbs, George Strickland, Nick Strincevich, Bobby Sturgeon, Bill Taylor, El Tappe, Lee Tate, Wayne Terwilliger, Nick Testa, Jake Theis, Frank Thomas (1929–), who noted that he is "The Original One," Paul Toth, Johnny Van Cuyk, Mickey Vernon, Gale Wade, Ed Walczak, Carl Warwick, Bill Werber, Bill Werle, Wally Westlake, Fuzz White, Hal White, Fred Whitfield, Ted Wieand, Del Wilber, Gordie Windhorn, Dewey Williams, George Williams, Stan Williams, K. C. "Casey" Wise, John Wittig, Gene Woodling, Floyd Woolridge, Al Worthington, Chink Zachary, Adrian Zabala, Bob Zick, and Jerry Zimmerman.
The archive also reflects some of the frustrations of a biographer: responses from players who either knew little or nothing about Musial, responses from a few who declined to participate, letters returned by family members of those players who were deceased or disabled and who therefore could not respond to Giglio's questions, some returned as incorrectly delivered, and one anonymous response. From the standpoint of autograph collectors, of course, even the notes from the players who said they knew little or who declined to participate are nonetheless autograph items that add to the breadth and value of this archive.
All together, this archive is about 10 inches thick. The returned questionnaires all come with the original mailing envelopes paper clipped to them, and some are accompanied by other items that the former players sent. Most, but not all, of the questionnaires are signed. Virtually all are handwritten, although there are few typed items among them. To our knowledge, all of the player items are genuinely handwritten, signed, or both by the players who returned them, usually using Giglio's self-addressed envelopes bearing their return address, some of which the players have corrected. Generally, the items have mailing folds but otherwise are in fine to very fine condition.
This is an amazing collection of reminiscences about one of baseball's all-time greatest players. Many of these have now died, so this archive could never be replicated. It belongs in the finest of baseball or American sports collections.
_____________
This item has been sold, but
click here to see other
American History items
that we are offering.