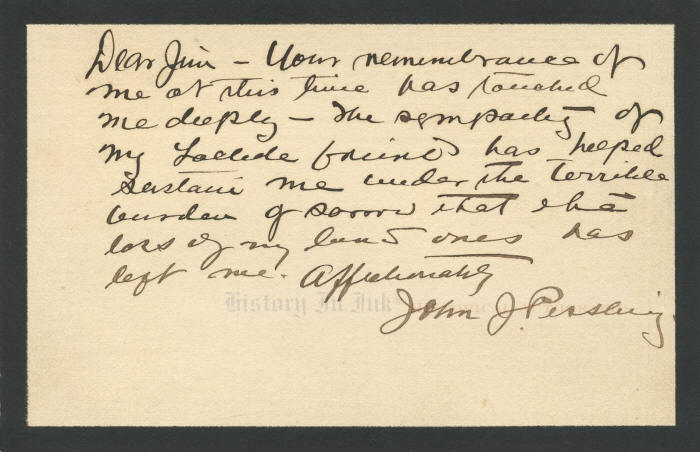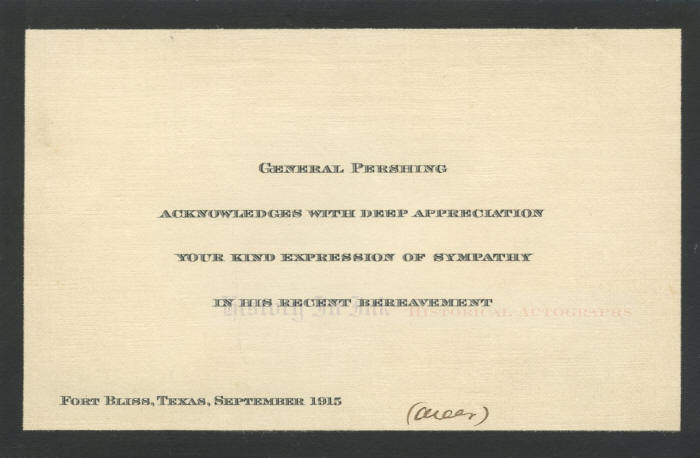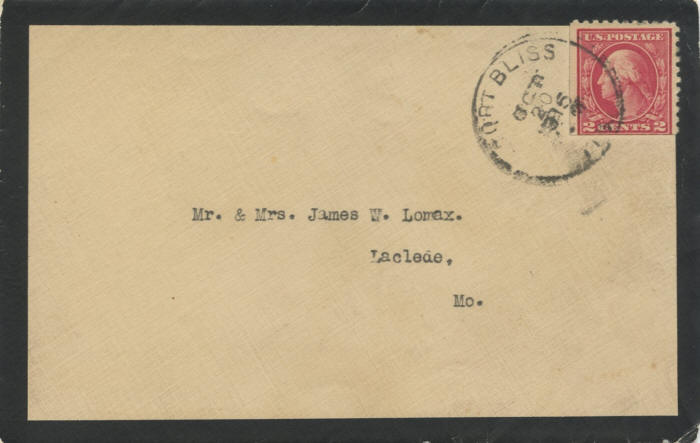 1520902
John J. Pershing
Pershing writes of the "terrible burden of sorrow that the loss of my loved ones has left me"
John Joseph Pershing, 1860–1948. General of the Armies of the United States; Commander in Chief of the American Expeditionary Force in World War I. Known as "Black Jack" Pershing. Autograph Note Signed, John J. Pershing, on the back of a 3½" x 5⅜" black-bordered printed acknowledgment card, Fort Bliss, Texas, no date [October 20, 1915]. With original mailing envelope.
This rare, poignant note spotlights the personal tragedy that General Pershing never overcame: the deaths of his wife and three daughters in a house fire while Pershing was away. Pershing, a native of Laclede, Missouri, writes here to an old friend to acknowledge his condolences. In full: "Dear Jim – Your remembrance of me at this time has touched me deeply – The sympathy of my Laclede friends has helped sustain me under the terrible burden of sorrow that the loss of my loved ones has left me. Affectionately . . . ."
Pershing took command of the 8th Infantry Brigade at the Presidio in San Francisco on January 13, 1914. His wife, Helen Frances Warren Pershing, and their four children moved to the Presidio with him. Three months later, with tensions high on the American-Mexican border, the 8th Infantry Brigade was transferred to Fort Bliss, Texas, arriving there April 27. Mrs. Pershing and the children remained in their two-story Victorian house at the Presidio.
Pershing had nearly completed arrangements to move his wife and children to Fort Bliss when he received a telegram on August 15, 1915, saying that his wife and daughters, Helen Elizabeth, 8, Anne Orr, 7, and Mary Margaret, 3, had perished in a fire at their home. Only his son, Francis Warren, known as "Warren," age 6. survived. Hot coals had spilled from the hearth in the Pershing home onto a highly waxed floor, and flames quickly engulfed the house. Warren was rescued through a second-floor window by Pershing's orderly, but Mrs. Pershing and the daughters perished from smoke inhalation. When General Pershing visited the site, he commented only, "They had no chance."
Friends who knew Pershing said that he never fully recovered from the deaths. Mrs. Pershing, the daughter of Wyoming Senator Francis E. Warren, and the girls were buried in a single grave at Lakeview Cemetery in Cheyenne, Wyoming. After the funeral, General Pershing returned to Fort Bliss with his son. His sister, Anna May, moved there with him. Pershing distracted himself from his sorry by immersing himself in his work.
This note is on the back of a black-bordered printed acknowledgment card. It reads: "General Pershing acknowledges with deep appreciation your kind expression of sympathy in his recent bereavement / Fort Bliss, Texas, September 1915." At the bottom edge, Pershing has written the word "(over)" to indicate that his note is on the back.
Pershing's handwritten note, in black fountain pen, is in extra fine condition. The card is very fine, and only a small stain above the printing on the front side keeps it from being extra fine. The accompanying original black-bordered envelope bears the recipients' typed address on the front and a red two-cent George Washington stamp with the Fort Bliss postmark dated October 20, 1915. The flap has some of the original glue and bears the blind-embossed stamp of Brentano's, Washington, D.C., the first branch of the New York City bookstore. The envelope is slit open on the right end, and there is a 1½" repaired tear at the top of the flap. Overall the envelope is in fine condition.
This note is rare. Whether Pershing's deep sorrow led him to write few personal notes like this one, or whether people did not keep notes from this period in his life, before he achieved widespread notoriety as the commander of the American Expeditionary Force during World War I, this is only the second note like this that we have found. Only one other similar note, which sold in 1991, appears in auction records. This one comes from the descendants of the original recipients and has never been offered on the market before.
This note provides a poignant glimpse into Pershing's thoughts at the most difficult time in his life. It belongs in the best of American military or World War I collections.
Unframed.
_____________
This item has been sold, but
click here to see other
American History items
that we are offering.