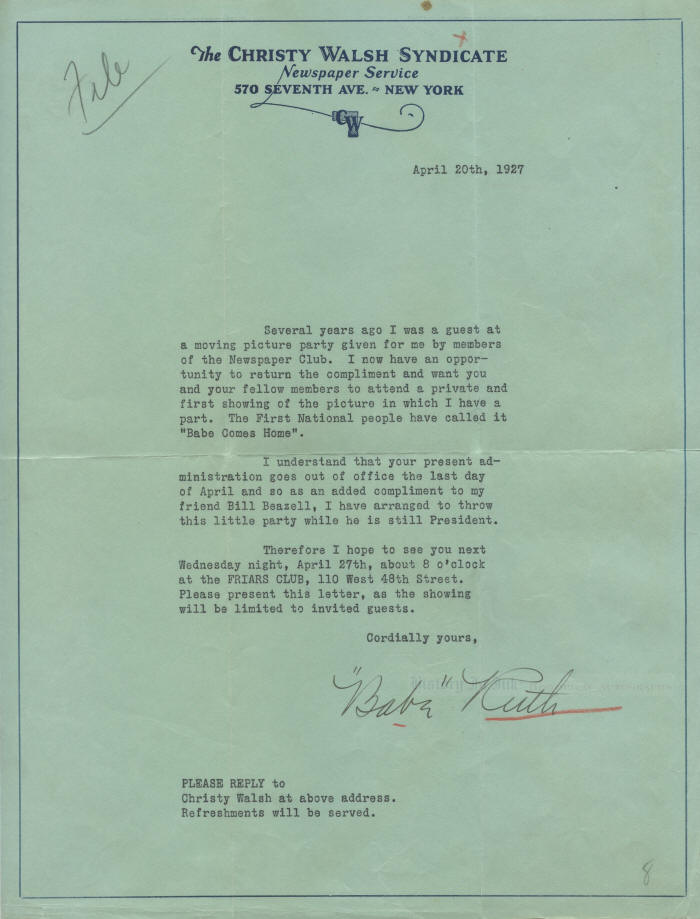 1431527
Babe Ruth
Rare letter by the Bambino from his magic year, 1927,
when he set the single-season home run record
and starred in his second feature film
George Herman "Babe" Ruth, Jr., 1895–1948. American professional baseball player. Rare Typed Letter Signed, Babe Ruth, one page, 8½" x 11", on stationery of The Christy Walsh Syndicate, New York, [New York], April 20, 1927.
The year 1927 was a magical year for Ruth: On the field, he pounded 60 home runs, breaking his own single-season record, and compiled a .356 batting average with 192 hits, 164 runs batted in, and 158 runs scored, leading his New York Yankees, with its famed "Murderers' Row" that was arguably the all-time best major league baseball team, to the World Series title in the first four-game sweep of a National League team, the Pittsburgh Pirates. Off the field, Ruth starred in his second movie, the romantic comedy The Babe Comes Home, which delighted both baseball fans and movie goers. The 60-minute First National Pictures silent film is one of the most important sports movies of all time.
This letter is one of only two known in which Ruth mentioned this movie. The other one, a handwritten letter described below, brought $29,900, including the buyer's premium, at an auction in 2004.
In this letter, Ruth invites members of the Newspaper Club to a private advance showing of The Babe Comes Home before its release to theaters a month later. He writes, in full:
Several years ago I was a guest at a moving picture party given for me by members of the Newspaper Club. I now have an opportunity to return the compliment and want you and your fellow members to attend a private and first showing of the picture in which I have a part. The First National people have called it "Babe Comes Home".
I understand that your present administration goes out of office the last day of April and so as an added compliment to my friend Bill Beazell, I have arranged to throw this little party while he is still President.
Therefore I hope to see you next Wednesday night, April 27th, about 8 o'clock at the friars club, 110 West 48th Street. Please present this letter, as the showing will be limited to invited guests.
Cordially yours,
"Babe" Ruth
PLEASE REPLY to
Christy Walsh at above address.
Refreshments will be served.
This letter evidently is the original from which copies were made and addressed to the individual recipients, whom Ruth instructed to bring the letters with them as their entry tickets to the showing.
Research confirms that the event did, in fact, occur. Several newspapers carried a United Press International report, under different local headlines, noting that the event would be held that night. E.g., Henry L. Farrell, Babe Has Hit Only Three Homers and Batting Average Is Around .273, Anniston (Ala.) Star, Apr. 27, 1927, at 8; Henry L. Farrell, Ruth's Average Low Enough to Worry Rupert, Pittston (Pa.) Gazette, Apr. 27, 1927, at 8; Henry L. Farrell, Christy Walsh, Bambino's Manager, Says Big Boy Just Full of Bad Cold, Santa Anna Register, Apr. 27, 1927, at 17. According to The '27 Yankees, rain cancelled the Yankees' game at Yankee Stadium against the Washington Senators on April 27, and that night "the Yankee players, club officials, and some film critics went to he Friars Club in New York City as guests of Babe Ruth," where they "watched a pre-release of Ruth's Hollywood film ʻBabe Comes Home,' which would soon be on Broadway." The book notes that although "critics thought Ruth was better than expected, none of the critics felt John Barrymore or any other actor had to be worried about the Babe as a competitor." Fred Glueckstein, The '27 Yankees 89 (2005).
Christy Walsh, to whom replies were to be sent, was Ruth's agent. He was a pioneer of sports licensing and his syndicate represented numerous stars, including both Ruth and his Yankees teammate Lou Gehrig. William Preston Beazell, whom Ruth calls "my friend Bill" in the letter, was the managing editor of the New York World.
The Babe Comes Home, a 60-minute silent film, was Ruth's second starring role. He portrayed Babe Dugan, the power hitter of the minor league Los Angeles Angels of the Pacific Coast League. The tobacco that he chewed during games always stained his uniforms, raising the ire of employees at the Snow White Laundry who had to clean them after every game. When one of the employees, Vernie, played by Swedish actress Anna Q. Nilsson, attended an Angels game to investigate just how Babe could be such a slob, she was injured when he hit a fly ball that struck her in the eye. Babe called her to apologize after the game. They went on a date to an amusement park, where the roller coaster threw her into Babe's muscular arms, commencing a romance that resulted in their engagement. But Vernie called off the wedding after a fight the night before over Babe's acceptance of pre-wedding gifts of tobacco plugs and spittoons. Babe vowed to change but went into a hitting slump. When he came up to bat with the bases loaded in the bottom of a critical game, he saw Vernie in the stands, she tossed him a new plug of tobacco, and voilą! he belted a walk-off grand slam. He realized that it was his love for Vernie, not the tobacco, that inspired the homer, and he swore off of tobacco forever.
The screenplay was based on a magazine article by Wid Gunning. The baseball scenes were filmed at south-central L.A.'s Wrigley Field, which, like the other Wrigley Field in Chicago, was named after chewing gum magnate William K. Wrigley, who owned both the minor league Angels and the National League Chicago Cubs. Ruth reportedly earned more money for the movie than his $70,000 Yankees salary ($945,000 today). The six-reel, black-and-white film was released to theaters on May 22, 1927. Ruth admitted that he saw the film himself 10 times.
Unfortunately, no prints of The Babe Comes Home remain. Many silent films were destroyed when the advent of sound feature films later in 1927 led motion picture companies to think them worthless. Many, too, simply rotted away from the cellulose nitrate in the film. Still photographs from the film remain, however, as do artifacts, including two rare posters and a larger number of lobby cards featuring an image of the Babe. One of the posters brought $138,000 at auction in 2003.
Ruth's letters are rare. He signed autographs freely, mostly on album pages, baseballs, and photographs, but comparatively few letters exist. The online records of American Book Prices Current show only 14 Ruth letters sold at auction since 1975. The other letter that mentions The Babe Comes Home was a handwritten letter that Ruth wrote to the Peacock Motion Picture Corporation in Shanghai, China, in which he wrote: "It gives me much pleasure to offer autographed Baseballs to teams in China, to Stimulate interest in the grand old game. I am especially interested in this development of baseball among the Chinese Students / I am extremely enthusiastic over the picture, Babe Comes Home, which I made for first National and am glad that Peacock is releasing the same in China." As noted, that letter brought $29,900 at a Sotheby's New York, Lot 154, on December 2, 2004.
This letter has not been on the autograph market for some 70 years. It comes from a collection assembled in the late 1940s and was last sold on May 17, 1947—for $3.50!—by autograph dealer Conway Barker of Galveston, Texas. A copy of Barker's invoice accompanies the letter.
Ruth has signed this letter with a large 3" black fountain pen signature. He has written "Babe" in quotation marks, a practice that he stopped around 1928. The letter has horizontal and vertical folds, one of which runs vertically through the "R" in "Ruth." There are red pencil marks beneath the signature, and one touches the very bottom of one letter. There are some other stray marks and notations, including a penciled file notation in the upper left corner. Overall the letter is in fine condition.
Unframed.
_____________
This item has been sold, but
click here to see other
American History items
that we are offering.