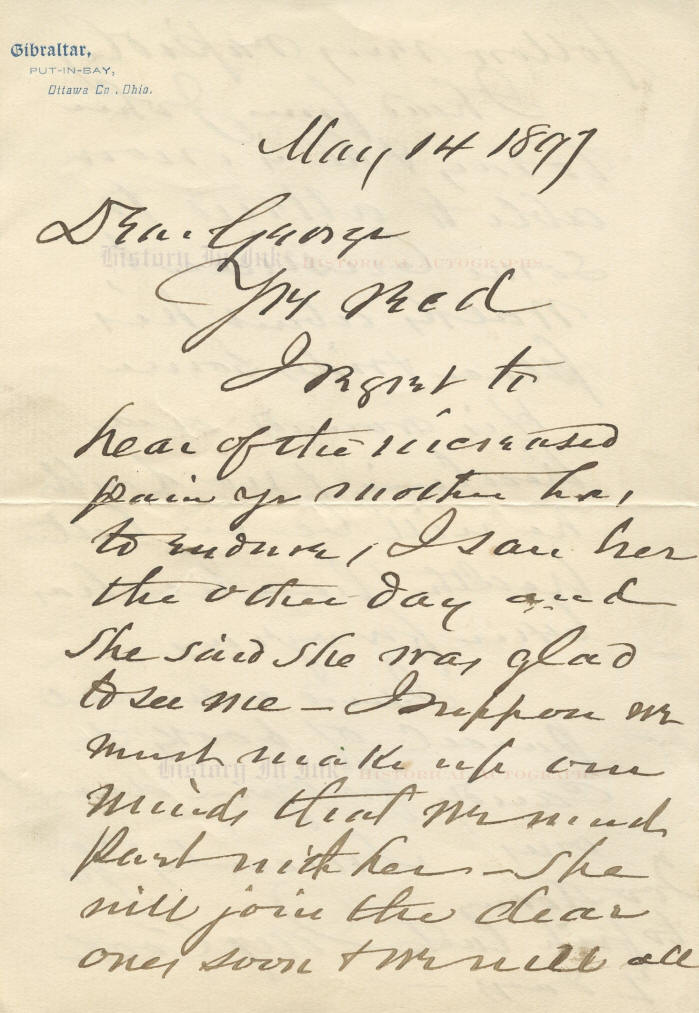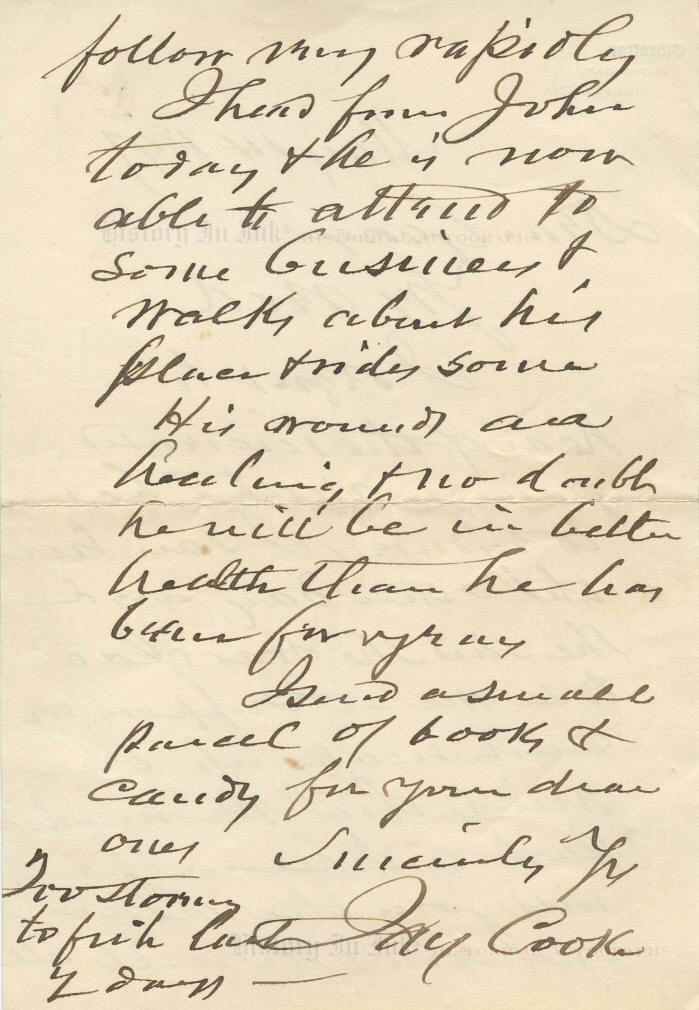 1418601
Jay Cooke
"I suppose we must make up our minds that we must part with her.
She will join the dear ones soon and we will all follow very rapidly."
Jay Cooke, 1821–1905. American financier. Autograph Letter Signed, Jay Cooke, two pages (front and back), 5" x 7¼", on imprinted stationery of Gibraltar, Put-in-Bay, Ottawa County, Ohio, May 14, 1897.
The 76-year-old Cooke, an innovative financier whose efforts financed the Union effort in the Civil War and played an integral role in the construction of the Northern Pacific Railroad, writes poignantly of the imminent death of a friend's mother. Replying to "Dear George," Cooke acknowledges the and refers to the improving condition of yet another friend. He writes, in full: "Yrs read. / I regret to hear of the increased pain your mother has to endure. I saw her the other day and she said she was glad to see me— I suppose we must make up our minds that we must part with her. She will join the dear ones soon and we will all follow very rapidly. / I heard from John today & he is now able to attend to some business & walks about his place & rides some. His wounds are healing & no doubt he will be in better health than he has been for years. / I send a small parcel of books & candy for your dear ones." In the corner, he adds: "Too stormy to fish last 2 days."
Cooke made a fortune selling United States government bonds to finance the Civil War. The state of Pennsylvania borrowed $3 million from Cooke's private banking house to fund its war efforts, and in early months of the war Cooke worked with Secretary of the Treasury Salmon P. Chase to obtain federal loans from leading northern bankers. When the Treasury Department was unable to sell the bonds that Congress authorized early in 1862, Cooke took the issue on commission. His marketing efforts ultimately sold $511,000,000 of the bonds. In 1865, he sold another $830,000,000 in federal bonds. His commissions, in today's dollars, approached some $75,000,000.
In 1870, Cooke's firm financed construction of the Northern Pacific Railroad. Congress had chartered the railroad company in 1864 and granted it some 60,000,000 acres of land for construction and to sell to help finance the project. But the railroad struggled until Cooke took an interest in it. From 1871, the company laid track westward from Duluth, Minnesota, and northward from Kalama, Washington Territory, some 40 miles before turning eastward. Because of attacks by Native Americans of the Sioux, Cheyenne, Arapaho, and Kiowa tribes in the Dakotas and Minnesota, survey and construction crews were protected by federal troops under the command of General Winfield Scott Hancock and General George Armstrong Custer. Over a period of 12 years, through Cooke's bankruptcy from overextension of his banking house, the Panic of 1873, and its own bankruptcy in 1875, the Northern Pacific finally completed its main line from the Great Lakes to the Pacific Ocean when former President Ulysses S. Grant drove the final golden spike near Gold Creek, in western Montana on September 8, 1883.
Cooke lost his Northern Pacific stock in his bankruptcy, but by 1880 his investment in a Utah silver mine had made him wealthy again. Despite his prophecy in this letter that "we will all follow very rapidly" in death, he lived nearly eight years after he wrote this letter. He died at age 83 in 1905.
Gibraltar, which this letterhead mentions, is a small island in the harbor of Put-in-Bay, Ohio, on Lake Erie. It was the location of Cooke's summer home, which still stands. Put-in-Bay is on Bass Island, and Gibraltar lies just north of it, on the western end of Lake Erie north of Sandusky, Ohio, where Cooke was born. Commodore Oliver Perry used Gibraltar as a lookout position during the Battle of Lake Erie in 1813.
This letter is a beautiful example of Cooke's holograph. He has written it in black fountain pen. The letter has one horizontal mailing fold, which passes through the text but not Cooke's bold signature, and one small foxing spot in the lower half of the paper. There is slight brushing to two letters in the last line on the first page. Overall the letter is in fine condition.
Unframed.
_____________
This item has been sold, but
click here to see other
American History items
that we are offering.