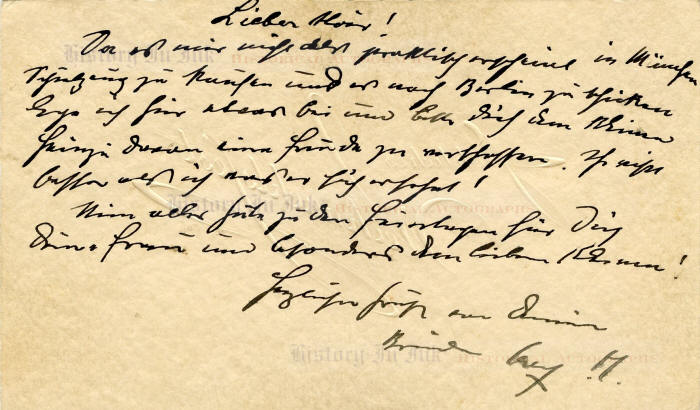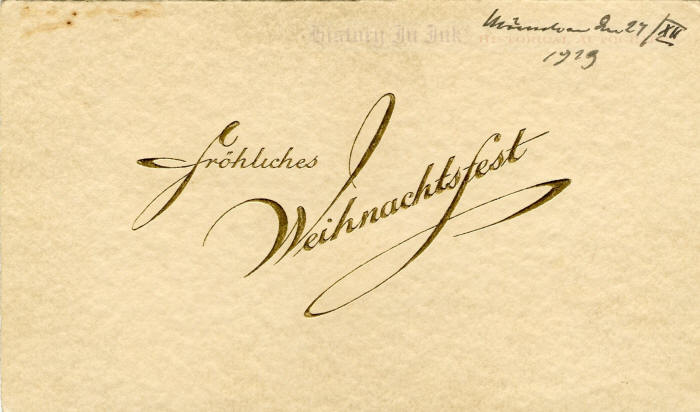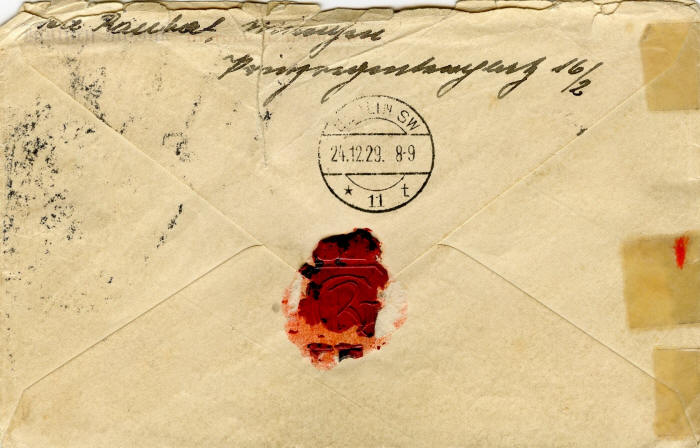 1405001

Adolf Hitler

Extremely rare handwritten Christmas card to his half brother, Alois,

sending money for his "beloved little" nephew for Christmas,

with return address by Hitler's niece, Geli Raubal, with her wax seal

Adolf Hitler, 1889-1945. Führer and Reich Chancellor of Nazi Germany, 1933-1945. Extremely rare Autograph Letter Signed, Adolf H, Munich, [Germany], December 24, 1929. With original envelope.

This Christmas card, which has never been offered on the autograph market before, is an exceptionally rare, and perhaps a unique, item. Our research has found no other letters or cards by Hitler to members of his family sold at auction.

In this card, written on Christmas eve, Hitler sends his half-brother Alois money with which to buy presents for his nephew. He writes, in full: "Da es mir nicht sehr praktisch erscheint in München Spielzeug zu kaufen und es nach Berlin zu schicken lege ich hier etwas bei und bitte dich dem kleinen Jungen davon eine Freude zu verschaffen. Ihr wisst besser als ich was er sich ersehnt!

Nun alles gute zu den Feiertagen für Dich, Deine Frau, und besonders den lieben Kleinen!

/

Herzliche Grüße von Deinem

/

Bruder Adolf H." In English, he writes: "Dear Alois! / Because it does not appear very practical for me to buy a toy in Munich and send it to Berlin, I enclose something here and ask you to bring the youngster joy with it. You all know better than I what he longs to have! / Now everything good for the holidays for you, your wife, and especially the beloved little boy. / Warm greetings / from your / brother Adolf H."

This card shows a quite different side, a spark of warmth in the otherwise cold-blooded man who only four years later would become the Chancellor of Germany, appoint himself Führer, flout the treaty of Versailles, rebuild Germany's military complex, start the greatest war of the 20th Century, and send some six million Jews to their deaths in heinous, macabre concentration camps.

Hitler has hand-dated this card on Christmas eve, 1929, at Munich, München, den 24 / XII 1929, by the gilt-embossed Christmas wish on the front. The front postmark on the envelope has been mostly obliterated by what appears to be the removal of the stamps, but the postmark in Berlin on the back shows "Berlin 24.12.29," which would be the same day, December 24. The red sticker on the front of the envelope, which reads "Durch Eilboten," shows that the piece was sent by a courier—express mail, similar to American special delivery—so that the card would be delivered to Berlin from Munich in time for Christmas. The address for Alois Hitler on the front of the envelope is in Adolf Hitler's hand. He was capable of writing very legibly when he wanted to do so, and the writing on the front of this envelope is consistent with known examples of his early handwriting on postcard addresses. See Werner Maser, Hitlers Briefe und Notizen: Sein Weltbild in Handschriftlichen Dokumenten 110-13 (2005).

Interestingly, the wax seal bears the initials "GR," and at the upper right corner of the back the handwritten name Raubal appears, along with the word München, or Munich. Unfortunately, the first name is mostly torn away. The return address, however, is written by Hitler's niece, Angela "Geli" Raubal, who he said was the only woman he ever loved. The address shown below the word München is Prinzregentenplatz 16/2, which was the address of Hitler's second-floor apartment in Munich from 1929 until 1933. Geli moved into that apartment in 1929 when she began studying medicine at Ludwig Maximillian University. Her mother, Hitler's half-sister, who was also named Angela, had been Hitler's housekeeper at the Berghof on the Obersalzburg, outside Berchtesgaden, beginning in 1928.

Thus, it appears that Hitler wrote the card and addressed the envelope but that Geli used her name and her wax seal on the envelope, perhaps to conceal the fact that the card came from Hitler himself. By this time in 1929, Adolf Hitler was a household name in Germany.

Hitler's preoccupation with domestic politics may explain why he was so late to send this card to Alois. He wrote this card only two days after the German referendum on December 22, 1929, which turned out to be a failed attempt to enact a "Law Against the Enslavement of the German People." The proposed law, which the fledgling Nazi Party and other extreme right-wing Germans supported, would have repudiated the Treaty of Versailles, including its war guilt clause and the obligation to pay war reparations. The proposal countered the "Young Plan," a plan proposed by American Owen D. Young, a member of the German Reparations International Commission, that would have resulted in a final settlement with the World War I allies. The Young Plan was generally favorable to Germany, but it was opposed by extreme right-wing German nationalists, including the Nazis, because it would have required Germany to confess guilt and accept the Treaty of Versailles. German opposition was led by Alfred Hugenberg, a media mogul who led the German National People's Party, who invited Hitler and the Nazi Party to join his anti-Young Plan campaign. Although 95% of those who voted approved the proposed anti-Young Plan law, the referendum failed because only 15% of the eligible voters went to the polls, while passage required at 50% voter turnout. Nevertheless, the nationwide publicity that Hitler and the Nazis got from Hugenberg's media conglomerate helped Hitler make significant contacts with German business interests and clothed him with legitimacy. In November 1929 alone, 19,000 new members joined the Nazi Party. The Nazis made substantial gains in local elections, and by the end of 1929 they had 48 delegates elected to various provincial parliaments. Hitler was indeed a household name.

This card is in fine condition. Hitler has penned it in jet black ink. The pen began to run out of ink toward the end of the letter, so it is a bit lighter on the last line and on Hitler's signature, but nevertheless the entire piece is bold. The gilt-embossed Christmas greeting on the front of the card is still bright. There are a couple of small stains, but they do not detract. The envelope is in fair condition, tattered and torn open at the top and slit open on the bottom and the right end. It is held together on the left end with three strips of old cellophane tape, one of which barely touches one letter of Hitler's handwriting in the address. Someone, presumably a postal employee, has also marked an X across the address in orange, and there are some other unrelated postal markings on the envelope. About 50% of Geli Raubal's red wax seal, including the initials "GR," is present on the back.

We reject Nazism and all that it represented. We nevertheless offer this item because of its rarity and historical significance. Nazism, although despised, played a large role in the history of the 20th Century, and to ignore it would be to create conditions under which its atrocities could reoccur.

This piece is exceptionally rare and belongs in any fine German or World War II collection.

Unframed.

_____________

This item has been sold, but

click here to see other

World History items

that we are offering.