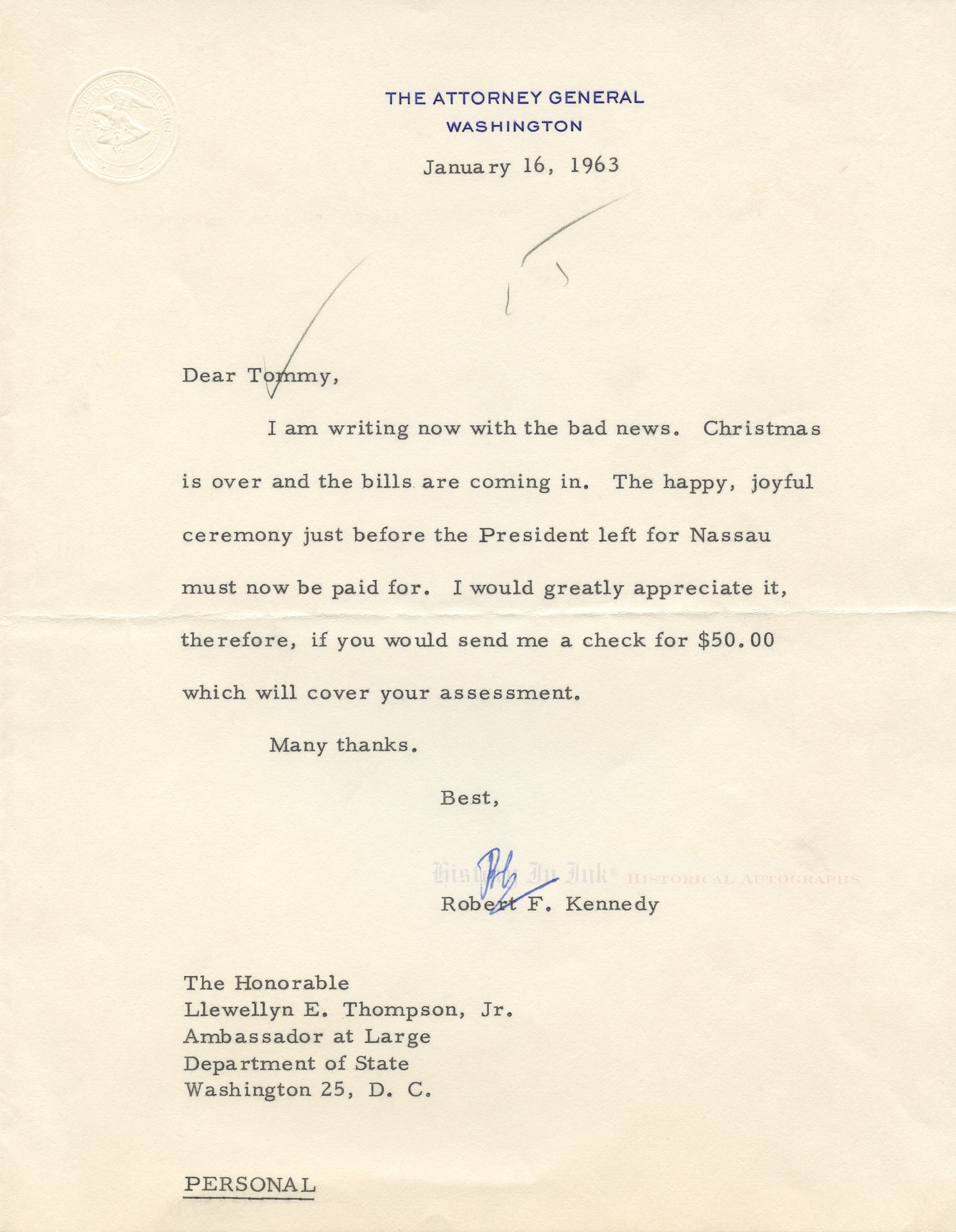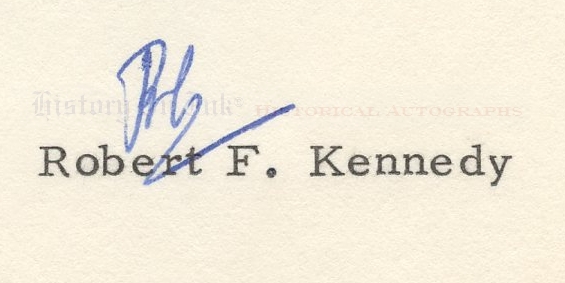 1403324
Robert F. Kennedy
From the Estate of Llewellyn E. Thompson,
United States Ambassador to the Soviet Union
"I am writing now with the bad news. . . . The happy, joyful ceremony
just before the President left for Nassau must now be paid for."
Robert Francis Kennedy, 1925-1968. Attorney General of the United States; United States Senator from New York. Typed Letter Signed, Bob, one page, with integral leaf attached, 7" x 9", on blind-embossed stationery of The Attorney General, Washington, [D.C.], January 16, 1963.
In this letter, marked "personal," Robert Kennedy duns Ambassador Llewellyn E. Thompson for his "assessment" for a "ceremony" for President John F. Kennedy the previous month. He writes, in full: "I am writing now with the bad news. Christmas is over and the bills are coming in. The happy, joyful ceremony just before the President left for Nassau must now be paid for. I would greatly appreciate it, therefore, if you would send me a check for $50.00 which will cover your assessment. / Many thanks. / Best . . . ."
It is unclear just what "ceremony" Kennedy means. On December 17, the evening before he left for Nassau, President Kennedy presided over the Pageant of Peace ceremonies, speaking on television and radio and pushing the button that lit the national Christmas tree. Earlier that day, he had conducted two meetings of the ExComm, the Executive Committee of the National Security Council, which advised Kennedy during the 13 tense days of the Cuban Missile Crisis in October 1962. When the crisis was resolved, Kennedy presented ExComm members and some others, including First Lady Jacqueline Kennedy, with engraved calendar paperweights by Tiffany & Co., bearing their respective initials and his, showing October 1962 with the dates October 16-28 highlighted. (It has become one of the rarest and most significant presidential gifts—Secretary of Defense Robert S. McNamara's paperweight sold for $95,900, including the buyer's premium, at a 2012 Sotheby's auction.) Possibly the ExComm members, of which Thompson was one, presented President Kennedy with a gift of their own.
In any event, it was an expensive event. Thompson's $50 in 1962 dollars would be about $390 today.
Thompson, who had served as the United States Ambassador to the Soviet Union under both President Kennedy and his predecessor, President Dwight D. Eisenhower, was a key advisor to Kennedy and a member of his inner circle with respect to Soviet affairs. He was a vital member of the ExComm because he knew Soviet Premier Nikita Khrushchev so very well. Arguing vociferously against trading American nuclear missiles in Turkey for the withdrawal of Soviet missiles from Cuba, Thompson urged Kennedy to respond to a conciliatory letter from Soviet Premier Nikita Khrushchev offering to withdraw Soviet missiles if the United States would not attack Cuba and to ignore the subsequent belligerent one offering the trade. Ultimately, President Kennedy did both. The ExComm meeting resulted in a letter from the President accepting the terms of Khrushchev's first letter. Then, outside of the ExComm, the President met secretly in the Oval Office with a small group that included Thompson, Robert Kennedy, and Secretary of State Dean Rusk, instructing Robert Kennedy to convey to Khrushchev through a back-channel meeting with Soviet Ambassador Anatoly Dobrynin that, although the President could not publicly agree to remove American missiles from Turkey, the United States would dismantle those missiles in time. Echoing Thompson's concerns, he told RFK to emphasize that dismantling the missiles was not a trade.
As this letter mentions, the President met with British Prime Minister Harold Macmillan in Nassau December 18-21, 1962. The meeting was hastily called in response to British objections to the Kennedy Administration's cancellation of the American Skybolt program, which Britain had planned to use as the basis for its nuclear deterrent system. The United States worried that the British nuclear capability would not deter an attack by the Soviet Union that would draw the United States into nuclear war. Thus, Kennedy sought to maneuver Britain away from nuclear independence and into the NATO multinational nuclear force. Macmillan insisted, however, that Britain would remain an independent nuclear nation. Ultimately, the United States agreed to provide Britain with Polaris submarine-launched missiles, a much better system, with which Britain could launch its own nuclear warheads. Britain agreed that, unless "supreme national interests were at stake," its nuclear forces would be used within the multi-lateral NATO force "for the purposes of international defense of the Western Alliance in all circumstances."
Thompson (1904-1972) was a career American diplomat who served at a critical time in history as the United States Ambassador to the Soviet Union under Presidents Dwight D. Eisenhower, Kennedy, and Lyndon B. Johnson. Thompson joined the Foreign Service in 1928, and during his long and distinguished career he served as the United States Ambassador to Austria from 1955 to 1957. Eisenhower appointed him Ambassador to the Soviet Union in 1957, and Kennedy reappointed him in 1961. He resigned in 1962, but Kennedy made him an Ambassador At Large, and Johnson reappointed him to Moscow in 1967, where he served until 1969. He also held the post of Career Ambassador. In addition to advising Kennedy as part of the ExComm, he was present at Johnson's summit with Soviet Premier Alexei Kosygin at Glassboro, New Jersey, in June 1967.
Robert Kennedy has signed this letter in blue ballpoint. The letter has one horizontal mailing fold, which does not touch the text. Thompson has checked his name in the salutation with a pencil check mark and has written a small tick mark and his initial "T" in pencil in the blank area below the date. The letter is in fine to very fine condition.
Provenance: This letter comes directly from the Thompson estate. It has never been offered on the autograph market before.
Unframed.
_____________
This item has been sold, but
click here to see other
American History items
that we are offering.