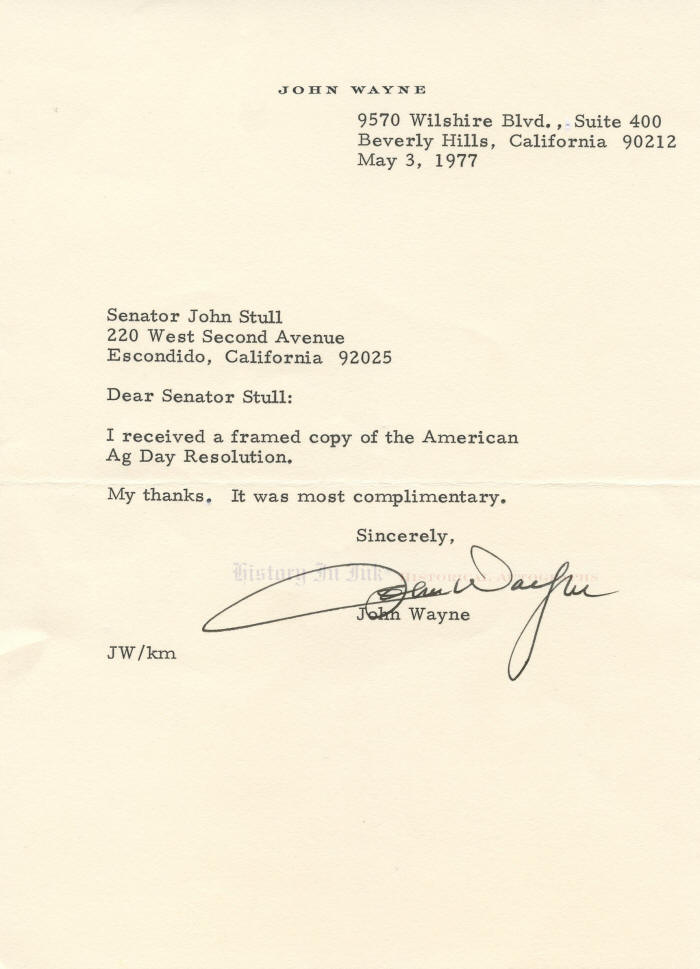 1320002
John Wayne
The Duke thanks a California state senator for a "most complimentary" framed resolution
John Wayne, born Marion Robert Morrison, a/k/a Marion Mitchell Morrison, 1907–1979. American screen actor. Typed Letter Signed, John Wayne, one page, 6" x 8¼", on engraved personal stationery, Beverly Hills, California, May 3, 1977.
The Duke expresses his appreciation to California state Senator John Stull for the gift of a resolution (not present) honoring him. In full: "I received a framed copy of the American Ag Day Resolution. / My thanks. It was most complimentary."
Wayne, an Iowa native, chaired National Agriculture Day in 1997, the fifth annual observance of the day. National Agriculture Day began in 1973 as a way of celebrating the contributions that agriculture makes to American society and increasing public awareness of American agriculture and the role that agricultural producers play in producing and delivering food to the public. Although it was never designated as a national holiday, by 1975 it was observed annually with a national celebration in Washington, D.C., and celebrations in communities across the country. Today National Agriculture Day, or Ag Day, is celebrated around the beginning of spring as part of National Agriculture Week.
Wayne is an American icon. His image was that of a man larger than life, one who epitomized rugged masculinity and symbolized American values and ideals. He starred in over 170 motion pictures, was among the top box office draws for three decades, was nominated for three Academy Awards, and won for Best Actor for his starring role in True Grit in 1969. On May 26, 1979, less than three weeks before Wayne died, Congress awarded him the Congressional Gold Medal, one of the United States' highest civilian honors. Testifying before Congress in favor of the award, then-Screen Actors Guild President Robert Aldrich said, "Because of his courage, his dignity, his integrity, and because of his talents as an actor, his strength as a leader, his warmth as a human being throughout his illustrious career, he is entitled to a unique spot in our hearts and minds." In 1980, President Jimmy Carter posthumously awarded Wayne the Presidential Medal of Freedom.
This letter, which comes from Stull's estate, has never been on the market before. Stull (1920-2011) represented California's 80th Assembly District, covering North San Diego County, from 1967 to 1972, and then won a special election to the California Senate in 1973 and represented the 38th Senate District until 1978.
Wayne has boldly signed this letter with a huge 3½" black fountain pen signature. It has a light paper clip impression at the top, a small handling crease at the left margin. and one normal mailing fold. It is in fine condition.
Unframed.
_____________
This item has been sold, but
click here to see other
American History items
that we are offering.