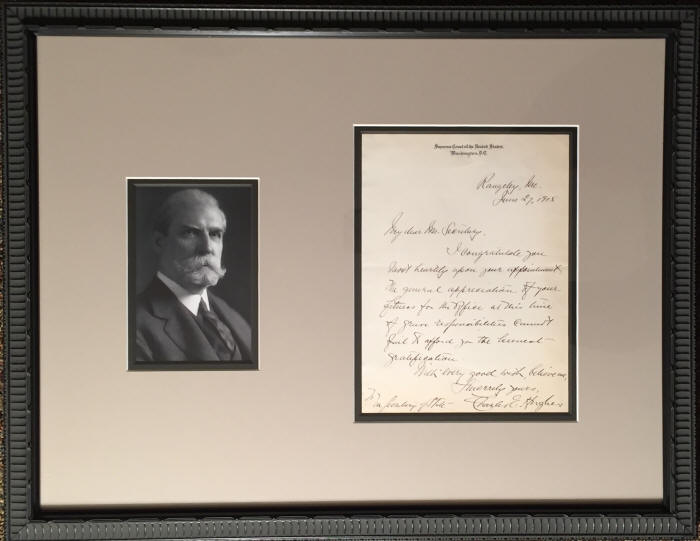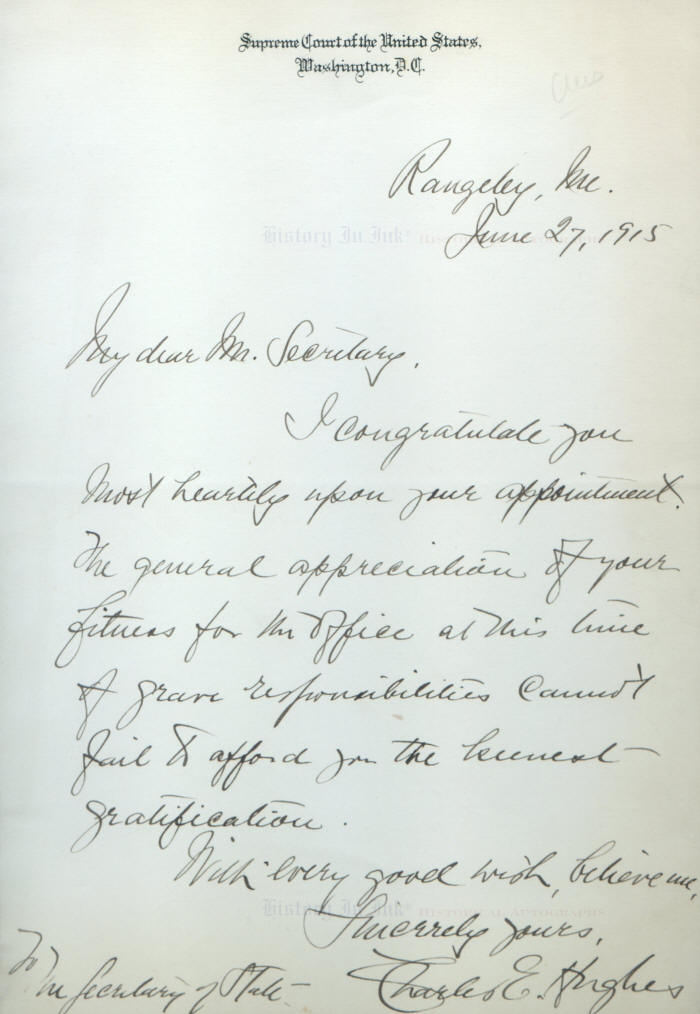 1311901
Charles Evans Hughes
Hughes notes Secretary of State Robert Lansing's
"fitness for the office at this time of grave responsibilities"
as the United States struggles to stay out of World War I
Charles Evans Hughes, 1862–1948. Associate Justice, United States Supreme Court, 1910–1916; Chief Justice of the United States, 1930–1941. Superb association Autograph Letter Signed, Charles E. Hughes, one page, quarto, on stationery of the Supreme Court of the United States, Washington, D.C., dated Rangeley, Maine, June 27, 1915.
Hughes, then an Associate Justice and less than a year away from accepting the 1916 Republican presidential nomination, congratulates Secretary of State Robert Lansing on his appointment following the resignation of Secretary of State William Jennings Bryan. He writes, in full: "I congratulate you most heartily upon your appointment. The general appreciation of your fitness for the office at this time of grave responsibilities cannot fail to afford you the keenest gratification. / With every good wish, believe me, / Sincerely yours . . . ."
The backdrop for this letter is the United States' effort to remain neutral—and stay out of World War I—in light of Germany's sinking of the Cunard Line's luxury passenger liner RMS Lusitania. Lansing's predecessor, the Democratic populist Bryan, resigned as Secretary of State in light of President Woodrow Wilson's hard line with Germany, which Bryan thought would damage America's ability to avoid war.
World War I began in Europe in the summer of 1914. Britain declared war on Germany on August 3. Wilson sought to maintain American neutrality, but both Britain and Germany, seeking to prevent American trade with the other, interfered with American vessels bound for European ports. While Britain restricted American commerce, Germany went further: Its commencement of submarine warfare meant that American ships could be sunk, with consequent loss of life. On February 4, 1915, Germany declared the seas around the British Isles to be a war zone and warned that, beginning February 18, Allied ships in the area would be sunk without warning. Wilson announced that Germany would be held to "strict accountability" for any loss of American life.
The Lusitania left Liverpool on its 201st transatlantic voyage on April 17. On April 22, two days before the ship arrived in New York, the German embassy in Washington, D.C., published a statement next to a newspaper advertisement for the return voyage. It warned travelers that "vessels flying the flag of Great Britain, or any of her allies, are liable to destruction in those waters" and that, should they sail "in the war zone on the ships of Great Britain or her allies," they would do so "at their own risk."
On May 7, the German submarine U-20 torpedoed the Lusitania as it sailed toward port in Queenstown, Ireland. The torpedo struck on the starboard side, under the bridge, and triggered a second, more powerful explosion. The Lusitania—at 750 feet long and 32,500 tons the largest passenger vessel on transatlantic service—rolled over and sank in 18 minutes. A total of 1,198 people, including 785 passengers and 413 crew members, died. The dead included 128 Americans.
The sinking caused outrage in both the United States and Britain. Germany sought to justify it on the ground that the Lusitania carried munitions and therefore was a military target despite its civilian passengers. It argued that the second, larger explosion came from a secret cargo of heavy munitions. If true, that meant that Britain had breached the rules of warfare by transporting ammunition on a civilian ship—and suggested that the munitions came from the United States. Britain said that the second explosion occurred when coal dust ignited.
On May 15, Wilson sent a patronizingly cordial but nevertheless stiff diplomatic note to Germany over Bryan's signature to seek a "clear and full understanding" with Germany "as to the grave situation" that the sinking had caused. He said that "the United States was loath to believe—it cannot now bring itself to believe—that these acts, so absolutely contrary to the rules, the practices, and the spirit of modern warfare, could have the countenance or sanction of that great government." But, he said, the United States nevertheless could not allow Germany to infringe upon the rights of either American shipmasters or "American citizens bound on lawful errands as passengers on merchant ships of belligerent nationality." Thus, Wilson warned, the United States would hold Germany "to a strict accountability for any infringement of those rights, intentional or incidental." After-the-fact apologies and reparations if neutral ships were mistakenly sunk without loss of life could not "justify or excuse a practice, the natural and necessary effect of which is to subject neutral nations and neutral persons to new and immeasurable risks." Germany, Wilson said, should not expect the United States "to omit any word or any act necessary to the performance of its sacred duty of maintaining the rights of the United States and its citizens and of safeguarding their free exercise and enjoyment."
Two days later, on May 17, Bryan met with Austro-Hungarian Ambassador Dr. Konstantin Dumba, who was Germany's de facto representative to the United States. Bryan, the administration's strongest advocate for strict neutrality between the warring countries, related to Wilson his suggestion that Dumba tell Germany "that he felt sure there was no desire for war in this country and that we expected Germany to answer the note in the same spirit off friendship that prompted ours."
Dumba's visit to Bryan occurred as Wilson was preparing a second, stronger diplomatic note to Germany in view of Germany's justification of the sinking on the ground that the Lusitania carried munitions. Bryan, who believed that a stronger warning would presage war with Germany, vigorously opposed sending the second note, and ultimately he resigned as Secretary of State on June 15, 1915, rather than sign it.
Bryan insisted that he had made clear to Dumba the distinction between British seizure of cargo, on the one hand, and German killing, on the other. Somehow, however, the German government got the impression that, in Bryan's words, "the Lusitania note was 'not meant in earnest and was only sent as sop to public opinion.'" Bryan recounted in his Memoirs that he immediately summoned Dumba, who, he said, "expressed great surprise that such a misconstruction could have been placed upon his language and assured me that he had used no words that could by any reasonable interpretation convey any such thought."
But the damage was done. Wilson proceeded to send the second note, which he drafted himself, and which the Cabinet approved with some modifications, causing Bryan to resign on the ground that he was unwilling to share responsibility for the note, which he argued imperiled hopes for the "prevention of war." Wilson wrote that the Lusitania was not carrying munitions but that the issue nevertheless was "irrelevant to the question of the legality of the methods used by the German naval authorities in sinking the vessel." He continued that, whatever the other facts were, "the principal fact is that a great steamer, primarily and chiefly a conveyance for passengers, and carrying more than a thousand souls who had no part or lot in the conduct of the war, was torpedoed and sunk without so much as a challenge or a warning, and that men, women, and children were sent to their death in circumstances unparalleled in modern warfare." Thus, he said, only "her actual resistance to capture or refusal to stop when ordered to do so for the purpose of visit could have afforded the commander of the submarine any justification for so much as putting the lives of those on board the ship in jeopardy." The United States, Wilson said, contended "for nothing less high and sacred than the rights of humanity, . . . which no Government is justified in resigning on behalf of those under its care and authority."
Bryan's resignation resulted in Wilson's appointment of Lansing, whom Hughes congratulates in this letter, as Secretary of State. Lansing, a conservative Democrat, served as Legal Advisor to the Department of State before Wilson appointed him Secretary of State. Lansing was a strong advocate of freedom of the seas and the rights of neutral nations. As Secretary of State, he supported Wilson's issuance of a total of three diplomatic notes to Germany, and he wrote in his memoirs that, after Germany sank the Lusitania, he had the "conviction" that the United States "would ultimately become the ally of Britain."
Although Germany curbed its use of submarines through 1916 to avoid further antagonizing the United States, it resumed unrestricted submarine warfare in February 1917. Two months later, Wilson, whose 1916 reelection campaign used slogan "He kept us out of war," asked Congress to declare war on Germany.
This letter is simply but exquisitely matted in gray and black with a photograph of Hughes and framed in a black wood frame. We have not examined the letter outside the frame, but it appears to be in very fine condition.
This outstanding letter illustrates the United States' balancing act—the "grave responsibilities" to which Hughes refers—as the country tried to stay out of World War I.
17½" x 22½".
_____________
This item has been sold.
Click here to see other Supreme Court items
that we are offering.