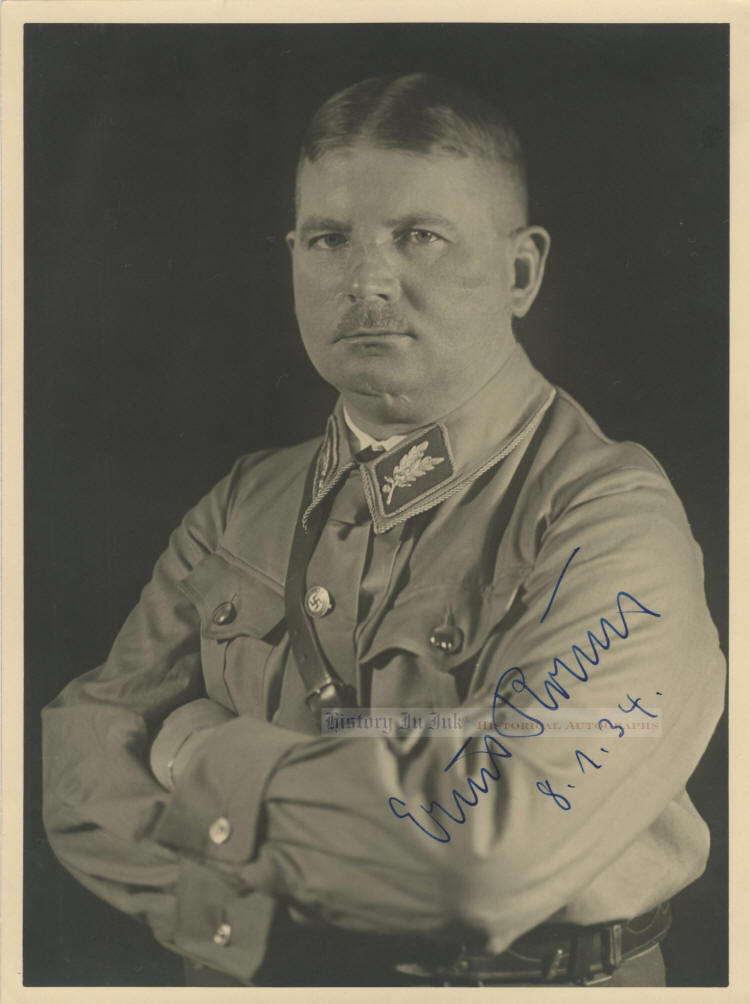 1225101
Ernst Röhm
Superb, very rare signed portrait of the Nazi Brownshirt leader murdered on Adolf Hitler's orders
Ernst Julius Röhm, 1887-1934. Co-founder and leader of the Nazi Brownshirts, the Sturmabteilung (S.A.) or storm troopers. Superb 7" x 9½" formal portrait photograph of Röhm signed Ernst Röhm and dated in his hand 8.1.34.
Individual signed photographs of Röhm are very rare. Our search of auction results revealed only two individual signed portraits of Röhm, both small postcard photos, that have appeared at auction in the last 38 years. The only other signed images of Röhm that we have found at auction were two different photographs of Röhm in a group of Beer Hall Putsch participants, including Nazi Führer Adolf Hitler, and one of Röhm in a group of graduates of the Munich Reichführerschule. We sold a signed postcard photo of Röhm in 2006.
This magnificent 7" x 9½" photograph, which appears to be by official Nazi party photographer Heinrich Hoffmann, is an outstanding image of Röhm. He has signed it in blue fountain pen with a large 3⅛" signature and dated it January 8, 1934, in his hand. Röhm thus signed this photograph fewer than six months before Hitler ordered his execution.
One of Hitler's longtime friends and close associates, Röhm joined the Nazi Party in 1919. By 1921, the party's paramilitary arm was informally known as the Sturmabteilung, a name previously used by units of the German Army during World War I. The S.A. protected the Nazi leadership and attacked and terrorized political opponents. Röhm was with Hitler during the Beer Hall Putsch in 1923, for which he was tried and convicted of treason but received a suspended sentence and thus avoided the imprisonment that befell Hitler. While Hitler was in prison at Landsberg am Lech, Röhm helped to create the Frontbann as a legal alternative to the outlawed S.A. Hitler also authorized Röhm to rebuild the S.A. as he saw fit. But when Hitler later disagreed with Röhm's plans to integrate the Frontbann into the S.A., Röhm resigned. After the Stennes Revolt, a clash between the S.A. under Walter Stennes and the Nazi Party leadership under Hitler, Hitler assumed command of the S.A. and in January 1931 recalled Röhm to be its Chief of Staff. Hitler and Röhm became such close friends that they addressed each other by the term du, the German familiar form of "you," and Röhm was the only Nazi who could call Hitler "Adolf" rather than "mein Führer."
But friendship meant nothing to Hitler when he perceived a threat to his power. After the Nazis gained power in 1933, the party's left wing, which Röhm led, continued to press for socialism rather than nationalism. Its views conflicted with those of the right wing business community that supported Hitler's rise to power. In addition, the German Army, whose support Hitler needed to remain in power, also feared that the S.A. would gain control of the armed forces. Finally, Hermann Göring and Heinrich Himmler, seeking to increase their own power, presented Hitler with manufactured evidence that France had paid Röhm to overthrow him, fueling Hitler's suspicion that Röhm intended to use the S.A. to launch a coup. Hitler thus moved to purge his political rivals in the S.A. Occurring over the weekend of June 30-July 1, 1934, the purge—known as the "Night of the Long Knives"—targeted S.A. leaders and members whom Hitler viewed as a threat to his continued support within the Army and the conservative business community. Röhm was arrested by Hitler himself. After he refused to commit suicide, Röhm was shot by Theodor Eicke on July 2, 1934, executed without trial on Hitler's orders.
This matte finish photograph, which is printed on vintage Agfa Brovira photographic paper, is in very fine condition. We would grade it extra fine were it not for one small, almost imperceptible scuff mark on Röhm's left sleeve, not affecting the signature, and a light pencil notation with Röhm's name in another hand at the top edge of the back side of the photograph.
We reject Nazism and all that it represented. We nevertheless offered this photograph because of its rarity and because Nazism, although despised, played a large role in the history of the 20th Century.
Unframed.
_____________
This item has been sold, but
click here to see other
World History items
that we are offering.