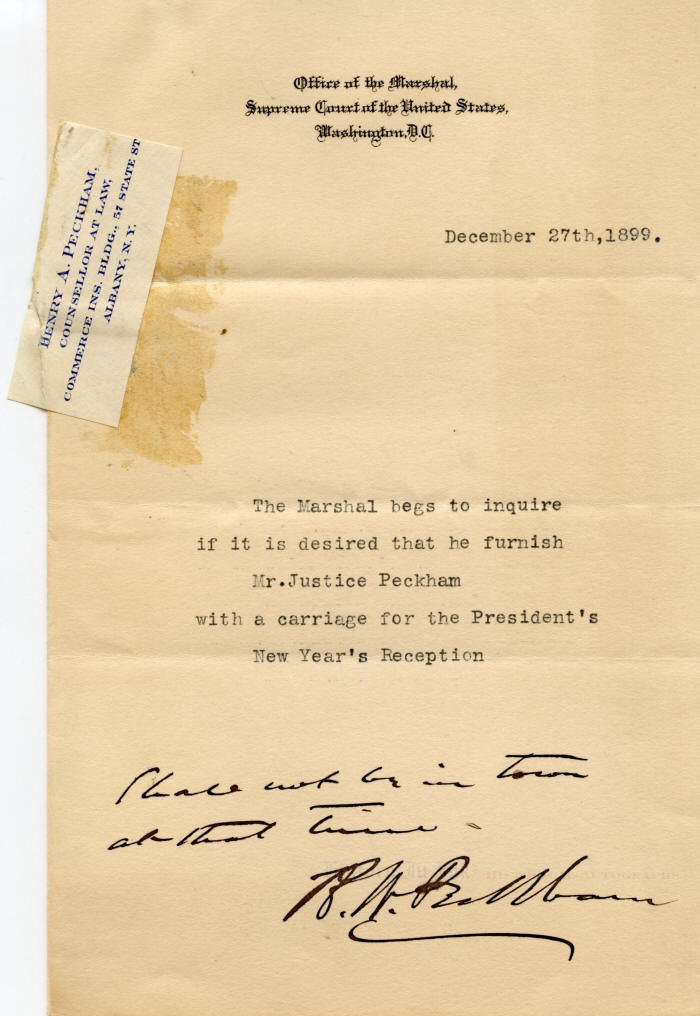 1222145
Rufus W. Peckham
Scroll down to see the image of the item below the description
From the personal collection of Supreme Court Justice Tom C. Clark
Peckham declines a carriage for President William McKinley's New Year's reception
Rufus Wheeler Peckham, 1838–1909. Associate Justice, United States Supreme Court, 1895–1909. Autograph Note Signed, R. W. Peckham, one page, 5¾" x 9", stationery of the Office of the Marshal, Supreme Court of the United States, Washington, D.C., no date [December 27, 1899].
Justice Peckham declines the Supreme Court Marshal's offer of a carriage for President Willam McKinley's New Year's reception, explaining that he "Shall not be in town at that time."
Peckham likely got along well with McKinley. Although he was a Democrat, Peckham had strong ties to business giants J. Pierpont Morgan, Cornelius Vanderbilt, and John D. Rockefeller, and those relationships likely colored hiss pro-business views. Peckham accepted the laissez-faire economics that gave rise to the doctrine of substantive due process under which the Supreme Court, citing freedom of contract, routinely invalidated labor regulation under the 14th Amendment Due Process Clause. Peckham wrote the Court's opinion in Lochner v. New York, 198 U.S. 45 (1905), which struck down a New York law limiting the number of hours that bakers could work per day and per week. Justice Oliver Wendell Holmes, Jr., dissented, arguing that the "Fourteenth Amendment does not embody Mr. Herbert Spencer's Social Statics." Lochner gave its name to an era that stymied progressive legislation for more than 30 years. It was finally discredited in 1937, during the later days of the Great Depression.
Peckham has written and signed this note on the bottom of the Marshal's letter. Horizontal folds do not touch either Peckham's note or his signature. An address label for Peckham's son, Henry A. Peckham (1868–1907), a lawyer in Albany, New York, the city in which Justice Peckham was born and near which he is buried, is tipped to the letter at the left blank margin. Justice Peckham served on the Supreme Court until his death on October 24, 1909, and he is buried in Albany Rural Cemetery at Menands, New York. Peckham and his wife, Harriette Maria Arnold Peckham (1839–1917), outlived both of their sons, Henry Arnold and Rufus Wheeler, Jr. (1870–1899).
Peckham has boldly written and signed this piece in black. It is in fine condition.
Provenance: This note comes from the personal collection of Justice Tom C. Clark, who served on the Supreme Court from 1949 until 1967. Justice Clark collected the autographs of Supreme Court Justices dating back into the 19th Century, and we are privileged to offer a number of items from his collection. This one comes with the backing page, which bears the federal eagle watermark and Justice Peckham's typed name, that Justice Clark inserted behind the item in the page protector used to house this letter his collection. This note is not laid down to the backing sheet.
Unframed.
_____________
This item has been sold.
Click here to see other Supreme Court items
that we are offering.