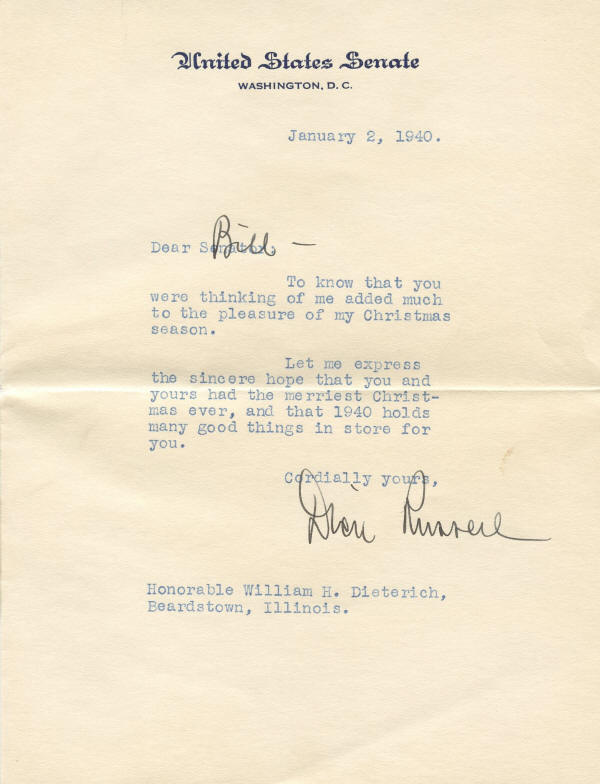 1136412
Richard B. Russell
Click on image for larger size
"To know that you were thinking of me added much to the pleasure of my Christmas season."
Richard Brevard Russell, Jr., 1897-1971. United States Senator from Georgia, 1933-1971. Typed Letter Signed, Dick Russell, with handwritten emendation, one page, 6¼" x 8", with integral leaf attached, on stationery of United States Senate, Washington, D.C., January 2, 1940. With original mailing envelope.
Russell, who by 1940 was already a conservative Democratic power in the Senate, thanks former Illinois Senator William H. Dieterich for his Christmas note. He writes, in full: "To know that you were thinking of me added much to the pleasure of my Christmas season. / Let me express the sincere hope that you and yours had the merriest Christmas ever, and that 1940 holds many good things in store for you."
Unfortunately, Russell's New Year's wish for Dieterich did not come true. Dieterich, also Democrat who had served a term in the House of Representatives and one in the Senate before reentering private law practice in Illinois in 1939, died on a business trip in late 1940.
Russell went on to become a political powerhouse. By the time of his own death in 1971, he was the most senior member of the Senate. He founded and led the conservative coalition that dominated Congress from 1937 to 1963. After the United States dropped atomic bomb on Hiroshima, he urged President Harry S. Truman to forbid the American military to warn Japanese cities of further attacks and argued that the "next plea for peace should come from an utterly destroyed Tokyo." When Lyndon B. Johnson went to the Senate in 1949, he courted Russell, then the most powerful member of the Senate, and Russell's subsequent support of Johnson led to Johnson's choice as the youngest Majority Leader in Senate history.
A week after Johnson assumed the presidency, he appointed Russell to serve on the Warren Commission, which investigated the assassination of President John F. Kennedy. Russell nearly refused to serve: As one author noted, "on judicial rulings that range from national security to civil rights to states' rights, to the very concept of federalism and the separation of powers," Russell could not "abide the Warren Court" and Chief Justice Earl Warren himself, who, Russell believed, "had destroyed the integrity of the nation's highest court." But in a fascinating 8:55 p.m. telephone conversation on November 29, 1963, Johnson strong armed, kissed, cajoled, and browbeat Russell into serving, telling him that "this is not me. This is your country, and . . . you're my man on that commission. And you gonna to do it! And don't tell me what you can do and what you can't, because . . . I can't arrest you. And I'm not gonna put the FBI on you, but you're goddamned sure gonna serve, I'll tell you that!" Max Holland, The Kennedy Assassination Tapes 195, 198 (2004).
This letter is in very fine condition. Russell has signed boldly in black fountain pen and has boldly written "Bill –" over the typed word "Senator" in the salutation. The letter has one horizontal mailing fold, not affecting the signature, and a small, unobtrusive stain in the blank area above the signature. The accompanying mailing envelope has a vertical fold and is a tad soiled but has been torn open cleanly at the top and is in fine condition.
Unframed.
_____________
This item has been sold, but
click here to see other
American History items
that we are offering.