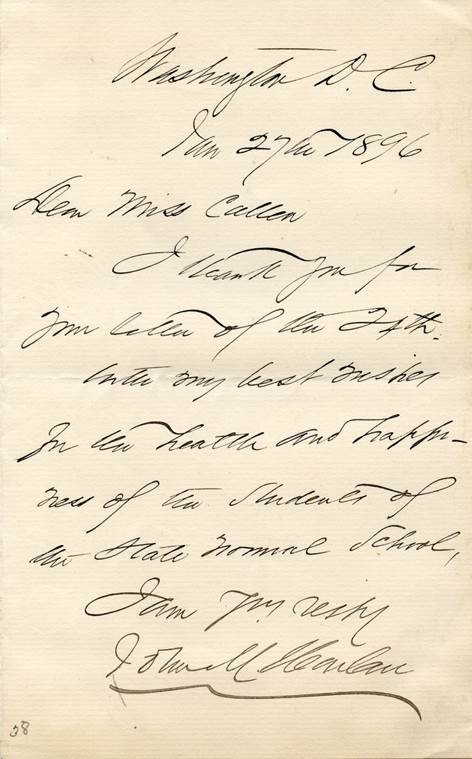 1136113
John Marshall Harlan
Nice example of the handwriting of Justice Harlan,
the great dissenter in Plessy v. Ferguson
John Marshall Harlan, 1833–1911. Associate Justice, Supreme Court of the United States, 1877–1911. Autograph Letter Signed, John M. Harlan, one page, with integral leaf attached, 5" x 8", on plain stationery, Washington, D.C., January 27, 1896.
Harlan responds to a student's request for a handwritten letter to be included in a collection of handwriting of notable persons assembled by students at the State Normal School at Emporia, Kansas. On the instructions of their teacher, a penmanship professor, the students wrote to prominent people throughout the United States and in U.S. consular offices worldwide to request a holograph letter containing a reminiscence, a favorite sentiment, or a word of advice for one of several autograph albums to be devoted to the handwriting of the country's prominent men and women. Harlan's response to this request sends his "best wishes for the health and happiness of the students of the state Normal School."
The letter has a bit of soiling, one normal horizontal mailing fold that affects the text but not the signature, a collector's pencil note in the blank lower left corner, and mounting remnants on the back of the integral leaf, which shows a couple of thin spots from removal from an album. Overall it is in fine condition.
Unframed.
_____________
This item has been sold.
Click here to see other Supreme Court items
that we are offering.