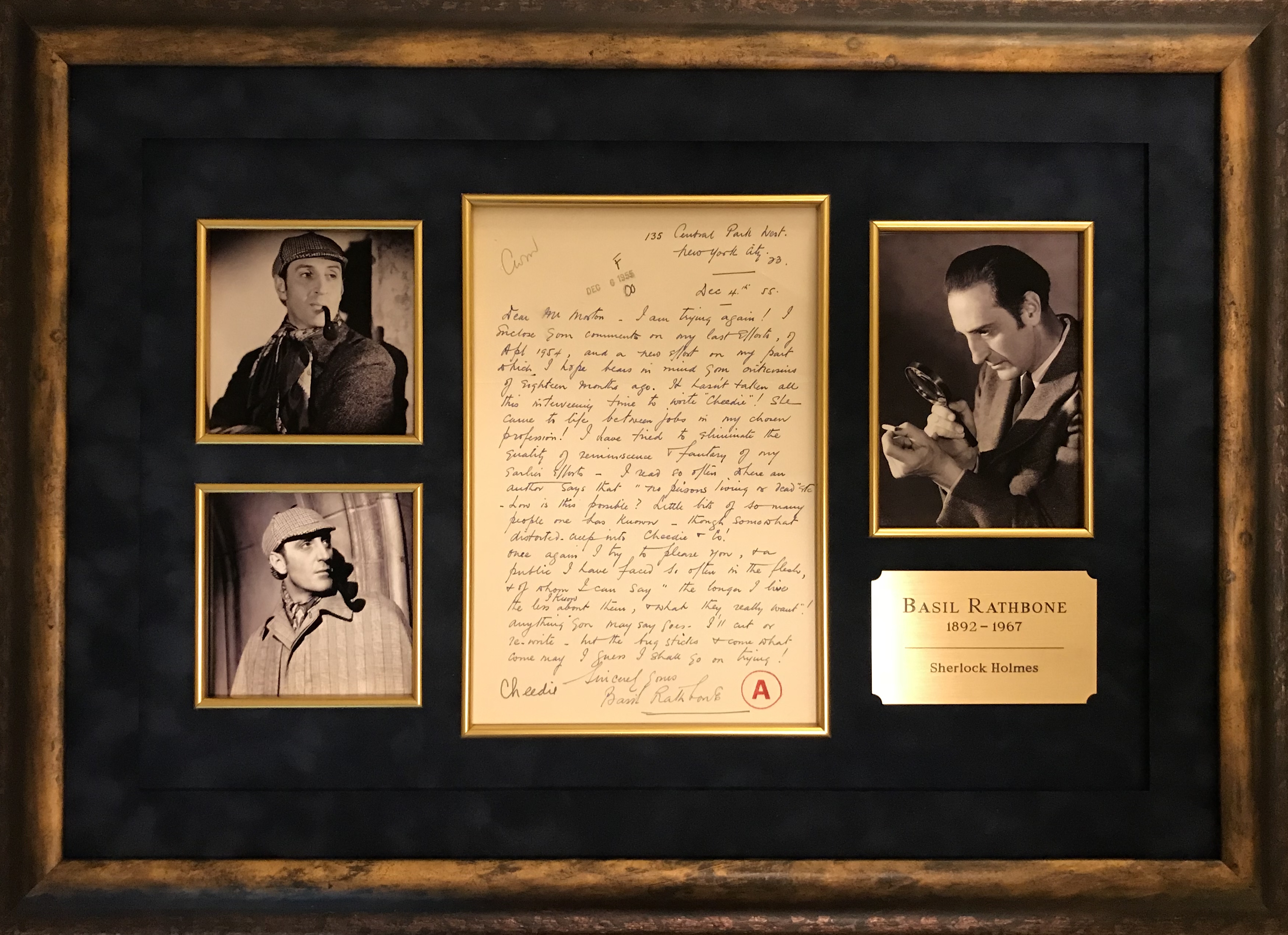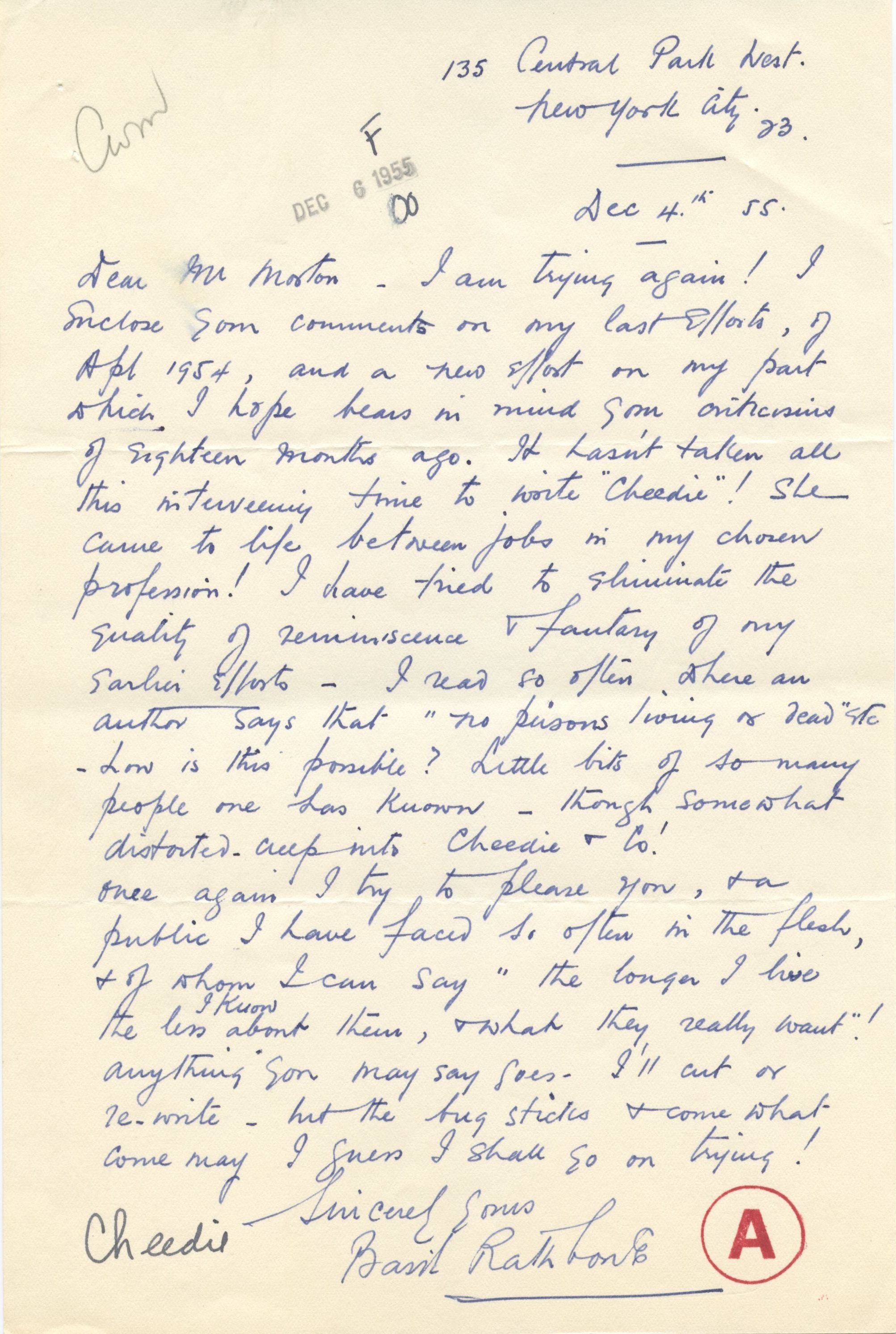 1112012
Basil Rathbone
"Once again I try to please you, & a public I have faced so often in the flesh, & of whom I can say
'the longer I live the less I know about them, & what they really want'! "
Sir Philip St. John Basil Rathbone, 1892–1967. English star of American film, radio, and television. Autographed Letter Signed, Basil Rathbone, one page, 6¾" x 10", New York City, [New York], December 4, 1955.
Rathbone, best known for his portrayal of Sherlock Holmes in film and on radio, returns a manuscript along with a "new effort on my part" that he named "Cheedie." He writes, in full: "I am trying again! I enclose some comments on my last efforts, of Apl 1954, and a new effort on my part which I hope bears in mind some criticisms of eighteen months ago. It hasn"t taken all this intervening time to write 'Cheedie'! She came to life between jobs in my chosen profession! I have tried to eliminate the quality of reminiscence & fantasy of my earlier efforts – I read so often where an author says that 'no persons living or dead' etc—how is this possible? Little bits of so many people one has known—though somewhat distorted—creep into Cheedie & Co.! / Once again I try to please you, & a public I have faced so often in the flesh, & of whom I can say 'the longer I live the less I know about them, & what they really want'! Anything you may say goes—I'll cut or re-write—but the bug sticks & come what come may I guess I shall go on trying!"
In his autobiography, In and Out of Character, Rathbone recounted that in 1952, when he became bored with writing for television, he accepted an invitation from a friend to vacation on the beach in Santa Monica, California. That friend, he said, was a woman "known to her more intimate friends as Cheedie." He found that her nickname suggested one of her "outstanding qualities, a talented child with a tireless ability to absorb admiration." She was, he wrote, a woman with "a slightly petulant baby face" who "dressed extravagantly and in very bad taste," one who entertained "anyone with a name or some fame" but whose friends' "sincerity had always been conspicuous by its absence."
Originally a stage performer, Rathbone was one of the most eminent actors of his time. In his most notable role, he appeared as Sherlock Holmes, alongside Nigel Hamilton as Dr. Watson, in 14 Hollywood feature films between 1939 and 1946 and in the contemporary radio series The New Adventures of Sherlock Holmes. He has three stars on the Hollywood Walk of Fame—one each for film, radio, and television.
But Rathbone downplayed his own ability as a writer. He said that he began his career "with reasonable success in the short story field; turned out a couple of novels of modest dimensions, both in size and theme, which barely met their cost of publishing; suffered through the writing of a play, which appeared briefly on Broadway and was sold to pictures, but never found its way onto the screen," and later turned to writing for television, which he termed "a spree of prolific mediocrity for which I was extremely well-paid."
Rathbone has written and signed this letter in a beautiful blue fountain pen script. The letter has three horizontal mailing folds, all well removed from the signature. There are notations in the blank areas at the upper and lower left, and the recipient's red stamp is at the lower right. Overall the letter is in fine condition.
The letter is double matted in marine blue suede with photographs of Rathbone in character as Holmes, an inlaid gilt wood fillet, and an engraved brass identification plate. It is framed in an antiqued gilt wood frame to an overall size of 17¾" x 24½".
_____________
This item has been sold, but
click here to see other
American History items
that we are offering.