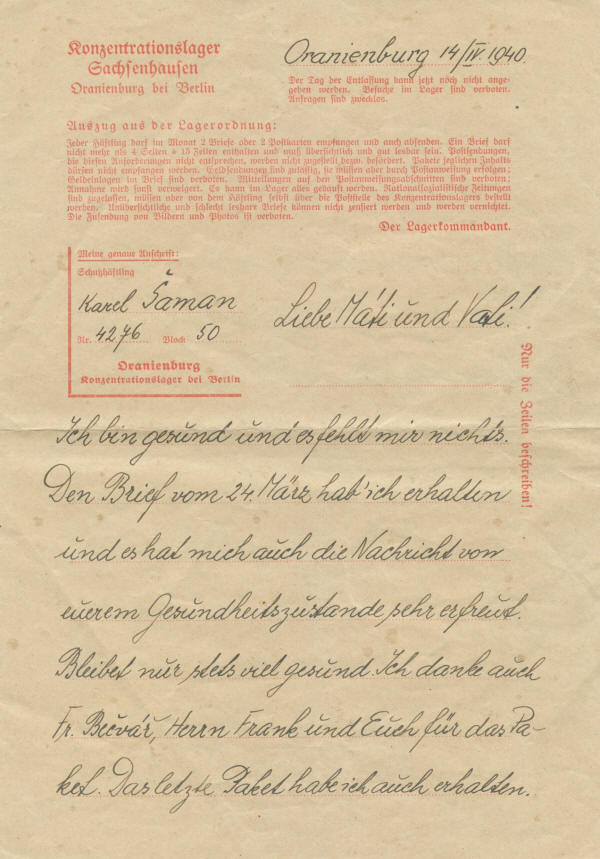 1019305
War-Dated Prisoner Letter from the Sachsenhausen Concentration Camp
"I have already become accustomed to the thought that I will be here for still a longer time."
Autograph Letter Signed, Your Karel, three pages, 5¾" x 8¼", with integral leaf, on inmate stationery of the Sachsenhausen Concentration Camp, Oranienburg, Germany, April 14, 1940. In German, with translation.
This is a beautiful war-dated letter, in magnificent script, in which a Czech inmate writes to his parents. In full: "Dear Mama and Papa! I am healthy and want for nothing. I have received the letter of March 24, and the news of your healthiness gave me great joy. I remain very healthy. I also thank Father Beevár, Mr. Frank and you for the package. I also received the last package. I have already become accustomed to the thought that I will be here for still a longer time. Until you go to Malesitz this year, greet Mr. Ulovec, M. Soukup, our garden and river for me. Dana would like very much to use my boat this year. How does Grandmother like it in Malesitz? If my colleague Marik is still in Prague, greet him for me! Greetings also to Aunt, Uncle, Grandmother, and Dana. Also greet the Frank family. I thank you warmly for sending the money! Greetings to you, your Karel
P.S.
Every prisoner is allowed to receive only one package in a month. Weight 2 kilograms! Only foodstuff maybe sent, such as chocolate, sausage, bacon, cracklings. On the other hand, no articles of clothing and canned goods. On the accompanying address, the contents of the package must be carefully noted. The relatives must declare the package. Carefully give the prisoner number and block! — Greet my colleagues!
The Sachsenhausen concentration camp, which was located at Oranienburg, some 35 kilometers north of Berlin, opened in August 1936 and closed on April 22, 1945. Some 200,000 prisoners passed through it during its nine years of operation. Although it was not created as an extermination camp, it was the site of many executions, mostly of Soviet prisoners of war. The construction of a gas chamber and cremation ovens in early 1943 facilitated the execution of more prisoners. Altogether, some 30,000 inmates died there from exhaustion, disease, malnutrition, or pneumonia.
This letter was mailed in an envelope (not present). No address appears on the outside, and there is no stamp. The concentration camp censor's stamp and initials are on the inside, below the postscript.
This letter has one normal mailing fold and is in very fine condition.
Unframed.
_____________
This item has been sold, but
click here to see other
World History items
that we are offering.