Thomas Woodrow Wilson, 1856-1924. 28th President of the United States, 1913-1921. Autograph Letter Signed, Woodrow Wilson, as President, one page, 5" x 8", with integral leaf attached, on engraved stationery of the presidential yacht Mayflower, no date, no place [New York Harbor, May 18, 1915]. With original envelope addressed in Wilson's hand to The Secretary of State and marked Personal.
This is a rare and historically important letter with impeccable provenance. Letters from sitting Presidents to members of their Cabinets, particularly letters with such historical significance as this one, rarely appear. This one has never been on the autograph market before.
In the aftermath of Germany's sinking of the Lusitania, which propelled the United States toward entry into World War I, President Wilson replies to a letter in which Secretary of State William Jennings Bryan reported on his meeting with Austro-Hungarian Ambassador Dr. Konstantin Dumba, who had substantial ties to Germany. Wilson writes, in full: "Thank you for the message conveyed by Mr. Yardley. It contains matters I would rather reserve for discussion until I get back. It seems to me that you put the matter to Dumba in just the right way. / Faithfully yours, / Woodrow Wilson"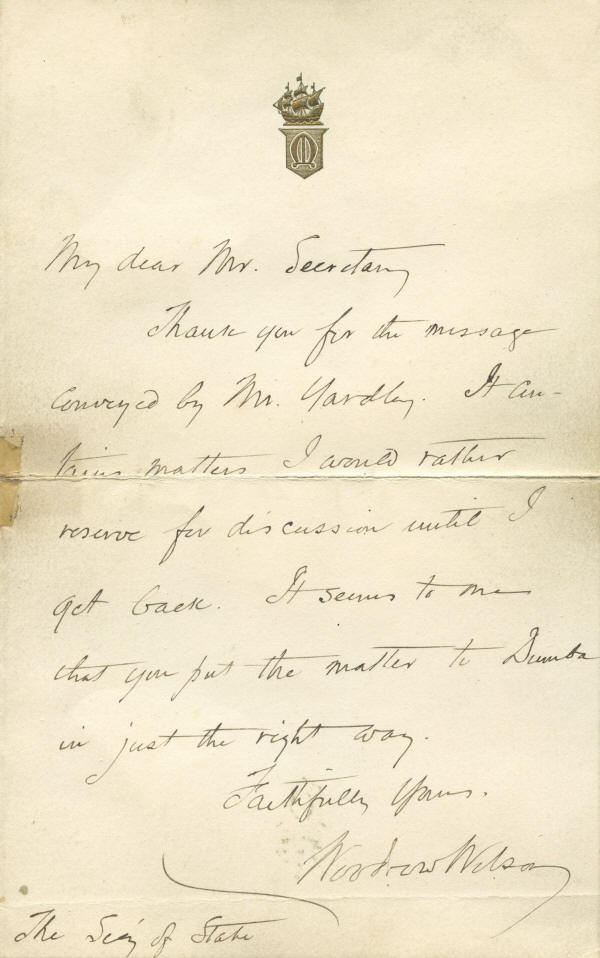 This letter was hand delivered to Bryan by Edward Yardley, a State Department employee by whom Bryan had dispatched his own letter for hand delivery to Wilson, who was aboard the Mayflower to review the American Atlantic fleet in New York harbor. The original envelope, which accompanies this letter, bears two handwritten notes by Yardley. Yardley notes first that "This was given me by Mr. W. J. Bryan & was written in the spring of 1915." He then explains: "The enclosed letter was written by President Wilson on board the Mayflower in New York harbor where he had gone to review the Atlantic fleet. The President asked me to stay on the Mayflower & watch the fleet but I was unable to do so. Edward Yardley."
World War I began in Europe in the summer of 1914. Britain declared war on Germany on August 3. Wilson sought to maintain American neutrality, but both Britain and Germany, seeking to prevent American trade with the other, interfered with American vessels bound for European ports. While Britain restricted American commerce, Germany went further: Its commencement of submarine warfare meant that American ships could be sunk, with consequent loss of life. On February 4, 1915, Germany declared the seas around the British Isles to be a war zone and warned that, beginning February 18, Allied ships in the area would be sunk without warning. Wilson announced that Germany would be held to "strict accountability" for any loss of American life.
The Cunard Line's luxury passenger liner RMS Lusitania left Liverpool on its 201st transatlantic voyage on April 17. On April 22, two days before the ship arrived in New York, the German embassy in Washington, D.C., published a statement next to a newspaper advertisement for the return voyage. It warned travelers that "vessels flying the flag of Great Britain, or any of her allies, are liable to destruction in those waters" and that, should they sail "in the war zone on the ships of Great Britain or her allies," they would do so "at their own risk."
On May 7, the German submarine U-20 torpedoed the Lusitania as it sailed toward port in Queenstown, Ireland. The torpedo struck on the starboard side, under the bridge, and triggered a second, more powerful explosion. The Lusitania—at 750 feet long and 32,500 tons the largest passenger vessel on transatlantic service—rolled over and sank in 18 minutes. A total of 1,198 people, including 785 passengers and 413 crew members, died. The dead included 128 Americans.
The sinking caused outrage in both the United States and Britain. Germany sought to justify it on the ground that the Lusitania carried munitions and therefore was a military target despite its civilian passengers. It argued that the second, larger explosion came from a secret cargo of heavy munitions—which, if true, meant that Britain had breached the rules of warfare by transporting ammunition on a civilian ship and suggested that the munitions came from the United States. Britain said that the second explosion occurred when coal dust ignited.
On May 15, Wilson sent a patronizingly cordial but nevertheless stiff diplomatic note to Germany over Bryan's signature to seek a "clear and full understanding" with Germany "as to the grave situation" that the sinking had caused. He recalled "the humane and enlightened attitude hitherto assumed by the Imperial German government in matters of international right, and particularly with regard to freedom of the seas," and noted that Germany had "always engaged upon the side of justice and humanity." Thus, Wilson said, "the United States was loath to believe—it cannot now bring itself to believe—that these acts, so absolutely contrary to the rules, the practices, and the spirit of modern warfare, could have the countenance or sanction of that great government." But, he said, although Allied disruption of shipping bound for Germany had caused Germany to adopt "methods of retaliation which go much beyond the ordinary methods of warfare at sea, in the proclamation of a war zone from which they have warned neutral ships to keep away," the United States nevertheless could not allow Germany to infringe upon the rights of either American shipmasters or "American citizens bound on lawful errands as passengers on merchant ships of belligerent nationality." Thus, Wilson warned, the United States would hold Germany "to a strict accountability for any infringement of those rights, intentional or incidental." Germany could not use submarines to destroy commerce "without disregarding those rules of fairness, reason, justice, and humanity, which all modern opinion regards as imperative," and after-the-fact apologies and reparations if neutral ships were mistakenly sunk without loss of life could not "justify or excuse a practice, the natural and necessary effect of which is to subject neutral nations and neutral persons to new and immeasurable risks." Germany, Wilson said, should not expect the United States "to omit any word or any act necessary to the performance of its sacred duty of maintaining the rights of the United States and its citizens and of safeguarding their free exercise and enjoyment."
Two days later, on May 17, Bryan met with Dumba—the meeting that Bryan summarized in his hand-delivered letter to Wilson. Bryan sent the letter to Wilson "by special messenger" in order to inform him "at once of a conversation that I had this morning with Ambassador Dumba, of Austria." The special messenger, as Bryan wrote in a postscript to his letter, was Yardley.
Bryan's letter richly detailed the back-channel give and take of international diplomacy. Bryan informed Wilson that Dumba
said he knew that Germany had no desire for war, but on the contrary, was anxious to maintain friendly relations with the United States and asked whether if assurances were given for the future it would not be possible to arbitrate the question so far as past transactions are concerned. I told him I would not feel authorized to discuss the subject without first getting your views, but suggested that he might say to the German government that he felt sure there was no desire for war in this country and that we expected Germany to answer the note in the same spirit off friendship that prompted ours. He then suggested it might make it easier for Germany if she could, in her reply, say that she expected us to insist in the same spirit upon freedom of trade with the neutrals. I pointed out to him that such an expression in the answer might embarrass us and also make it more difficult to deal with the Allies along that line and that I thought Germany ought to assume that we would live up to the position taken in our answer to the Orders in Council [in which the United States objected to the British blockade on and seizure of all neutral shipments of goods to Germany]. He asked whether we could give any confidential assurances of that kind and I told him it ought not to be necessary and suggested to him that if Germany desired to justify, before her own people, her acceptance of the doctrine set forth in our note she could publish her views in a statement—not to us, but to the German people, and say that she took it for granted that we would maintain the position taken in that statement and would insist upon our right to trade with neutrals. I told him if this statement was made to the German people instead of to us it would not require any answer from us and would not embarrass us, but if her answer contained any expression of opinion as to how we would deal with Great Britain it would seemingly link the two cases together and put us in the attitude of acting at Germany's suggestion instead of acting upon our own initiative and for the protection of our own interests, and it might also be construed as a sort of trade whereby we would settle an account with Germany by opening an account with the Allies.
He saw the force of the objection. I emphasized the two points—first, that it was important that Germany should answer in the same spirit in which we had addressed her; and second, that there should be no attempted connection between our dealings with Germany and our dealings with Great Britain.
He asked whether we could not refuse clearance to ships that carried explosives and ammunition. He said that in Germany passenger trains were not allowed to carry explosives and that the regulation was made for the protection of the lives of passengers; he suggested we might, on the same ground, refuse to allow owners to carry explosives on passenger boats. I told him that Germany was, of course, at liberty to make any suggestions that she thought proper in her reply, but that we could not consider these suggestions in advance.
I think the call of the Ambassador was rather significant, especially as I learned from [American journalist Oswald Garrison] Villard that he had received some of the same suggestions from [German Ambassador Johann Heinrich] von Bernstorff. I believe that it would have a splendid effect if our note to Great Britain can go at once. It will give Germany an excuse, and I think she is looking for something that will serve as an excuse. There is much discussion of the idea suggested by Dumba—in fact, mentioned in the first explanation received from Germany, namely, that passengers and ammunition should not travel together. I have no doubt Germany would be willing to so change the rule in regard to submarines as to exempt from danger all passenger ships that did not carry munitions of war.
In his postscript, Bryan noted:
P.S. The bearer of this letter, Mr. Yardley, will bring it to the Mayflower tonight and await instructions from you. If you have any answer to send back tonight, he will return on the twelve-thirty train—if not, he will return early tomorrow afternoon. If you do not send an answer tonight but desire to send one tomorrow, you can instruct him whether he is to call at the Mayflower for it or whether you can send it to the Holland House, Fifth Avenue near 28th Street, where he will stop.
Bryan wrote in his Memoirs that he reported his interview with Dumba to Wilson, "as I did all other interviews of importance," and that Wilson "returned the interview with his approval." That return was the letter offered for the first time here.
Whether Bryan's letter to Wilson completely conveyed the tenor of his conversation with Dumba, however, became the subject of controversy. Bryan was the administration's strongest advocate for strict neutrality between the warring countries. He related to Wilson his suggestion that Dumba tell Germany "that he felt sure there was no desire for war in this country and that we expected Germany to answer the note in the same spirit off friendship that prompted ours." Yet Bryan insisted that he had made clear to Dumba the distinction between British seizure of cargo, on the one hand, and German killing, on the other.
Dumba's visit to Bryan occurred as Wilson was preparing a second, stronger diplomatic note to Germany in view of Germany's justification of the sinking on the ground that the Lusitania carried munitions. Bryan, who believed that a stronger warning would presage war with Germany, vigorously opposed sending the second note, and ultimately he resigned as Secretary of State on June 15, 1915, rather than sign it.
It is possible, then, that Bryan let his own views color his conversation with Dumba. The New York Times reported "credence" to a story that "after the first note, with his signature, was sent to Berlin, Mr. Bryan discounted its earnestness in conversation with Dr. Dumba, Ambassador from Austria-Hungary. This report . . . led to the statement that Mr. Bryan's talk with Dr. Dumba deprecating what was usually regarded as the note's real significance explains the reply of [German Foreign Secretary Gottlieb] von Jagow to the President's first note." Bryan Mystery Deepens, N.Y. Times, June 12, 1915. A more recent author has likewise suggested that Bryan disclosed to Dumba "that he did not share Wilson's view of the sinking" and that Dumba "tactlessly betrayed his confidence and helped make the serious differences between the secretary and the President a matter of public record." The United States in the First World War: An Encyclopedia 54 (Anne Cipriano Vinson ed. 1995).
Whether Bryan actually said more than he related to Wilson, though, or whether he said it differently, or whether simply Dumba misinterpreted Bryan's words, the German government got the impression—which German Under Foreign Secretary Arthur Zimmerman conveyed to American Ambassador James Watson Gerard in Berlin, who in turn told Bryan—that, in Bryan's words, "the Lusitania note was 'not meant in earnest and was only sent as sop to public opinion.'" Bryan related in his Memoirs that he immediately summoned Dumba, who, he said, "expressed great surprise that such a misconstruction could have been placed upon his language and assured me that he had used no words that could by any reasonable interpretation convey any such thought."
But the damage was done. Wilson proceeded to send the second note, which he drafted himself, and which the Cabinet approved with some modifications, causing Bryan to resign on the ground that he was unwilling to share responsibility for the note, which he argued imperiled hopes for the "prevention of war." Wilson wrote that the Lusitania was not carrying munitions but that the issue nevertheless was "irrelevant to the question of the legality of the methods used by the German naval authorities in sinking the vessel." He continued that, whatever the other facts were, "the principal fact is that a great steamer, primarily and chiefly a conveyance for passengers, and carrying more than a thousand souls who had no part or lot in the conduct of the war, was torpedoed and sunk without so much as a challenge or a warning, and that men, women, and children were sent to their death in circumstances unparalleled in modern warfare." Thus, he said, only "her actual resistance to capture or refusal to stop when ordered to do so for the purpose of visit could have afforded the commander of the submarine any justification for so much as putting the lives of those on board the ship in jeopardy." The United States, Wilson said, contended "for nothing less high and sacred than the rights of humanity, . . . which no Government is justified in resigning on behalf of those under its care and authority."
The United States sent two more notes yet. Germany curbed its use of submarines through 1916 to avoid further antagonizing the United States. But it resumed unrestricted submarine warfare in February 1917, and two months later Wilson asked Congress to declare war.
The "Dumba Affair" haunted Bryan the rest of his life. In his Memoirs, Bryan argued that his "unscrupulous enemies," including the New York Times, misrepresented the incident when they "wanted to discredit" his work.
Wilson has penned this letter fairly rapidly in black fountain pen. The horizontal fold on both the front and integral leaves is split and has been repaired with tape, leaving some tape stains, and there is scattered soiling. It therefore is in fair to poor condition. The accompanying envelope, with Yardley's autograph notes of provenance, is taped around the edges and is in similar condition.
Wilson was adept with a typewriter and often typed his own letters, even as President. Consequently his holographic letters from his White House years are not often available. Letters such as this, with such historical importance, are rare. Despite its condition, this letter is an important piece of history in the chain of events that ultimately led to the United States' entry into World War I. It belongs in the finest of presidential collections.
Unframed.
_____________
This item has been sold, but
click here to see other
Presidents and First Ladies items
that we are offering.