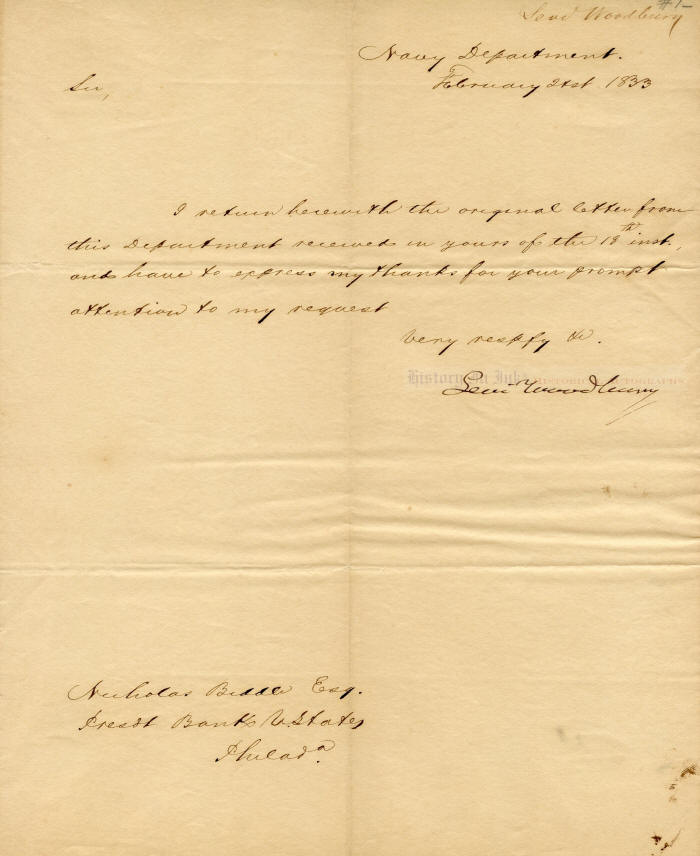 1007390
Levi Woodbury
Woodbury cordially writes to Andrew Jackson's future nemesis, Nicholas Biddle
Levi Woodbury, 1789–1851. Associate Justice, United States Supreme Court, 1845–1851; United States Senator from New Hampshire, 1825–1830, 1841–1845; Secretary of the Treasury, 1834–1841; Secretary of the Navy, 1831–1834; Governor of New Hampshire, 1823–1824. Manuscript Letter Signed, Levi Woodbury, one page, with integral leaf attached, 8" x 9¾", Navy Department [Washington, D.C.], February 21, 1833.
Woodbury, then President Andrew Jackson's Secretary of the Navy, sends a cordial letter to Nicholas Biddle, president of the Second Bank of the United States, to return an earlier letter. In full: "I return herewith the original letter from this Department received in yours of the 19th inst., and have to express my thanks for your prompt attention to my request."
Biddle became Jackson's nemesis in Jackson's opposition to renewal of the charter of the Second Bank of the United States. Jackson opposed banks—notably, this bank—that issued paper money and thus were not entirely backed by gold or silver. His hard-money opposition to the Second Bank put him squarely at odds with Henry Clay's National Republicans, who supported it. In an election year ploy, Clay urged Biddle to seek renewal of the charter four years early in order to force Jackson to make what Clay hoped would be an unpopular decision that would cost him votes. Once challenged, Jackson vetoed the bill renewing the charter, making the renewal a principal issue in Jackson's 1832 reelection campaign. Clay had hoped to divide Jackson's supporters and thought that he could win Pennsylvania, where the Second Bank was located, but despite the Second Bank's heavy support for Clay, Jackson handily defeated him in both the popular and electoral votes.
Woodbury, who had a long and distinguished public career, is one of the few people who served in all three branches of the United States government. Along with Salmon P. Chase and James F. Byrnes, he was one of only three who not only served in all three branches of the federal government but also served as the governor of a state.
President James K. Polk, whom Woodbury supported in the 1840 election, appointed him an Associate Justice of the United States Supreme Court in a recess appointment on September 20, 1845, following the death of Justice Joseph Story. Woodbury was the first Justice who had attended law school. On December 23, 1845, Polk formally nominated him, and the Senate confirmed him January 3, 1846. He received his commission the same day. He served only five years, until he died at age 61 on September 4, 1851, but in his short time on the Court he authored majority opinions in 43 cases, including some of the most significant cases of his time.
This is very nice letter. Woodbury has signed it with a 2½$rdquo; signature. It has two horizontal and one vertical mailing fold, none of which affects the signature. There is a bit of rippling above the lower horizontal fold that does not affect either the text or the signature, and there are a couple of small stray ink stains in the blank lower right corner. Woodbury's name is written in another hand at the upper right corner below an old collector's pencil notation. The integral leaf has been tipped to an album page. Overall the letter is in fine condition, and the signature is excellent.
Unframed.
_____________
This item has been sold.
Click here to see other Supreme Court items
that we are offering.