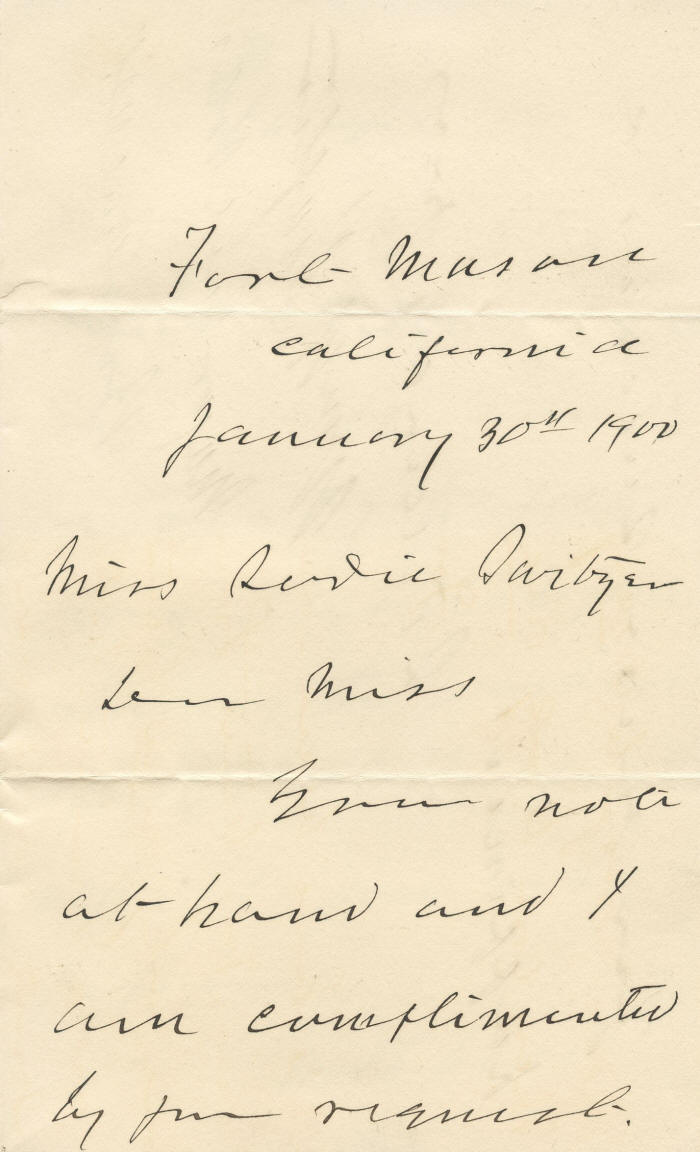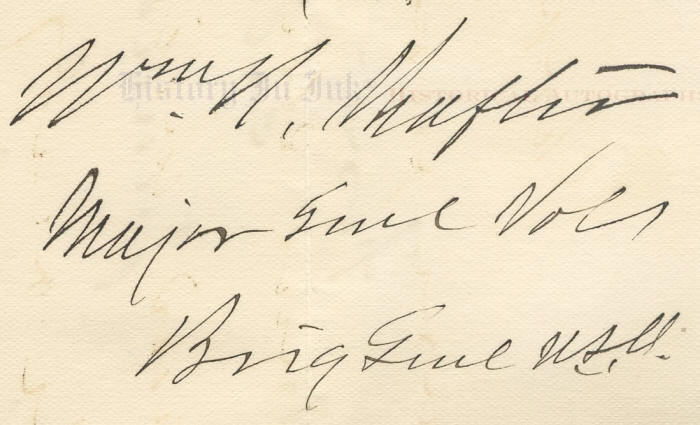 1007361
William R. Shafter
Handwritten letter by "Pecos Bill," the renowned Indian fighter and Civil War Medal of Honor winner
William Rufus Shafter, 1835-1906, also known as "Pecos Bill." Union Brigadier General of Volunteers, American Civil War; Major General, U.S. Volunteers; Brigadier General, United States Army; recipient, Medal of Honor. Autographed Letter Signed, Wm. R. Shafter, three pages, 5" x 8", with integral leaf attached, Fort Mason, California, January 30, 1900.
Shafter, then in command of the Department of California, responds to a student's request for a handwritten sentiment to be included in albums devoted to the handwriting of prominent men and women. He writes, in full: "Your note at hand and I am complimented by your request. I hope you are pursuing your studies eagerly and will soon be ready to fill your allotted place among the workers of the land for which you are preparing. / With best for your success & happiness / Sincerely yours . . . ." Shafter has added his ranks, "Major Genl Vols / Brig Genl U.S.A.," below his signature.
Shafter received the Medal of Honor for heroism at the Battle of Fair Oaks, also known as the Battle of Seven Pines, during the 1862 Peninsula Campaign. He was wounded while leading a charge against the Confederates across an open field on the first day of the battle. Eighteen of Shafter's 22 men were wounded. Shafter concealed his own wounds and stayed with his regiment, the 7th Michigan Volunteer Infantry Regiment, in order to fight again on the second day. He continued to conceal his wounds for three more days until other wounded soldiers had left the area.
Shafter was later captured after the Battle of Thompson's Station in Tennessee and spent three months in a Confederate prison camp before he was released. He was then appointed colonel of the 17th Regiment of U.S. Colored Troops, which he commanded during the Battle of Nashville in December 1864.
After the Civil War, Shafter remained in the Regular Army and became famous for his service in the Indian Wars. It was during that time that he received the nickname "Pecos Bill." He led the 24th Infantry, another regiment of colored troops, before being assigned to Fort Clark in West Texas in 1868. After 1870, he served principally as a field commander and led his troops in campaigns against the Cheyenne, Comanche, Kickapoo, and Kiowa tribes. He led several excursions into the Llano Estacado and Big Bend areas, proving those areas accessible to the military and depriving hostile forces of the psychological and military advantage of safe refuge. In 1875, combining units of the 24th Infantry, the 25th Infantry, the 10th Cavalry, and a company of Seminole scouts, Shafter led his troops more than 2,500 miles. They crossed the Llano Estacado three times and swept the plains clear of natives, proving the plains habitable and paving the way for white settlement of the region. Between 1876 and 1878, Shafter led three campaigns into Mexico, and in 1879 he participated in the war against the great Apache leader Victorio.
In 1897, Shafter was promoted to brigadier general, and in 1898 he led American troops to Cuba during the Spanish-American war. He commanded the largest force of United States Army troops that had left American soil up to that time. He laid siege to the city of Santiago, which, combined with the Navy's victory in the Battle of Santiago de Cuba, resulted in the surrender of the city. After the Spanish-American War, Shafter returned to command the Department of California before retiring from the Army in 1901.
This letter has never been on the market before. It comes from a large collection of letters, notes, and signatures assembled by a professor of penmanship at the State Normal School at Emporia, Kansas, now Emporia State University, who had his students write to prominent men and women to request a handwritten letter expressing a reminiscence, a favorite sentiment, or a word of advice.
This is a beautiful letter. Shafter has penned it in crisp, black fountain pen. The letter has two normal mailing folds, one of which runs vertically through Shafter's bold signature. There is an ink stain from Shafter's pen, not affecting the text, at the top of the second page, and there is light ink transfer on the second an third pages not affecting the signature. Overall the piece is in fine condition.
Unframed.
_____________
This item has been sold, but
click here to see other
American History items
that we are offering.