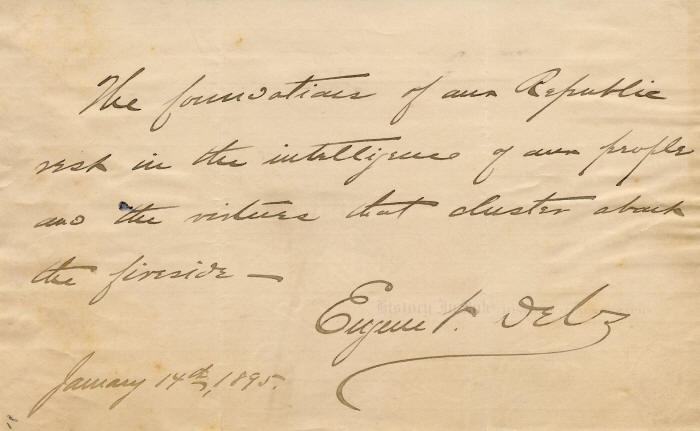 1007326
Eugene V. Debs
On the day that he petitions the United States Supreme Court for a writ of habeas corpus
to release him from jail on his conviction for contempt for violating a labor injunction,
Debs writes from prison to extol "the intelligence of our people" and "the virtues that cluster about the fireside"
Eugene Victor Debs, 1855-1926. Prominent Socialist; American union leader; four-time presidential nominee of the Socialist Party of America. Autographed Note Signed, Eugene V. Debs, one page, 8" x 5", [Woodstock, Illinois], January 14, 1895.
Debs penned this item from jail the very day that he petitioned the United States Supreme Court for a writ of habeas corpus to release him following his conviction for contempt for violating a federal court labor injunction. He writes, in full: "The foundations of our Republic rest in the intelligence of our people and the virtues that cluster about the fireside ‒ / Eugene V. Debs / January 14th, 1895."
A labor activist since before he turned 20 years old, Debs helped to organize the American Railway Union, for unskilled railroad workers, in 1893. The union successfully struck the Great Northern Railway in 1894, winning most of its demands. Later that year, Debs led what the press called "Debs' Rebellion," a railroad workers' boycott of Pullman Palace Car Company cars, after the company cut employee wages by 28% because of declining revenues and refused to arbitrate the dispute. The strike affected some 250,000 workers in 27 states and disrupted rail service on most lines west of Detroit. The New York Times called Debs "a lawbreaker at large, an enemy of the human race." The federal government intervened, obtaining an injunction against the strike on the ground that Pullman cars carried the mail, and President Grover Cleveland sent federal troops to enforce the injunction. Thirteen strikers died, and some $80 million worth of property was destroyed. Although Debs was defended by famed lawyer Clarence Darrow, he was found guilty of contempt for violating the injunction on December 14, 1894, and sent to federal prison. On January 14, 1895, the day that he wrote this item, Debs petitioned the Supreme Court for a writ of error, which was essentially a direct appeal of his conviction, and for a writ of habeas corpus, an extraordinary remedy by which he sought release.
Three days later, the Supreme Court disallowed the appeal because the lower court judgment was not yet final. On May 7, 1895, it denied the petition for a writ of habeas corpus, thus upholding the imprisonment. It noted that Debs and his co-defendants had been "sentenced to imprisonment in the county jail" and had been "committed to jail in pursuance of" that order. Because the appeal had been denied, the habeas corpus petition was "now to be considered." Observing that the vast majority of the strikers complied with the injunction, the Supreme Court rejected Debs's claim: It "is a lesson which cannot be learned too soon or too thoroughly," the Court said, "that under this government of and by the people the means of redress of all wrongs are through the courts and at the ballot box, and that no wrong, real or fancied, carries with it legal warrant to invite as a means of redress the co-operation of a mob, with its accompanying acts of violence." In re Debs, 158 U.S. 564, 598-99 (1895).
It was during his time in the jail in Woodstock, Illinois, that Debs read the works of Karl Marx and learned about socialism. He emerged from jail to become one of the country's most prominent socialists of the early 20th Century. He continued his union activism, and in 1905 he helped to establish the Industrial Workers of the World. The Socialist Party of America, which had been formed in 1901, made him its nominee for President of the United States in 1904, 1908, and 1912. Debs was an outspoken critic of World War I, and in 1918 he was indicted and convicted for violating the Espionage Act in a speech that he gave in Canton, Ohio, urging resistance to the draft. In an opinion by Justice Oliver Wendell Holmes, Jr., the Supreme Court likewise upheld that conviction over Debs's First Amendment challenge. Debs v. United States, 249 U.S. 211 (1919). Debs began serving a ten-year prison sentence on April 19, 1919.
A protest march in Cleveland, Ohio, on May 1 broke into the May Day Riot of 1919. President Woodrow Wilson, who thought that public opinion opposed to clemency would damage the chances for ratification of the Versailles Treaty and the League of Nations, refused to pardon Debs. "While the flower of American youth was pouring out its blood to vindicate the cause of civilization," Wilson wrote, "this man, Debs, stood behind the lines sniping, attacking, and denouncing them. . . . This man was a traitor to his country and he will never be pardoned during my administration." Still, while in prison in Atlanta, Debs ran a fourth time for President, in 1920, receiving 913,664 write-in votes, or 3.4% of the total ballot. In 1921, President Warren G. Harding commuted Debs's sentence without pardoning him and then received him at the White House. Reportedly, Harding said, "Well, I've heard so damned much about you, Mr. Debs, that I am now glad to meet you personally."
This item has never been on the autograph market before. It comes from a large collection of letters, notes, and signatures assembled by a professor of penmanship at the State Normal School at Emporia, Kansas, now Emporia State University, who had his students write to prominent men and women to request a handwritten letter expressing a reminiscence, a favorite sentiment, or a word of advice.
This piece has two slight vertical folds that affect the text, and one of them passes through the flourish under Debs's large 3½" signature. The piece has some wrinkling, a collector's pencil notation at the lower left, and stains from prior mounting that affect primarily the left end of the piece but not the signature. There are mounting traces on the back and a tiny fold split at the bottom margin. Overall, the piece is in fine condition.
Unframed.
_____________
This item has been sold, but
click here to see other
American History items
that we are offering.