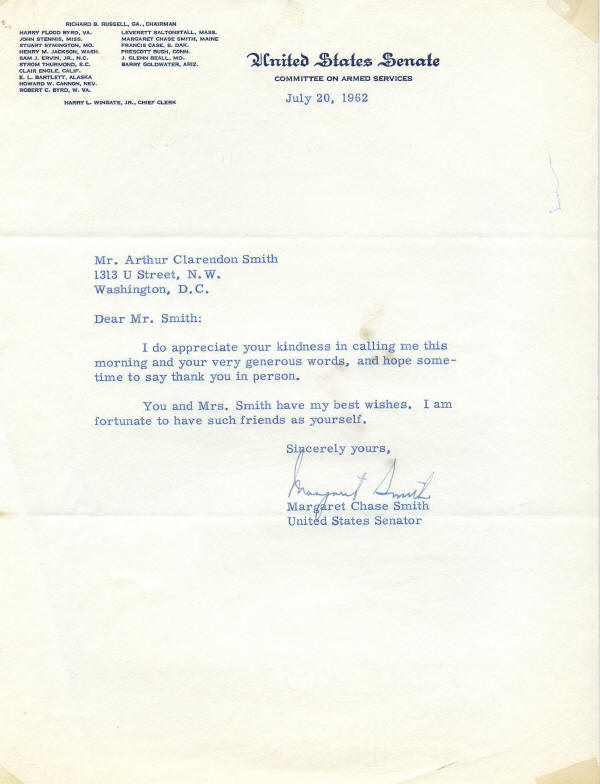 04-064
Margaret Chase Smith
"I am fortunate to have such friends as yourself."
Margaret Chase Smith, 1897-1995. Representative and Senator from Maine. Typed Letter Signed, Margaret Smith, one page, 8" x 10½", July 20, 1962, on stationery of the United States Senate, Committee on Armed Services.
Smith, a Republican, thanks Arthur Clarendon Smith, Jr., president of the Washington, D.C., Democratic Club, for his telephone call. In part: "I do appreciate your kindness in calling me this morning and your very generous words, and hope sometime to say thank you in person. . . . I am fortunate to have such friends as yourself."
Smith represented Maine in the United States House of Representatives, 1940-1949, and in the United States Senate, 1949-1973. She unsuccessfully sought the Republican presidential nomination in 1964, when she became the first woman nominated at a major party convention. From 1967 to 1972, Smith, a former lieutenant colonel in the Air Force Reserve, was the ranking Republican on the Senate Armed Services Committee. After she was defeated for reelection in 1972, she served as a visiting professor for the Woodrow Wilson National Fellowship Foundation from 1973 to 1976. She received the Presidential Medal of Freedom in 1989.
This letterhead names some of the most influential Senators during the 1960s and 1970s: Richard B. Russell, who served on the Warren Commission to investigate the assassination of President John F. Kennedy; Barry Goldwater, the 1964 Republican presidential nominee; Prescott Bush, the father of of one president and grandfather of another; Sam J. Irvin, Jr., who chaired the Senate Watergate Committee; Stuart Symington; Henry M. Jackson; Strom Thurmond, the 1948 States Rights Party presidential nominee who served in the Senate until he was 100 years old; Harry F. Byrd, Sr.; and Robert C. Byrd, who would later be Senate Majority Leader.
This letter is in fine condition. It has two normal mailing folds, one of which barely touches the "g" in Smith's signature. It also has cellophane tape across the corners from prior mounting, an unobtrusive ink mark in a blank area, and stains on the back, one of which barely shows through to the front but does not affect the text. This is a nice example from an influential Republican Senator.
Unframed.
_____________
This item has been sold, but
click here to see other
American History items
that we are offering.