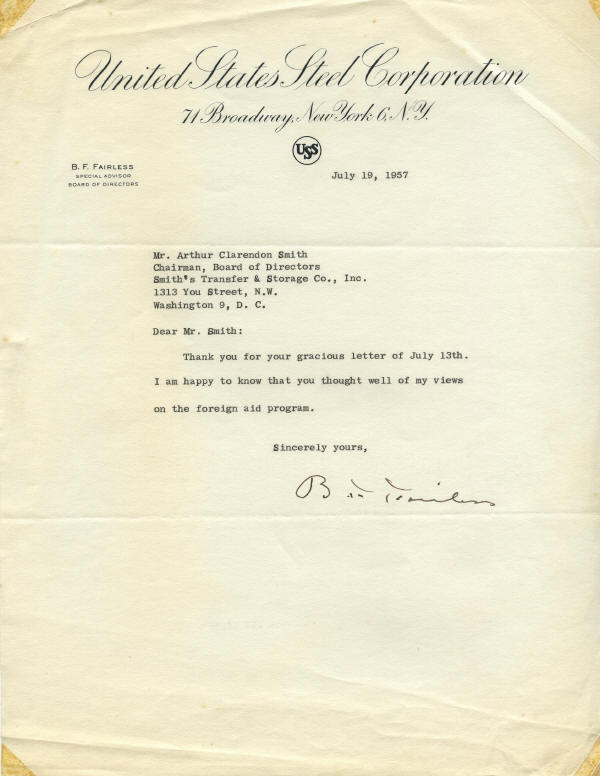 04-029
Benjamin F. Fairless
Click on image for larger size
Benjamin Franklin Fairless, 1890-1962. President, Chief Executive Officer, United States Steel Corporation. Typed Letter Signed, B. F. Fairless, one page, 8½" x 11", July 19, 1957, on stationery of the United States Steel Corporation.
Fairless responds to a letter from Arthur Clarendon Smith. In part: "I am happy to know that you thought well of my views on the foreign aid program."
Fairless, representing management, was one of the principals in two major steel strikes during the Truman Administration, in 1946 and again in 1952. In early 1952, with the union threatening to strike, Truman seized control of the steel mills to prevent a shutdown that, in his view, would have endangered the lives of American soldiers fighting in Korea. After the Supreme Court ruled the seizure unconstitutional in Youngstown Sheet & Tube v. Sawyer, the union struck. The strike lasted some seven weeks, the longest, costliest steel strike in the nation's history, resulting in a loss of 21,000,000 tons of steel and $400 million in wages.
This letter has cellophane tape stains on the corners from prior mounting, creasing at the top and bottom, and normal mailing folds, none of which affects the signature. Overall the letter is in fine condition.
Unframed.
_____________
This item has been sold, but
click here to see other
American History items
that we are offering.