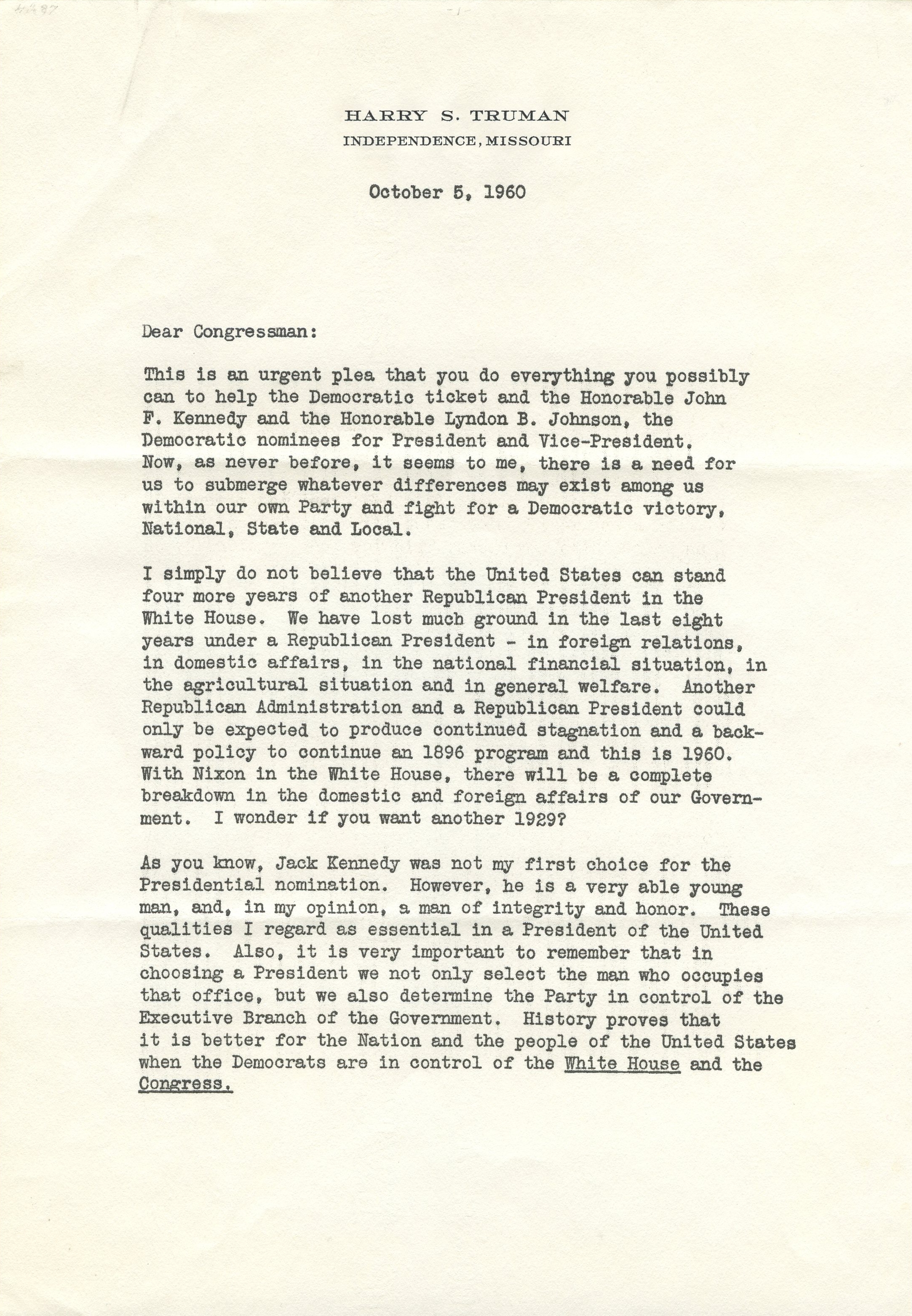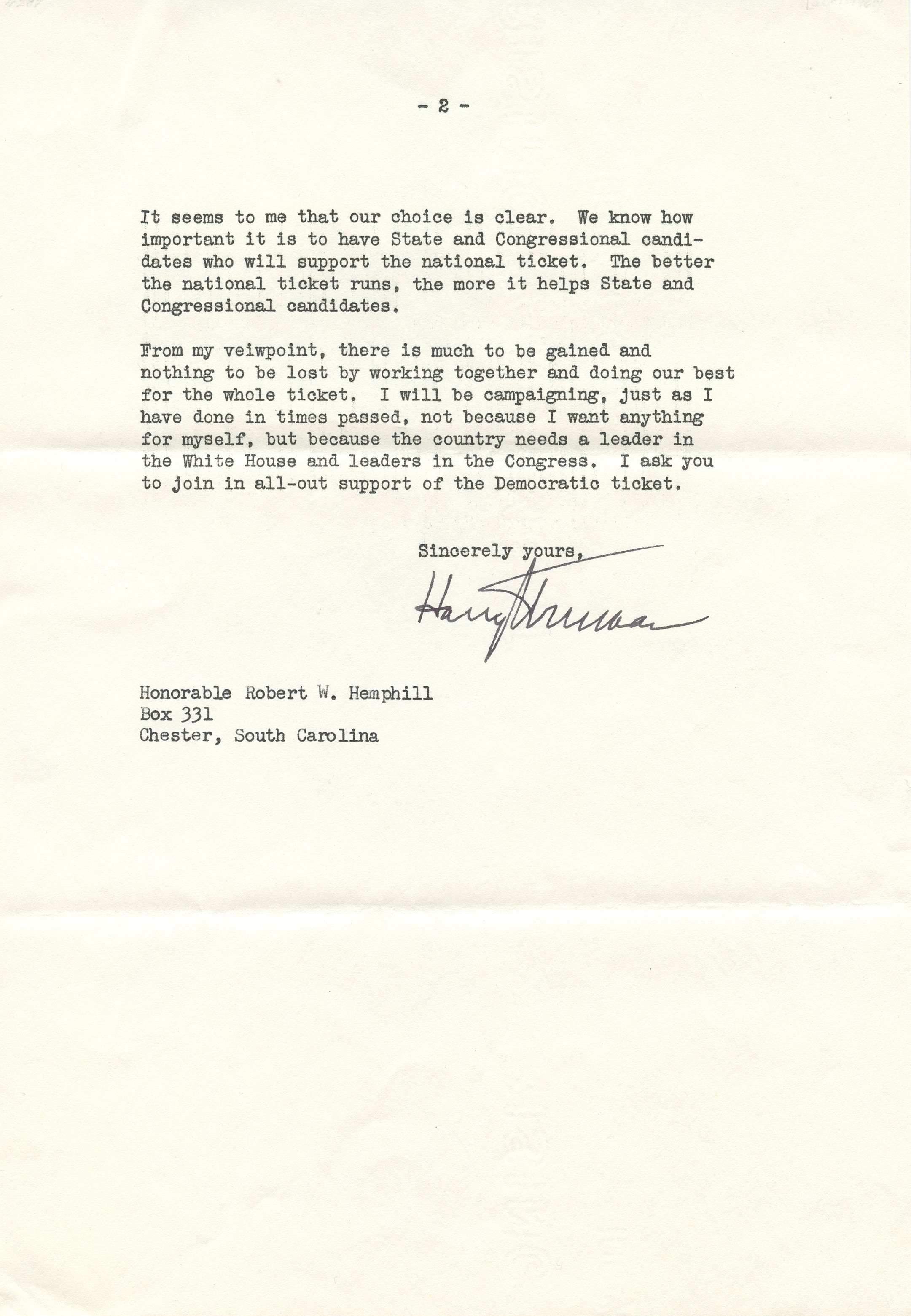 600502
Harry S. Truman
Scroll down to see images of the item below the description
"With Nixon in the White House, there will be a complete breakdown
in the domestic and foreign affairs of our Government."
Harry S. Truman, 1884–1972. 33rd President of the United States. Superb Typed Letter Signed, Harry S. Truman, two pages, quarto, on engraved personal stationery, Independence, Missouri, October 5, 1960.
In this outstanding letter, Truman touts John F. Kennedy as "a very able young man" and "a man of integrity and honor" but derides Richard Nixon as one who would cause "a complete breakdown in the domestic and foreign affairs of our Government." Writing to Congressman Robert W. Hemphill, he urges unity within the Democratic party and support of Kennedy for President and Lyndon B. Johnson for Vice President in the 1960 election. In full: "This is an urgent plea that you do everything you possibly can to help the Democratic ticket and the Honorable John F. Kennedy and the Honorable Lyndon B. Johnson, the Democratic nominees for President and Vice-President. Now, as never before, it seems to me, there is a need for us to submerge whatever differences may exist among us within our own Party and fight for a Democratic victory, National, State and Local. / I simply do not believe that the United States can stand four more years of another Republican President in the White House. We have lost much ground in the last eight years under a Republican President—in foreign relations, in domestic affairs, in the national finance situation, in the agricultural situation and in general welfare. Another Republican Administration and a Republican President could only be expected to produce continued stagnation and a backward policy to continue an 1896 program and this is 1960. With Nixon in the White House, there will be a complete breakdown in the domestic and foreign affairs of our Government. I wonder if you want another 1929? / As you know, Jack Kennedy was not my first choice for the Presidential nomination. However, he is a very able young man, and, in my opinion, a man of integrity and honor. These qualities I regard as essential in a President of the United States. Also, it is very important to remember that in choosing a President we not only select the man who occupies that office, but we also determine the Party in control of the Executive Branch of the Government. History proves that it is better for the Nation and the people of the United States when the Democrats are in control of the White House and the Congress. / It seems to me that our choice is clear. We know how important it is to have State and Congressional candidates who will support the national ticket. The better the national ticket runs, the more it helps State and Congressional candidates. / From my veiwpoint [sic], there is much to be gained and nothing to be lost by working together and doing our best for the whole ticket. I will be campaigning, just as I have done in times passed, not because I want anything for myself, but because the country needs a leader in the White House and leaders in the Congress. I ask you to join in all-out support of the Democratic ticket."
Initially Truman was not particularly high on Kennedy, whom he regarded as too young, too inexperienced, and too Catholic for the presidency. He also intensely disliked Kennedy's father, Joseph P. Kennedy. When a law student flippantly asked Truman, who was delivering a lecture on the Constitution, what would happen when the Pope moved into the White House, Truman quipped, "It's not the Pope I'm afraid of, it's the Pop."
But Truman detested Nixon, who he thought had accused him of treason while running with Dwight D. Eisenhower in 1952. At a news conference, he said that Nixon "never told the truth in his life." He characterized Nixon as "a no good lying bastard. He can lie out of both sides of his mouth at the same time, and if he ever caught himself telling the truth, he'd lie just to keep his hand in." Speaking at a Democratic dinner in San Antonio, Truman told those gathered, "If you vote for Nixon, you ought to go to hell."
The combination of Truman being a staunch Democrat, on the one hand, and Nixon being both a Republican and personally detestable to Truman, on the other, led Truman ultimately to support Kennedy in 1960, despite his private reservations about Kennedy's relative youth and inexperience. At Kennedy's request, Truman actively campaigned for the Kennedy-Johnson ticket. This letter gives wonderful insight into Truman's work behind the scenes.
Truman wrote this same letter to Democratic members of the Senate and House of Representatives and to Democratic congressional candidates. He labored over two prior drafts of it before finally sending it in this form. Click here to see the two earlier drafts, with Truman's handwritten changes, from the archives of the Truman Library. A few copies of this letter have appeared on the market over the years, but likely most of the letters were filed away or destroyed and will never be offered for sale.
This letter has normal mailing folds, a light paper clip impression in the upper left corner, and faint old dealer pencil notations in the upper left corner of both pages. Overall is in very fine condition.
Unframed.
_____________
This item has been sold, but
click here to see other
Presidents and First Ladies items
that we are offering.